There are just a few days left in 2011, and 2012 is right around the corner for the New Jersey Devils.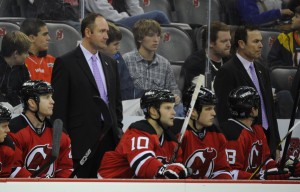 The Devils will have little time to slack off in the new year, as they are currently sixth in the Eastern Conference after starting the season out of a playoff spot. They are also still dealing with some injuries to key players and underperforming from others.
So, as we look forward to turning the calendar, which Devils players need to make some resolutions that will help their team or their individual futures?
Keep reading to find out.
1. Adam Henrique
Resolution: Stay on Calder Trophy radar
Henrique is in his second professional season, but his first in New Jersey. So far, he has 28 points in 33 games and is third on the Devils in scoring. He is also second among NHL rookies in scoring. He is having a good follow-up season to his time with the Albany Devils in 2010-11, where he had 50 points in 73 games.
Although some feel that Ryan Nugent-Hopkins of the Edmonton Oilers already has the Calder Trophy locked up, Henrique can still make a move if Nugent-Hopkins hits a scoring slump. He could finish the season at the 60-point mark if he keeps up at his current pace of 0.85 points per game and doesn't miss anymore time.
2. Ilya Kovalchuk
Resolution: Help the Devils win a playoff series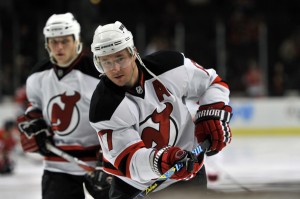 Kovalchuk has only been to the playoffs two times in his career. In 2007, he helped the Atlanta Thrashers to their first and only playoff appearance, but they were swept out of the Eastern Conference Quarterfinals by the New York Rangers. Kovalchuk had two points in four games in that series.
In 2010, New Jersey went to the playoffs after Kovalchuk was acquired midseason. He had six points in five games in the Eastern Conference Quarterfinals, but New Jersey lost to the Philadelphia Flyers.
Kovalchuk is considered one of the NHL's elite players, but he needs to get to the postseason and win to further shape his legacy. Otherwise, it will be tough to put him in any best of all-time discussions.
New Jersey is in a good position to lock up a playoff spot, and Kovalchuk not only needs to keep putting up points to help them get there, he also needs to produce in the postseason and guide the team to the second round.
3. Zach Parise
Resolution: Finish Devils career on a high note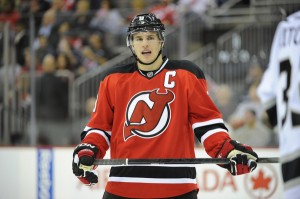 Parise is an unrestricted free agent after this season and has already been the subject of several trade rumors and scenarios. Should he not be moved after the February trade deadline, it seems like he will certainly be on his way out of New Jersey come July 1.
While with New Jersey, he has had four straight 50-point seasons (2007 through 2010) and was the Devils MVP in 2009 and 2010.
He is rebounding from a 2010-11 season that limited him to just 13 games due to a knee injury. He has 29 points to rank second on the Devils in scoring and could finish the year with 66 points.
If he can come close to or surpass his production from previous seasons, plus be a part of a Devils playoff run, he will leave New Jersey on a high note and certainly be missed.
4. Travis Zajac
Resolution: Regain pre-injury form
Zajac played every regular season game for the Devils from 2008 through 2011 and had four 40-point seasons in that time frame.
However, this offseason, he sustained an Achilles injury, which would bring his ironman streak to an end. He made his season debut on Dec. 16 against the Dallas Stars and has two points through his first six games.
If he plays the rest of the season, he is on pace for 18 points. Although it looks disappointing, we should remember that he was off for two months. He can still have a good season considering the time he missed and bounce back in his contract year in 2012-13.
5. Kurtis Foster
Resolution: Make the trade with Anaheim worth it
Foster came to New Jersey in a trade with the Anaheim Ducks that sent defenseman Mark Fraser and Rod Pelley to the West Coast. He had been off to a slow start in Anaheim, as he had just two points and a minus-five in nine games.
Since the trade, he has four assists and a minus-two in seven games with the Devils. He plays about 17:30 per game and is fourth on the team with 3:10 of ice time on the power play. He has the potential for a 20-point season but could finish the year with 30 points.
While Foster won't be the top defenseman on the Devils, he should still try to impress his new team and ensure they can come out of this trade as the winner.
6. Adam Larsson
Resolution: Lead Devils defensemen in scoring
Larsson, the Devils' first-round draft pick this past summer, currently has 13 points through 34 games. He currently leads the team's defensemen in scoring, as Andy Greene is out of the lineup with a foot injury.
Larsson has missed just two games this year due to his grandmother's funeral, and he could finish the year with 31 points. He would be the top-scoring defenseman on the Devils even if Greene were to come back for New Jersey's next game and keep up his current scoring pace.
Even if Larsson misses the mark, he has been solid in other areas. He is sixth with 43 hits and 3:08 of ice time on the power play, and he is fifth with 33 blocked shots. In addition, he is third with 21:55 of average ice time per game.
He has the potential to be a key part of the Devils defensive corps for years to come, even if he doesn't attain All-Star status or enter Calder Trophy discussion.
7. Anton Volchenkov
Resolution: Remain healthy
Volchenkov missed 25 games in his first season with the Devils last year due to a combination of injuries and a suspension. As a result, he had eight points and a plus-three rating.
This year, he needs to avoid the injury bug and stay on track to play as close to a full season as possible since 2006-07, when he played 78 games with the Ottawa Senators. He has missed three games this year and has five assists and a minus-seven.
Since Volchenkov is in the second year of a six-year deal and is pushing 30, he will need to stay healthy and be a key contributor like New Jersey was hoping he could be when they signed him prior to the 2010-11 season.
8. Martin Brodeur
Resolution: Make the right decision for his legacy
Brodeur, arguably the greatest netminder in this generation of the NHL, is 39 years old and in the last year of his contract. He is dealing with injuries for the second season in a row, and last year, his struggles saw him post a losing record for the first time in his career. He went 23-26-3 with a .903 save percentage and a 2.45 GAA while posting six shutouts.
Currently, he is 10-9 with a .888 save percentage and a 2.96 GAA. Although part of his record is due to the Devils' poor play early in the year, he missed time with an injury again. It is clear he is no longer the goaltender that used to play at least 70 games a season for New Jersey.
Hopefully, at the end of this season, Brodeur will be able to make the right decision about whether he retires or keeps playing. Even though he'll likely have his No. 30 in the Prudential Center rafters someday, it would be a shame if he held out and kept trying to play despite being past his time.