On Thursday we were given an update on the status of bottom 6 forward and astute penalty killer Patrick Eaves. That update, unfortunately, was filled with some disheartening news about his timetable for return; There is none.
"I'm dealing with a lot of headaches right now, but yeah, it's getting better, slowly. I have one pretty much all of the time." Eaves told DetroitRedWings.com's Managing Editor Bill Roose.
What was initially diagnosed as a jaw injury has now been confirmed to be an injury the NHL has made itself all too familiar with this season; A concussion.
"We're going to be real conservative with him." said Red Wings GM Ken Holland.
That (rightfully) conservative approach and the apparent severity of Eaves' symptoms don't lend themselves to the notion of a return any time in the near future. Expecting the 27 year-old's return before the end of the season is likely misguided, and an Eaves-less playoffs isn't a stretch of the imagination either.
The Red Wings, who sit atop the league in points and are in the midst of a historic 21 game home win streak, haven't missed a beat since Eaves was injured on November 26, but the team's flourishing record isn't an indication that they don't miss his presence on the ice.
Detroit has struggled when shorthanded this season, coming in at 20th in league with an 81.3% success rate, and a penalty killing specialist like Eaves could undoubtedly help their cause, but where the team will miss him most is the playoffs.
A healthy Patrick Eaves helps make one of the deepest teams in the league just a little bit deeper. With 54 games of playoff experience over his 7 NHL seasons, Eaves brings valuable postseason experience to the table. Experience that is treasured and sought-after as teams aim for playoff dominance.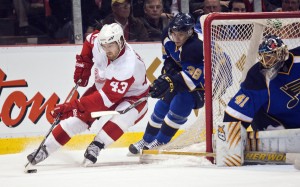 Eaves injury deals a blow to the depth of a Detroit team that has succeeded in large part this season because of their depth players. Contributions from Drew Miller, Danny Cleary, Darren Helm, Tomas Holmstrom, and Justin Abdelkader have helped the team in immense amounts when others on the roster are slumping. That secondary production will become even more crucial come playoff time, and the playoff experience those players possess will help it to stay consistent, if they can stay healthy.
The playoffs bring a more physical and high-intensity style of play to the ice by nature. With more at stake, players fight (often literally) much harder for every inch of ice. If they don't, they quickly find themselves on their way back home empty-handed. Unfortunately, such a style of play brings with it an increase in injuries. Which is why depth come playoff time is so important.
It's not unreasonable to think that at some point Detroit will lose a player to injury during the postseason. Danny Cleary and Tomas Holmstrom have both missed time with nagging knee issues this season. Pavel Datsyuk has dealt with wrist problems since last post season, and Henrik Zetterberg has had to fight through back-related injuries for the past couple seasons. Whether it's several games or just a few, whether it's a star player or a 4th liner, there will be injuries.
That's why experienced depth players are so coveted at this time of the year. It's why the San Jose Sharks added Dominic Moore to their ranks, and why the Nashville Predators made a move for Hal Gill. It's also why Detroit will look long and hard at making a move of a similar nature.
If Detroit doesn't expect Eaves to recover in time for a playoff appearance they could be in trouble should injuries arise. Rookie Cory Emmerton, who has filled Eaves role on the 4th line, has no prior NHL playoff experience. While this isn't a problem on its own, too many inexperienced players in Detroit's lineup could have catastrophic consequences, making it unnerving to look at the Red Wings' list of likely replacements for injured players.
These are those players and the number of NHL playoff games they've participated in during their careers:
Jan Mursak (0), Tomas Tatar (0), Chris Conner (9), Gustav Nyquist (0), Fabian Brunnstrom (0), Joakim Andersson (0), Brendan Smith (0)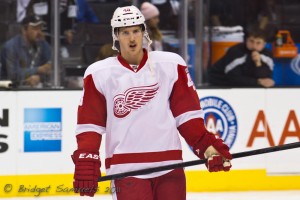 7 players with a combined playoff experience of 9 games. Take into consideration that they'd likely be entering a lineup already containing Cory Emmertion (0), and Jakub Kindl (0), and you have a firestorm of pressure-forced mistakes waiting to happen. Not only do these players have no playoff experience (excluding Chris Conner), but they also have very limited NHL experience period.
Packing your lineup with inexperience doesn't usually work out very well (just ask the Edmonton Oilers), but that's exactly what the Red Wings may be forced to do should they suffer more than 1 or 2 injuries. That is, unless they make a move or 2 before the Trade Deadline (February 27) to solve that problem.
Detroit's roomy cap space, publicized intentions, and glaring need for an experienced depth player lead me to believe they will make those moves, but who will they go after?
Earlier this month I examined the possibility of a trade between former Red Wing and current Tampa Bay Lightning GM Steve Yzerman and our very own GM Ken Holland.  The link is undeniable, and a new tantalizing name from Tampa's roster has popped up. The Lightning announced earlier this week that defenseman Pavel Kubina would be held out of the lineup as trade options were explored. The right-handed veteran would be a perfect fit for the Red Wing blue line if his asking price isn't too high. Detroit has already expressed interest in adding such a player. If not Kubina, it could be another Lightning player Detroit adds, as the team is clearly announced itself as a 'seller'.
MLive's Ansar Khan believes Montreal Canadiens winger Travis Moen would be a good fit in the D. Moen's size, playoff experience, work-ethic, PK expertise, and toughness would make him a good fit on a Detroit team that could use a boost in all of those areas.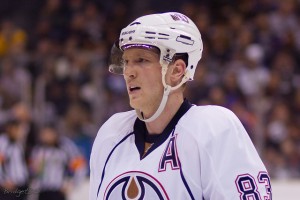 Khan also took a look at Ales Hemsky, the Edmonton Oilers forward that's been tossed around in trade rumors for at least 3 years now.
The Detroit Free Press' Helen St. James thinks Detroit would like to add Teemu Selanne, should he be available. (He wont be.)
Detroit may have been looking closely at Caroline forward Tuomo Ruutu, but his recent injury all but guarantee's that wont happen.
Another right-handed defender, the Minnesota Wild's Marek Zidlicky, has been amidst trade confusion in recent days. First reports said that a deal with the Devil's was all but complete, then Minnesota GM Chuck Fletcher stated that such a thing was not true.
Whether it's a defenseman or a forward, the likelihood of Detroit making a small addition (I repeat, small addition, no Rick Nash coming here) is very high. While Joey MacDonald seems to have (at least for a time) answered Detroit's glaring need for a backup netminder, it leaves those 2 holes needing to be filled, and I believe at least 1 of them will be come February 27.