There's no denying the strong connections between Tampa Bay Lightning General Manager Steve Yzerman and the team he spent his entire NHL playing career with, the Detroit Red Wings, or more specifically their GM Ken Holland.
After 22 seasons on the Red Wings roster, Yzerman spent an additional 3 and a half years in Detroit's front office as the team's Vice President and Alternate Governor before departing for Tampa Bay in early 2010.
As 2012's trade deadline day of February 27 draws closer, one has to wonder if those connections will be worked in weeks following the All-Star festivities.
Yzerman's Lightning sit 12th in the East, and despite currently riding a 4 game winning streak, sit 9 points out of 8th and have little chance of making the playoffs. Does that make them sellers this deadline day?
In part, yes. As our own Fred Poulin suggested earlier last week, several of the Lightning's smaller pieces could be up for grabs.
While the history between Red Wings forward Todd Bertuzzi and the Moore family likely rules 31 year-old Dominic out of the mix, Tampa Bay could be offering just what Detroit is looking for.
I've already expressed my personal opinion that Detroit need not make a move for a successful playoff run, it's undeniable that they are looking closely at doing so.
Red Wings play-by-play announcer Ken Daniels stated that he believed the Red Wings were looking for a top 6 forward with size or a right-handed blue-liner, also with some size.
The Lightning have 2 players that perfectly fit those qualifications; Left wing Ryan Malone, and defenseman Matt Gilroy.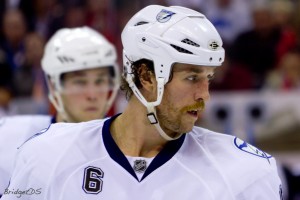 At 32, Ryan Malone has plenty of NHL experience, and having gone deep into the playoffs twice in the last 4 years (Stanley Cup Finals with Pittsburgh in 2008, Eastern Conference Finals with Tampa Bay in 2011) may bring just the kind of presence the Red Wings are looking for.
A 20 goal scorer in 5 of his 7 NHL seasons, Malone can be counted on for approximately 40 points annual, but more importantly, he brings a gritty playoff ready game wherever he goes. It's that kind of game that could have the Red Wings especially interested.
It would seem a perfect fit for Detroit, but Malone's contract may get in the way. Assuming he would be willing to waive his no movement clause, which he may very well not be, their could still be problems fitting him into the Red Wings future. Signed through the 2014-15 season at $4.5 million a year, his contract is something the Red Wings may not wish to take on heading into an offseason full of blue line uncertainty.
It's that same uncertainty of what Brad Stuart and Nicklas Lidstrom will do, however, that could lead to Detroit making a move for the previously mentioned Lightning defenseman, Matt Gilroy.
Gilroy possess the right-handed shot Detroit may be seeking to add to their blue line, as well as a much more favorable $1 million salary. At 27, this is just Gilroy's 3rd year in the NHL, and his first with the Lightning. While he's 2nd in defensive scoring on the team, he only has 14 points, but could make a nice addition in an attempt to strengthen the Red Wings depth at defense.
Other names like Brett Clark and Steve Downie too have been hurled into the mix of trade rumors involving the lightning, both of which could also add important depth to any team seeking a playoff run, and one has to wonder whether players like Teddy Purcell or Eric Brewer are safe.
Tampa Bay may not be in sell all mode, but they are looking, and GM Steve Yzerman seems particularly interested in prospects in draft picks to help his team into the future, as well as a top 4 defenseman (though he can't seem to find one).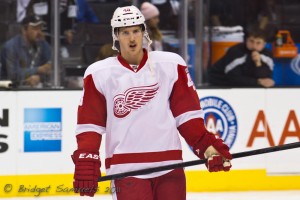 What would Detroit even be willing to give up for such pieces? Cory Emmerton, Tomas Tatar and a few draft picks? With the rise of Brendan Smith and Jakub Kindl, do the Red Wings even need more defensive depth? Does the risk of upsetting current forward chemistry make adding another too dangerous? All the possible questions suggest to me that the likelihood of seeing a deal come to fruition may be low.
Will Detroit and Tampa Bay come together for a trade? Will either team make any moves at the deadline at all? Let us know in the comments below.
Andrew is a passionate hockey fan at heart, and has been since a very young age. Residing in Michigan, he grew up with the team he currently covers at THW, the Detroit Red Wings.