Scott Hartnell's big year can easily be attributed to things other than him by short sighted people. However, the biggest reason for Hartnell's success this season is well, Scott Hartnell. While no one is arguing that Hartnell has a couple of extremely talented linemates, we haven't seen this version of Scott Hartnell prior to the 2011-12 season.
Hartnell is easily having the best year of his career. He currently has 25 goals and 19 assists for 44 points in 48 games with an outstanding +18 on the season. He has shown much more discipline as far as taking dumb penalties.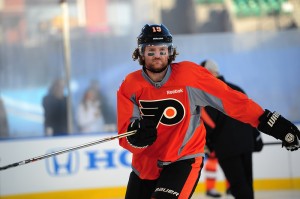 While it's easy for many people to point to the talent Hartnell plays with and compare him to Kevin Stevens, there is something very different about Scott Hartnell this year. Hartnell seemed to be lacking confidence at times at the end of last year and earlier this season, but he turned things around and did it the right way. That's the reason so many people were outspoken and upset about Hartnell's initial exclusion from the All Star Game.
Hartnell could have let the early season criticism bother him, but he didn't. He could have trashed the coach when his ice time was cut sometimes to under 10 minutes a game earlier in the season, but he didn't. He did all of his talking on the ice.
So many coaches always tell their players who complain about playing time to show them how serious they are on the ice, field, etc. Few players do. They usually just quit on the team and complain and try to get leverage through the media. He didn't.
Hartnell handled his early season struggles and differences with the coach behind closed doors and on the ice. He did with class and respect in an era where those are qualities that are hard to find.
Claude Giroux battled a concussion this year and Jaromir Jagr has missed a bunch of time with groin and calf issues. Hartnell has battled hard and continued doing what he's been doing all year: Crashing the net, and making life miserable for goalies. Hartnell has logged over 20 minutes of ice time in 3 out his last 6 games before the All Star Break.
"Hartsy" is oozing with confidence. #Hartnelldown no more in the minds of the Flyers and their fans. Scott Hartnell is an All-Star. Hartnell's an All-Star who wasn't even Mr. Irrelevant in the all star draft. Scott's an All-Star who deserves every bit of this.
The player who couldn't escape trade rumors for the past couple of seasons is now well worth the $4.2 million cap hit on the Flyers payroll.
Take it all in, Scotty. The Scott Hartnell the Flyers thought they were signing back in 2007 has entered the building.
Justin Johnson is a Senior Correspondent and has been covering the Philadelphia Flyers for The Hockey Writers since the 2008-09 season. Justin has covered all levels of hockey across the United States and Canada. Justin is a graduate of Rider University in Lawrenceville, NJ and currently resides in Southern New Jersey.