The Chicago Blackhawks have been a bit streaky with their play this season, struggling through some stretches and dominating others. Back in November on the Circus Trip, they won 5 of 6 games – including consecutive 4-1 wins over Pacific Division powerhouses Anaheim and Los Angeles – and were being hailed as the obvious Stanley Cup favorite. Contrary to that has been their play since the All Star Break, in which they are 5-3-2 and have lost to the likes of Minnesota and Arizona.
Part of the issue has been that some key contributors just haven't been able contributing at the level that they were expected to. Marian Hossa recently exploded for 7 goals in 4 games, but that nearly doubled his goal total up to that point. Patrick Sharp is still struggling to score, and last year's team points leader has just 31 (10G, 21A) in 43 games this season.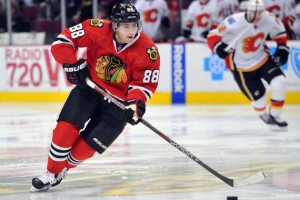 But in the midst of all that, one player has been consistently dominant, contributing night in and night out for the Blackhawks: Patrick Kane. Kane currently leads the NHL in points with 63 (27G, 33A) in 57 games this season, on pace for his first career Art Ross Trophy. But he should also be considered the favorite for the Hart Trophy as NHL MVP.
More than just the league's point leader, Kane has performed well through the highs and lows of the Blackhawks' season. During that dominant 6-game Circus Trip, Kane tallied 9 points (4G, 5A), and turned in 4 multi-point efforts. Those 4 games actually contributed all of his 9 points on that trip. Chicago won every one of those games.
Since the All Star Break, Kane has tallied 12 points (5G, 7A) in 10 games, with 4 more multi-point contributions. The 'Hawks are 3-0-1 in the game in which he tallied more than 1 point. Conversely in the games in which Kane did not tally a point, the 'Hawks are 1-2-1, and the one win was this past Sunday's shootout win over Pittsburgh, in which Kane did this:
While these are just 2 short stretches of play this season, it's obvious that Kane has been integral to the success of this team. If you looked at nearly any stretch of play for Chicago this season, you're likely to see Kane's name on the scoresheet more often than not.
Patrick Kane has always been known as an elite player on an elite team. But this year, he is the elite player on a somewhat underperforming elite team. And while the Blackhawks are still a virtual lock for the playoffs and a favorite of many to make a run for the Stanley Cup, there's no question that they wouldn't be where they are without the elite level of play that Patrick Kane has been at. That should have him atop voters' Hart Trophy ballots.