As players from the New York Rangers were leaving the locker room and closing off this chapter of their disappointing season, the media had a lot of questions for Patrick Kane. He was asked about his pending free agency, his short-lived experience with the Rangers, and his health. He was also asked about the possibility of a free agent return to the Chicago Blackhawks.
Answers to the first few questions weren't surprising. His response to the question about Chicago might be a bit unexpected considering his history with the team, how unsure he was about wanting to leave Chicago, and, potentially how, under the right circumstances, fans wouldn't be all that shocked to see him finish his career as a Blackhawk.
What Kane Said About His Free Agency
When asked about his plans over the offseason and with respect to free agency, the soon-to-be 35-year-old responded that they do include heavily factoring in the Rangers. He said, "I would love to be back. If I can feel better, with this team and this opportunity, I'd love that chance." That said, he's well aware there are lingering health issues that will affect the Rangers' interest in bringing him back as a UFA, even though he was quite effective when not 100%. He also knows the Rangers have priorities that may be younger and healthier than he is.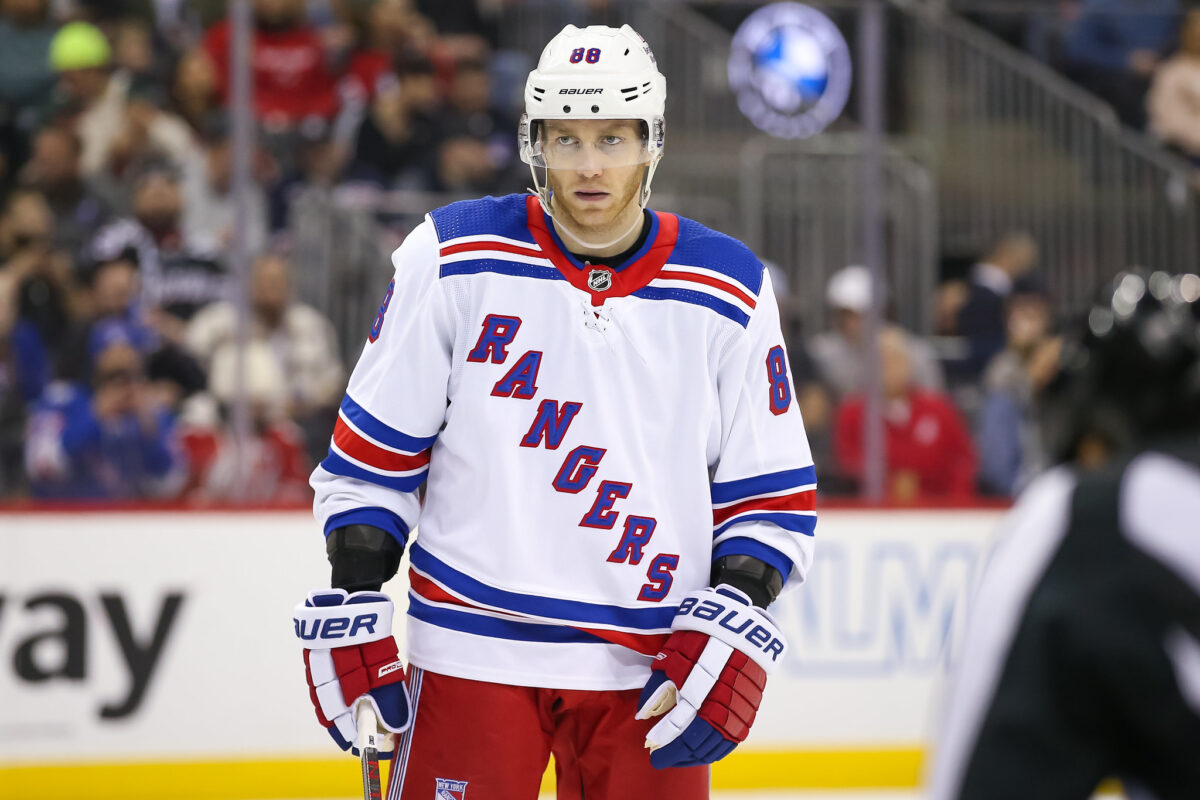 He noted he's still got the mental makeup to be a top player in the NHL, but he seemed to be suggesting that he's not sure where the Rangers sit in terms of their future plans for him. If his plan is to get healthy and then see what options are available, the Rangers may or may not be on the same timeline that he is.
What Kane Said About Considering the Blackhawks
As a long-time member of the Blackhawks, one of the big storylines at this past NHL Trade Deadline was what Kane was going to do. It felt like months went by as every NHL insider figured he would eventually agree to waive his no-trade clause and go to a contender, but days and weeks passed without a word from the winger. The feeling was that Kane was really torn about ever leaving the only franchise he'd ever known.
---
Latest News & Highlights
---
Eventually, that day came. When the Rangers made a trade for Vladimir Tarasenko, Kane was surprisingly public about his disappointment that the Rangers had seemingly moved on. He hinted that he'd been looking at the Rangers for a while as an option, and appeared almost hurt that they'd shifted their focus. Before the money worked itself out and he was eventually moved to New York (the Rangers getting both players), some questioned whether Kane would just rule out a move at all. At that point, perhaps it was the Rangers or simply stay put.
So, when he was asked about Chicago as an option, the member of the media who asked was probably genuinely under the impression that a big part of Kane's heart was probably still with the Blackhawks and that, at the very least, he would consider them as a free agent option.
Apparently not.
His response to the question was matter of fact when he said, "They're rebuilding, so that's never crossed my mind, to be honest with you."
In other words, Kane has essentially moved on with that part of his NHL career. Perhaps it took a while to get to that point, but once he did, he didn't look back. When Jonathan Toews was told the team was parting ways with him this summer, it likely provided reinforcement for Kane that the Blackhawks had other plans in mind.
Why Blackhawks Might Not Want Kane Back
Kane saying the Blackhawks aren't on his radar is one thing. But, does this have any impact on what the organization is likely to do? Probably not. The Blackhawks are shifting gears. While they'll need leadership and veterans to work with their younger core, Kane is not a part of that plan.
Related: 5 Former Blackhawks Most Likely to Have Their Number Retired
Ben Pope of The Athletic tweeted back in April, "[Kyle] Davidson says the Blackhawks decided not to bring back Kane & Toews because he wants to "clear the deck" for "organic growth" — to let leaders emerge in the next core rather than deferring to those two." He added, "He wants the next wave to enter in the same situation as Kane & Toews did." Suggesting that having Kane as a leader was often more about Kane than it was about the team, it was time to move on. Pope explained, through no fault of Kane's own, the dynamic forward with a dramatic storyline draws to him major media attention and the story becomes often about the individual and not about the team. Moving on from that narrative was part of the organizational mandate.
He added the current leaders — Connor Murphy, Jarred Tinordi, and Tyler Johnson — "don't vacuum up all the leadership like Kane and Toews did…"