Now that the Detroit Red Wings' season is over, the Pavel Datsyuk-contract saga begins. The Russian forward just finished the sixth season of his 7-year contract worth $6.7 million per season.
Next year will possibly be his last season as a Detroit Red Wing (I know, the idea shocks me as much as it shocks you) as he is set to become an unrestricted free-agent next summer. After a season where Detroit proved all the doubters wrong and made the playoffs despite many thinking they would start a rebuild, Datsyuk has a lot to reconsider about his future in the Motor City.
What Are Datsyuk's Possible Options?
Datsyuk has a number of options to contemplate this summer and into next season about his future with the Red Wings' organization.
Option 1: Re-sign With The Red Wings
The Detroit Red Wings are the only team that Pavel Datsyuk has ever known. The Russian centre-man was drafted in in the 6th round of the 1998 NHL Draft, 171st overall.
He has been adamant on staying in Detroit beyond next season. He has created some great chemistry with teammates Henrik Zetterberg, Johan Franzen, and Justin Abdelkader. However, with a number of restricted and unrestricted free-agents yet to sign under general manager Ken Holland, the question is if the Red Wings can in-fact sign the skilled Russian to another long-term extension? One thing is for sure though. He'll be asking for a lot of money.
Option 2: Ask to be traded next season
Who wouldn't want Datsyuk apart of their team? He had 35 points in his first year in the NHL, and hasn't scored less than 49 points in 11 seasons (those 49 points came this year, in 48 games, making him a point-per-game player).
Datsyuk's decision to stay or go may depend on the moves the Red Wings' brass makes in the off-season. If he sees they are still chasing Lord Stanley's mug, he will most likely decide to stay. If the Red Wings remain somewhat idle and don't make any major improvements, he may ask to be traded.
This may be a great time for Holland to trade his prized centre-man, as his play has not dropped yet, and he is a potential #1 centre for any team. Datsyuk does have a limited no-trade clause, but the pay-back for him will be huge!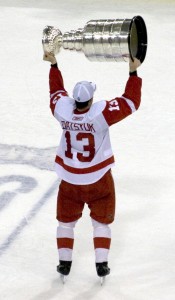 At 34 years of age, who knows how much hockey is left in Pavel. The Red Wings haven't won the cup since the 2007-2008 season (which may seem long, but not as long compared to other franchises, sorry Leafs' fans). Pavel's desire to win another cup may come down to whether the Red Wings are in the playoff hunt next season. An end to their 22-year playoff streak may mean the end of Pavel Datsyuk in Detroit.
Option 3: Finish his contract in Detroit and sign in The KHL
Before Datsyuk made the jump to North America, he played in the KHL with Dyanmo-Energiya Yekaterinburg and Ak Bars Kazan. A native of Russia, he has played half of his professional career in Russia, and the other half in Detroit. He also played for CSKA Moscow during the locked out 2004-2005 season, and during the lockout this year.
In the past, he has expressed his desire to finish his career in his home country. Pavel will be turning 35 in July, and is nearing the end of his career. Given that most players usually contemplate hanging up the skates around the age of 37-40, Datsyuk may be more inclined to sign a 2-3 year contract in the KHL, and finish off his career there at the age of about 38. He loves playing in Russia, based off of this unbelievable goal he scored in November with CSKA Moscow.
Ken Holland has already admitted that re-signing arguably his most skilled player will be a challenge. But the danger is real that Pavel Datsyuk may be entering his last season wearing the winged wheel. Then again, look what Datsyuk tweeted last week to Red Wings fans…
Dear Friends, Thank You for the support you have shown me and The Red Wings. I look forward playing here for many years to come.

— Pavel Datsyuk (@Datsyuk13) May 31, 2013
Do The Red Wings Have A Back-Up Plan If Datsyuk Does Not Re-Sign?
Pavel Datsyuk is easily Mike Babcock's most-skilled, #1 centre-man. Behind him and Henrik Zetterberg, a lot of questions are still to be answered.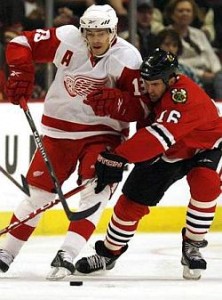 Were Datsyuk to leave sometime next season or during the following off-season, Mike Babcock may have some possible line juggling to do. There is no doubt that captain, Henrik Zetterberg would move up to the #1 centre spot.
Filppula is also set to become a UFA this summer. So Ken Holland has to decide whether or not to sign Filppula, which may compromise his ability to give Datsyuk the contract he deserves, thus affecting whether he stays or not.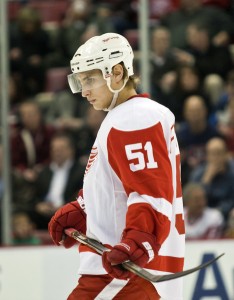 The possible combination of Filppula leaving this summer and Datsyuk departing the next, leaves a much younger and inexperienced depth chart down the middle. Emmerton (25), Andersson (24), and Helm (26) all suddenly bare more responsibility behind Henrik. While all three have injected some great energy into the Red Wings' lineup, they have yet to prove how valuable they are to the franchise.
It seems that Ken Holland may be banking on his younger centre-man to replace. He also has some skill lurking in the AHL, with Landon Ferraro playing well with the Grand Rapids Griffins. Let's be real here though, can someone actually replace Pavel Datsyuk? (if you think someone can, tell me in the comments!)
Holland may also be inclined to seek another star centre-man in free-agency. 2014 will provide a free-agency list I have not seen in years. Evgeni Malkin, Henrik Sedin, Joe Pavelski, Joe Thornton, and Patrice Bergeron will be the biggest names down the middle hitting the market in 2014. If Datsyuk leaves, do not be surprised if Holland really tries to bring one of these guys to the Motor City.
Pavel Datsyuk provides much of the scoring power for the Detroit Red Wings. If he were to leave, 20-30 goals, and 60-90 points in a full season would be lost. Behind him, only 4 other players scored 10+ goals this year, so someone will need to fill the goal-scoring void left by him. His poise with the puck, ability to control the tempo of the game, and his quiet physicality makes him one of the best players in the game. The Red Wings struck gold in 1998, and Ken Holland must do everything possible to preserve it.