Pittsburgh Penguins general manager Jim Rutherford has been busy this offseason. After a disappointing loss in the play-in round series to the Montreal Canadiens, Rutherford started to re-tool his team. The additions of Kasperi Kapanen and Mike Matheson, among others, improve the Penguins' speed both up front and on the blue line. They also traded Matt Murray to the Ottawa Senators, making Tristan Jarry the starting goaltender moving forward. 
Related: 10 Greatest Pittsburgh Penguins in Franchise History
With the top-six set, Rutherford should focus on adding an offensive piece to the Penguins' bottom-six. The club has $2.568 million in cap space, and they have a few options to improve their third and fourth lines. 
Colin Wilson
Rutherford said the Penguins could add a depth centreman, and Colin Wilson is a player he should try to sign. Wilson's 2019-20 season was cut short due to a lower-body injury, which caused him to miss the NHL's return to play. He's done a great job of providing depth scoring throughout his career and has posted 286 points in 632 games. He's played his best hockey during the postseason, where he has 33 points in 65 playoff games. 
The Penguins signed centre Mark Jankowski to a one-year deal worth $700,000. Jankowski has seen a steady decline in his offensive production over the past three seasons with the Calgary Flames, scoring 17 goals in 2017-18, 14 goals in 2018-19 and five goals in 2019-20. He will play a defensive role for the Penguins, as Rutherford expects him to kill penalties as well.
"Mark is another versatile player that gives us an option at the centre position. His added experience on the penalty kill, where he has had success over the last few seasons, makes him a good fit for our team."

Penguins general manager Jim Rutherford said about Jankowski.
The Penguins lack an offensive centreman behind Sidney Crosby and Evgeni Malkin, which means an injury to either one of them will lead to Jankowski or Wilson having to step in on the second line. Wilson would give the club an option in case one of the two franchise players suffers an injury. A one-year deal at $2 million is worth it for the forward. 
Michael Grabner
The Penguins could sign Michael Grabner to add depth on the wing. Grabner is two years removed from a 27 goal season. He has missed quite a few games due to injuries the past two seasons, which hurts his value a little bit. The Austrian forward had one year left at $3.775 million but was bought out by the Arizona Coyotes.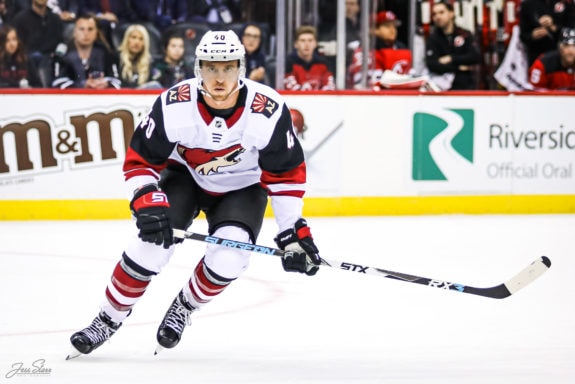 The 32-year-old forward can play on all four lines for the Penguins and provides the club with secondary scoring. Grabner is a good combination of skill and speed, something the Penguins have been looking for this offseason. Grabner would benefit from joining the Penguins as well since he has an opportunity to potentially play with Crosby or Malkin at some point in the season. He could regain his scoring touch from a few years back, which would make him a steal for Rutherford.
Ilya Kovalchuk
Ilya Kovalchuk's return to the NHL has been interesting so far as he played with three teams over two seasons. He split time with the Los Angeles Kings, the Montreal Canadiens and the Washington Capitals last season. He had 10 goals and 26 points in 46 games in the 2019-20 season but played his best hockey with the Canadiens as he scored six goals and posted 13 points over 22 games. Kovalchuk will be turning 37 years old next year, and although his production has dropped from his first stint in the NHL, he can provide secondary scoring for the Penguins.
Similar to Grabner, the Russian can play throughout the Penguins' forward lineup. Kovalchuk can lineup next to Crosby or fellow countryman Malkin, or he can play on the club's third line, adding an offensive edge to it.
Kovalchuk would also be a welcome addition to the Penguins' power play, as they've traded away Patric Hornqvist and lost Justin Schultz in free agency. They played on the power play as right-handed shots last season. The Russian forward is a right-handed shot and has scored 144 power-play goals throughout his career, making him a useful weapon on the man advantage.
Penguins Could Use Offensive Help in Bottom-Six
The Penguins have two defensive lines in their bottom-six, and it's risky to keep the lines that way because the team will need scoring from the third and fourth lines. Having three offensive lines has helped the Penguins in the past. For example, in their 2016 Stanley Cup run, their third "HBK" line of Carl Hagelin, Nick Bonino and Phil Kessel combined for 20 goals and 56 points. 
Related: Penguins' Franchise Stars – Malkin Is Better than Jagr
Rutherford has been aggressive to start the offseason and has a little bit of room to make another move. Signing one of the forwards mentioned will improve the Penguins' bottom-six heading into next season. 
---
---