The Pittsburgh Penguins made it through the 2015 NHL entry draft without three of their draft picks and, in an uncharacteristic fashion, did not execute a trade. However, the show is just beginning as the Penguins will continue to look for the elusive top-six forward they covet.
Let's recap their draft, give some updates on trades and key free agent developments.
The Penguins Draft Selections
The big news from the draft was that the Penguins landed Daniel Sprong. The 6-foot right wing was expected to be selected in the first round, but somehow fell to Pittsburgh at the 46th overall pick.
Sprong is a right shot and has a knack for scoring. He led his team in goals, assists and points for the last two years in a row.
While he's a great scorer, he's a defensive liability and needs to bulk up before he skates in the NHL.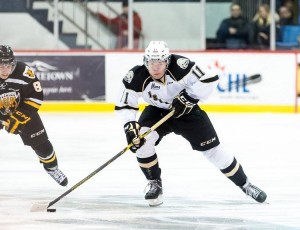 The Penguins next three selections were all forwards and all have their own positives and negatives. Dominik Simon (fifth round), Frederick Tiffels (sixth round) and Nikita Pavlychev (seventh round) all are long-term projects, but do not discount any of these players. Just remember Patric Hornqvist was taken with the last pick in the 2005 NHL entry draft.
Given the circumstances, it was a solid draft for the Penguins and Sprong will be a really great addition to their forward prospects. The best praise you can give general manager Jim Rutherford is he did not make a trade like he had in the past.
He was patient, saw that the asking price was too high and has opted to wait. This could not have been said when Rutherford traded James Neal to Nashville, Simon Despres to Anaheim and the acquisition of Daniel Winnik.
Free Agency Update
The big news for the Penguins is that an familiar name is looking to make his way back. Sergei Gonchar wants to come back to Pittsburgh.
He's admitted that the 2015-16 season will likely be his last and is willing to take a one-year/$1 million dollar contract. Would Gonchar make some sense for the Penguins? Yes he would.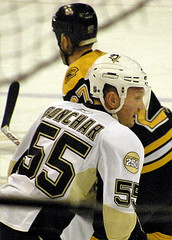 Adding a veteran offensive defender to their bottom pairing would certainly help their depth. Gonchar could also help to mentor and teach the Penguins young defensemen, but he knows his limitations as well. However, there is another factor in play.
As we've previously reported, Paul Martin does not want to leave Pittsburgh. His agent met with Rutherford down in Florida and contract talks went much better than the Penguins had anticipated.
Sources have indicated there's a much higher probability that Martin will remain with the Penguins next season, but what does this mean?
Penguins Trade News
It was previously acknowledged that Sidney Crosby, Evgeni Malkin, Kris Letang, Olli Maatta, Marc-Andre Fleury and, we thought, Derrick Pouliot were all untouchable in trade discussions.
However, something has changed and Pouliot's name is off of that list. After Rutherford shopped around at the draft in pursuit a top-six wing, he realized a deal could not be made without at least discussing Pouliot.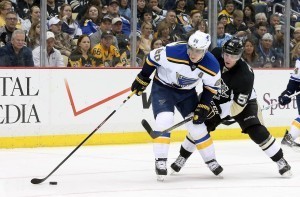 The bottom line is that Pouliot is now in the Penguins' trade discussions. With the additional news that Martin is looking to come back to Pittsburgh on a team friendly contract, it seems that Pouliot might be an asset that management is alright with losing.
Scratch the Penguins off of the list for Jeff Skinner and Patrick Sharp.
Rutherford has had discussions with both the Chicago Blackhawks and, his former club, the Carolina Hurricanes. Both of their asking prices were deemed far too high and the Penguins are turning their attention elsewhere.
It's now the St. Louis Blues and Toronto Maple Leafs that Pittsburgh is in trade discussion with. St. Louis' T. J. Oshie and Toronto's Phil Kessel are the targeted players and there were a couple times a deal was very close on the draft floor.
Unless Chicago or Carolina significantly lower their asking prices there will not be a deal.
The Penguins are going to be patient, but they won't wait around forever. They want a top-six forward and are looking acquire it sooner rather than later.
Stay tuned because both St. Louis and Toronto are looking to make moves before unrestricted free agency begins on July 1st.