A lot of talk has been made in recent weeks about the Pittsburgh Penguins and their 'window of opportunity' for another Stanley Cup championship. Many questions have been getting tossed around. Is the window closing? How much longer can the window stay open? Is there even such a thing as a 'window'?
Well let's assume, for now, the window is real… and it's closing. Which it is, with Sidney Crosby and Evgeni Malkin both on the wrong side of 30, this was a moment in time every Penguins fan was dreading. The end of an era so to speak, is approaching, but while there is still light shining through that window, it is time for the team to get equipped for the post-Crosby/Malkin reign.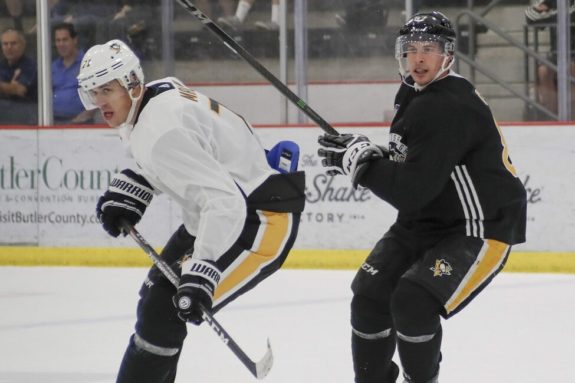 If the Penguins want to keep their window open for as long as possible, the best option is to rely more on the younger players in the organization. The youth is not only the future of the team, but it may also be the present. The key to success in the NHL right now is to get younger and faster on the ice, and the Penguins have a fairly good opportunity to succeed with their current prospects.
It's Time for Penguins' Youth to Step In
Young players like forwards Samuel Poulin, Nathan Legare, Drew O'Connor, and defensemen Pierre-Olivier Joseph and Josh Maniscalco will be putting up arguments to join the Penguins' organization to start the 2020-21 season. While general manager Jim Rutherford still has some tricks up his sleeve for moves this offseason, one has to hope that moving out more prospects is not part of them. The Penguins lost enough in trading away Fillip Hallander.
Related: 10 Greatest Pittsburgh Penguins in Franchise History
Here is a rundown of some of the key prospects to keep an eye on once the 2020-21 Penguins training camp starts up.
Pierre-Olivier Joseph
After spending an entire season with the Wilkes-Barre/Scranton Penguins, Joseph is ready to take the next step towards the NHL. Will he be on the NHL Penguins' opening day roster? Probably not, but he will most likely be showing up sooner rather than later. While Joseph still has to fill out his 6-foot-2 frame, that shouldn't be an issue. Current Penguins' blue-liners Brian Dumoulin and Marcus Pettersson are of similar builds and entered the league needing to fill into their size, as well.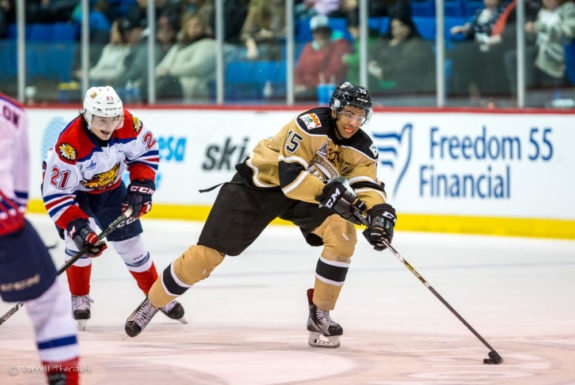 Joseph has caught the eye of the organization for his play in the AHL, enough so that he joined the team into the Toronto bubble for the Stanley Cup Playoffs. He may not have gotten the chance to play, but being able to travel and have his hat in the ring shows how highly they look at him as a player.
Samuel Poulin
Poulin is one of only two first-round picks Rutherford has ever made with the Penguins, and he has a bright future as an NHLer. It will be a matter of this upcoming training camp, however, if his future starts in 2020-21. Due to his young age of 19, Poulin is not AHL-eligible, meaning if he doesn't crack the NHL roster he has to be sent back to the Sherbrooke Phoenix of the QMJHL.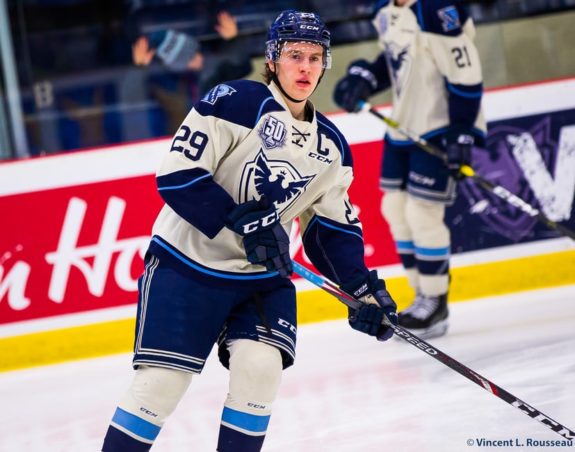 While Poulin is listed as being able to play both wings, he mostly plays on the left side. For him to make the lineup, he has to have a very good training camp, and a spot on the left wing has to open up. The main issue for Poulin there will be Jared McCann. What the team wants to do with McCann could have major implications on Poulin.
Nathan Legare
Legare impressed many with his 2019 training camp and preseason performance, enough to earn an entry-level contract. During the 2019-20 season with his Baie-Comeau Drakkar in the QMJHL, he had some setbacks in his game. His team finished 15th out of 18 clubs, and Legare has to work on some skating issues. It should be noted that like Poulin, Legare is also not AHL-eligible.
The rumor is that the 19-year-old Legare has one of the hardest shots in the Penguins' organization, and there is still hope for him to grow into a skilled player. Despite his setbacks, if the Penguins can get a good mold on him expect Legare to crack an NHL roster in the next season or two.
Drew O'Connor
Barring an absolutely dominant training camp, O'Connor will be starting the next season in the AHL with Wilke-Barre/Scranton. And that's a good starting spot for him in the organization. A college free agent signing from Dartmouth University, O'Connor joins Sam Lafferty (Brown) and John Marino (Harvard) as current Penguins who played Ivy League college hockey.
O'Connor was a late-bloomer to NHL scouts, standing at only 5-foot-8 during his draft year. Now a hefty 6-foot-3 22-year-old, O'Connor posted 38 goals in 65 games over two seasons with Dartmouth. He was picked as the Co-Ivy League Player of the Year for 2020 after leading his team in goals (21), points (33), and shots per game (4.74). O'Connor likes shooting the puck and finding his way to the front of the net. A younger Patric Hornqvist type, watching him develop in the Penguins system will be a treat.
Josh Maniscalco
Right-handed defensemen are a hot commodity in the NHL these days, and Maniscalco fits the mold as a puck mover who can play on that side of the ice. Another college signing by the Penguins, 21-year-old Maniscalco just finished his sophomore season with the Arizona State Sun Devils. In 36 games played, he scored 11 goals and 21 assists for 32 points, all career highs. 
Before his college play, Maniscalco played with Shattuck St. Mary's, where Crosby, Jack Johnson and Teddy Blueger all attended. Maniscalco is another young face to join the Penguins prospect pool, and like Joseph, might find his way to an NHL lineup in the very near future.
Young "Veterans"
While new faces will begin showing up in the Penguins lineup soon, there are young stars already acclimated that must continue their dominance as some of the team's top players. Skaters like Jake Guentzel and John Marino come to mind right away.
Jake Guentzel
Guentzel since joining the league has blossomed into a top goal scorer, putting up a 40-goal season in 2018-19, and being on pace for similar numbers before suffering a shoulder injury in the following season. When thinking of the long term future of the Penguins, Guentzel is shaping up to squarely be in that spotlight.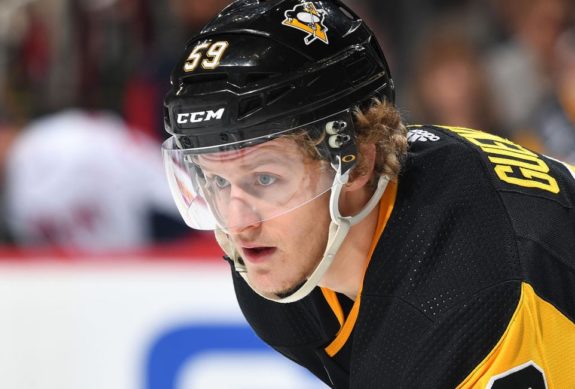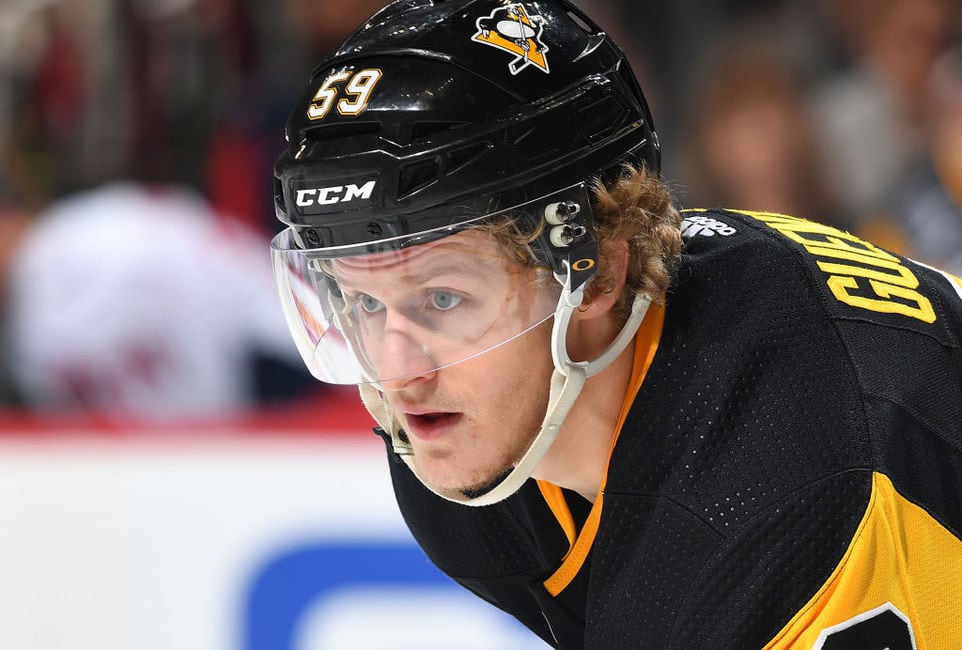 A contract that lasts for another four seasons at $6 million per year assures Guentzel will probably be around for the short term, but he will be 29 when it expires, and only time will tell if he continues to skate for the Pens. At this point in time though, Guentzel is the leader of the young core in Pittsburgh, and if all things stay on track, he will be the leader of the entire team.
John Marino
While Guentzel is looking like the heir apparent to the squad, Marino is on the same step with the defensive core. Assuming Marino's rookie season wasn't just a flash in the pan, he should be taking over on the top pairing in the coming seasons.
Decisions will have to be made on Kris Letang, since there are only two years left on his contract and trade rumors have been aplenty, recently. One thing that is for certain, however, is that Marino is shaping to be the next top defenseman in Pittsburgh. The smart play for all parties involved including Letang, Marino, and the Penguins is to keep Letang on the team so Marino is not forced to progress at a faster pace than he may need.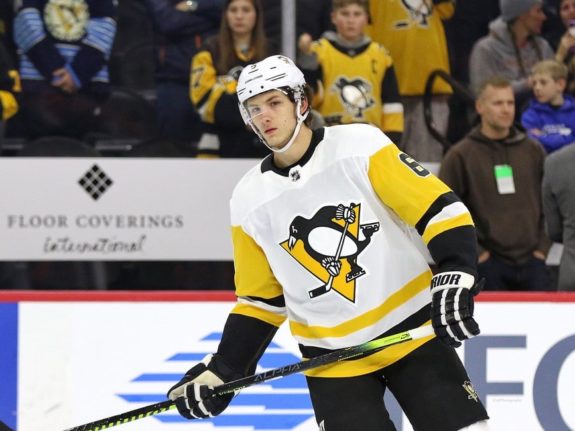 Marino's rookie season, despite being cut short and hampered due to a jaw injury, looked tremendous. In 56 games, he pulled in 26 points including 6 goals, while also using his body to employ a great defensive game. Marino blocked 77 shots and laid 72 hits during the regular season. He is going to be the most important piece of the defensive core going forward, and following the 2020-21 season, will be due for a new contract – expect it to be a high, well-deserved price tag.
Sam Lafferty
Going into next season, Lafferty will be a solid choice as a bottom-six forward. While he is not the biggest goalscorer on the team, he will be entering a growing phase of his career. The more playing time he gets, the more that management and the coaching staff will be able to get a read on what kind of player he will turn into. Right now, Lafferty is a gritty winger who is a wrecking ball on skates, piling up 95 hits in his 50 regular-season games played.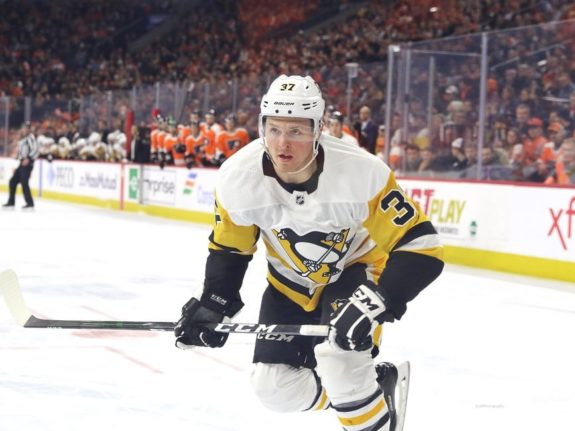 Lafferty has more to give as a scoring forward – during the 2018-19 AHL season in Wilkes-Barre/Scranton, he posted 36 assists and 49 points in 70 games. If he can find more of that playmaking ability in the NHL, Lafferty is another bright piece to the team's youthful future. The only downside at the moment is that he is due for a new contract.
Juuso Riikola
In a surprise signing, the Penguins penned defenseman Juuso Riikola to a two-year deal worth $1.15 million per year. He has to get his deserved playing time now, right? That seems to be the case, as Rutherford said the team expects him to "take the next step forward in his development" this season.
Odds are, if Riikola gets the playing time he deserves, he will be another important piece on the youthful D-core of the future. Another skater who likes to play the body, Riikola recorded 86 and 74 hits in his two respective seasons with the NHL Penguins. The time is now for him to get regular time in the NHL, and with a new contract, things look promising for him in Pittsburgh.
What About Jared McCann?
An outlier in a lot of these conversations is the 24-year-old McCann, whose future with the Penguins is still in question. Currently a restricted free agent, he's rumored to have been tested on the trade market by Rutherford. Given how the poorly his regular season ended and how the postseason only got worse, moving on from McCann can have some perks.
The Penguins are in need of reinforcements in their farm system, trading away McCann for draft picks or pieces to grow in the minors would not be a terrible idea for right now. Currently, the Penguins only have four picks in the upcoming 2020 NHL Draft, and none of them are in the first two rounds. Shipping McCann for a draft pick or two can help in terms of draft capital.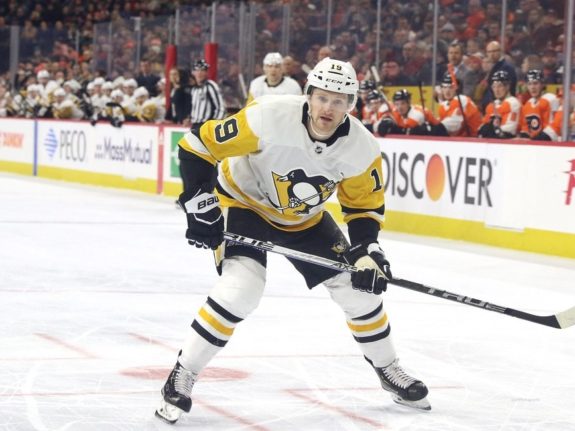 Beyond the draft, however, if the Penguins wanted to send McCann somewhere for a prospect or depth piece, they would be well within their right. McCann can play any forward position and is a player ready to jump into just about any lineup across the league.
If the Penguins do want to keep McCann around, however, then it can't be anything long term. A contract only lasting one season so he can prove to still be worth the time is all he deserves from Pittsburgh at the moment. He went the final 22 games of the regular season without a goal, then was healthy scratched in the play-in round against the Montreal Canadiens. Doing that going into contract negotiations is not helpful.
It is very well possible McCann turns it around for the 2020-21 season, but it will be up to management to decide if he does it in a Penguins' uniform or not.
Time to Focus on Youth
For as long as Crosby, Malkin, and Letang are on the same roster, the Penguins will be a threat to make the playoffs and win games. Time, however, is passing by and no one is getting any younger. While having a young supporting cast of Bryan Rust, Teddy Blueger, and Pettersson can make for a great core, the names mentioned above are looking for a real shot at being stars in their own right.
Related: Penguins' Franchise Stars – Malkin Is Better Than Jagr
If the Penguins want to stop a closing window of opportunity and maybe begin to reopen it, now is the time to start putting more trust in the youth and young stars in the organization. The league is getting younger and faster around them, and it is time to get with the program. The time is now for the Penguins to focus on their youth and speed.
---
---