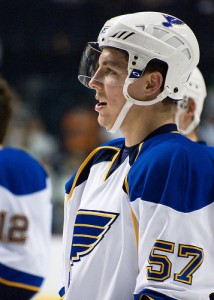 David Perron knows all about expectations.
Drafted 26th overall in an admittedly sub-par 2007 draft class, he nevertheless made the Blues straight out of the Juniors, scoring 13 goals and 27 points in 62 games. In the 2008-09 season, he cracked the 50 point plateau, notching 35 assists in the process and becoming noteworthy for his playmaking skills. He has since reached 20 goals twice, including a career-high 21 this past season in just 57 games. However, his ability to stay on the ice has slowed his development, as concussions have cost 97 games over the past two years.
Healthy again, the Blues expect Perron's grit, two-way abilities and playmaking skills to play major roles in their series against the Sharks. Thursday night at the HP Pavilion, they did.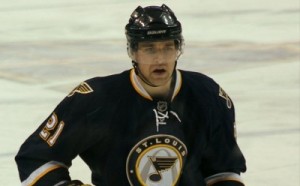 Perron's crisp lateral pass to Patrik Berglund led to a B.J. Crombeen blast from the slot at 7:12 of the first period to open the scoring for St. Louis, and his slick wrister that handcuffed Antti Niemi ultimately led to a bizarre off-the-back rebound subsequently tapped in by Andy McDonald for the 2-0 edge. Despite a late Joe Thornton goal, the Blues hung on for the 2-1 victory, taking a 3-1 game advantage as the series heads back St. Louis.
"We're growing up quick here, but this team is making us do it, too," coach Ken Hitchcock observed, speaking of both his team and the Sharks. "I don't think there's one guy in that room that thinks we've got anything except three wins. You can just see the mood in the locker room. You get grounded real quick because you know that this series could be 3-1 the other way. But I like the fact that we hung in here in this building, hung in real hard."
The Sharks, by many measures, outplayed St. Louis in this game. They outshot the Blues 25-24 and seemed to have the edge in scoring chances. They also played more physically, outhitting St. Louis 28-19. San Jose coach Todd McLellan agreed: "I thought it was probably our best 60-minute effort in the series, but you can't take consolation in having a good game. Not in the playoffs. You have to find ways to win."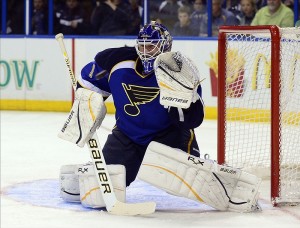 Brian Elliott, once again, was a major reason for the St. Louis win. He turned aside 24 of 25 shots, including two highlight-reel saves — one a huge stop on a Logan Couture breakaway — in the second period alone. Since taking over for the injured Jaroslov Halak in game one, Elliott has posted a 1.51 G.A.A. and .944 save percentage, stopping 67 of 71 shots. "Our goaltending has been fantastic all year," St. Louis forward B.J. Crombeen said. "It's kind of our team defense. Our whole mentality is defense first and checking leads to offense. It's something that Hitch really brought on board when he came here and it's something we've had success with." Indeed, not only did Elliott set the modern-day record for lowest goals against average in a season (1.56), but he and Halak (1.97) easily won the Williams Jennings trophy for the fewest goals allowed by a goaltending tandem in the NHL this year.
Much as in game three, the Sharks scored late to make a game of it. With the clock ticking down and Niemi on the bench, Brent Burns drove the puck into the Blues' zone. Logan Couture dug it out of the corner, slid it to a wide open Joe Thornton, who wound up and slapped the puck home, cutting the lead to 2-1. However, with only 1:07 left in the game, the Sharks were unable to score the equalizer. With the win, the Blues swept both games at the HP Pavilion and assumed firm control of the series.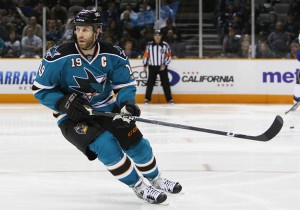 "I would have never thought that in a million years," coach Ken Hitchcock said. "This has been such a graveyard for most teams in the playoffs. We're learning a lot." Joe Thornton, as to be expected, was more wistful: "We've put ourselves in a corner and now we have to fight our way out. "We had good looks again tonight and just snaked it for whatever reason."
Only twenty times in NHL history has a team come back from being down 3-1 in a series. The Sharks now join the Canucks, Blackhawks, Penguins, and Red Wings in attempting that Herculean effort. Regarding his team's luck in the series so far, Thornton commented, "We had some good looks tonight. We're just snake-bitten, for whatever reason."
He paused, and then said, "Now we're behind the 8-ball."
Game five is slated for Saturday night at The Scottrade Center in St. Louis.