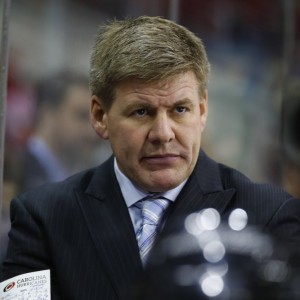 Bill Peters, head coach of the Carolina Hurricanes showed his humorous side after the team's practice before their game against the Boston Bruins on December 23. Frankly speaking, it seems that the last few times he has gathered with the media, Peters has been more relaxed and willing to drop the occasional joke, some of which have been at my expense. (See Skinner Skates to the Top). Of course, I usually walk right into a Peters zingers so it's all good fun.
Don't get me wrong, Peters is still the tough-nosed, blue-collar hockey guy who demands hard work and serious effort from his players. There is nothing trivial about this NHL coach. And media time is not spent yucking it up but is usually straightforward and direct. But Peters has a good relationship with the media and is not afraid to drop a funny comment into the mix on occasion.
Peters Isn't Going Anywhere
It was not a question from me that brought the latest humor from the coach, but one of my media colleagues who asked him about a future game.  The NHL had just announced that the game between the 'Canes and the Detroit Red Wings that was cancelled due to faulty ice conditions in Raleigh's PNC Arena was rescheduled for March 27, 2017. When asked his thoughts about the game being a home back-to-back with the Wings as a result of the scheduling Peters said,
I might not even be coaching the team by then, that's March.
Peters then got serious and said that he did not know the rescheduling decision had come down and that they'd worry about that game when it gets closer.
Bill Peters is just the best post-game interview. Always nodding along with what he says (and laughing). I wish we were best friends.

— Cane-alytics (@cane_alytics) December 18, 2016
Of course, Peters was joking about not coaching the team in March. The job he has done with his roster of young talent has been nothing short of extraordinary. Apparently, Hurricanes GM Ron Francis thinks so too, as he announced in July that the team had extended Peters' contract through the 2018-19 season. For a team that has had a history of coaching upheaval, extending Peters gives the team a welcome sense of stability. (
For a team that has had a history of coaching upheaval, extending Peters gives the team a welcome sense of stability. (Francis got an extension of his own a few weeks later, also through the 2018-19 season). Of course, with the management vote of confidence comes the pressure to perform and succeed. For the 'Canes and their fans, this means making a return to the playoffs.
'Canes Moving in the Right Direction
The good news is that Peters has his team moving in the right direction. They are starting to win games that last year that struggled with, particularly overtime and shootout games. They are playing with an intensity and determination that I have not seen in quite a while, a key that has often been missing.
The bad news is that at 37 points, they are currently seven points out of a wild-card playoff spot, trailing the Philadelphia Flyers and Washington Capitals who both have 44, and show no signs of letting up any time soon. But, anything can happen and there is still an entire half of a season to go.
If the Hurricanes can keep moving in the right direction, and playing with intensity, they can be poised to gain ground if the teams they are chasing do falter. But rest assured, barring anything freakish, Peters will be here in March and beyond, and enjoying himself along the way.
Mark lives in the Raleigh, NC area and covers the Carolina Hurricanes.