The Chicago Blackhawks have signed forward Artemi Panarin to a two-year, $12 million contract extension, according to Sportsnet's Elliotte Friedman. The deal carries a $6 million average annual value (AAV) and the Russian forward will be an unrestricted free agent when it expires. The extension was first reported by Scott Powers of The Athletic late Wednesday afternoon.
#Blackhawks agree to terms with Artemi Panarin on contract extension. First reported by @ByScottPowers. Quick story: https://t.co/E1A7z5UwUp pic.twitter.com/vhRxDfaX5u

— Mark Lazerus (@MarkLazerus) December 28, 2016
The 25-year-old winger has been a major piece of the Blackhawks' offense since arriving in the NHL before the 2015-16 season after being a highly sought after free agent in Russia.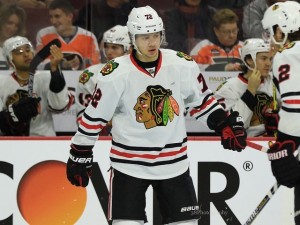 He was a star forward on SKA Saint Petersburg in the Kontinental Hockey League for two full seasons before Blackhawks general manager Stan Bowman inked him to a two-year deal in April 2015.
He took the NHL by storm in his rookie season, playing alongside Patrick Kane and Artem Anisimov to form the Blackhawks' top scoring line. Kane posted a career-high 106 points and became the first U.S. born player to win the Art Ross Trophy as the NHL's leading scorer.
Panarin tallied 30 goals and 47 assists in 80 games en route to the winning the Calder Memorial Trophy as the league's top rookie that season. He also averaged a point per game in seven playoff contests.
In the early part of 2016-17, he's picked up right where he left off and is pacing the Blackhawks with 37 points through 37 games. Kane (35) and Anisimov (28) round out the Blackhawks' top three scorers.
While details about Panarin's new contract have not yet been confirmed by the club, one thing is all but certain — the Blackhawks face an uphill battle with the NHL's salary cap as they prepare for the 2017-18 season.
https://twitter.com/NHLbyMatty/status/814240751617998850
There's either going to be a comical amount of $600,000 rookies on next year's #Blackhawks, or a big name has to go. Should be interesting.

— Mark Lazerus (@MarkLazerus) December 28, 2016
Pens' Dumoulin Out 4-to-6 Weeks
Pittsburgh Penguins defenseman Brian Dumoulin will miss the next four to six weeks and has been placed on the long-term injured reserve after he underwent surgery to repair a broken jaw, general manager Jim Rutherford announced on Wednesday.
Coach Sullivan on Dumoulin: "He's in good spirits. I went to see him today. He's doing well. He's on the mend."

— Pittsburgh Penguins (@penguins) December 28, 2016
Dumoulin suffered the injury after being hit in the jaw by an errant shot during the team's 5-2 loss to the New Jersey Devils on Tuesday.
It's a major loss for a Penguins' blue line that's currently decimated with injuries. They are without Kris Letang (lower-body) and Olli Maatta (illness), but head coach Mike Sullivan expects Trevor Daley (upper-body) to return to the lineup against the Carolina Hurricanes on Wednesday.
The Penguins also recalled defenseman David Warsofsky from the Wilkes-Barre/Scranton Penguins (American Hockey League), but he will not be in the lineup against the Hurricanes according to Sullivan.
The Penguins have recalled defenseman @DaveWarsofsky5 from the @WBSPenguins. Full details: https://t.co/n1csz5oWfG pic.twitter.com/3sXQXWOXgt

— Pittsburgh Penguins (@penguins) December 28, 2016
Devils' Hall to Miss Next Game With Injury
The New Jersey Devils will be without forward Taylor Hall when the team faces the Washington Capitals on Thursday because of a lower-body injury, the team announced.
Taylor Hall, lower body injury, is day-to-day (not related to knee surgery or mouth from last night) and will be out of the lineup tomorrow. pic.twitter.com/vXRYDa2Ce3

— New Jersey Devils (@NJDevils) December 28, 2016
He's considered day-to-day and the Devils noted that his current injury is not related to the torn meniscus in his left knee he suffered earlier this season. Hall underwent arthroscopic surgery to repair that injury on Nov. 16 and missed eight games.
The Devils have won just one game in their last 10 contests as the team has had trouble scoring goals and goaltender Corey Schneider has struggled between the pipes.
When healthy and in the lineup, Hall is a major piece of the Devils' offense. The 25-year-old forward has skated in 25 games this season and is second on the team with 23 points.
The Devils offense also suffered another blow on Wednesday, as the team announced forward Vern Fiddler will be out for three to four weeks with a lower-body injury.
Vern Fiddler (lower body injury) will be out 3-4 weeks. pic.twitter.com/ptkIXkRjI6

— New Jersey Devils (@NJDevils) December 28, 2016
Predators' Subban Expected to Miss Next Two Games
The Nashville Predators expect defenseman P.K. Subban to miss the next two games, although he is still considered day-to-day, according an announcement by the club on Wednesday.
P.K. Subban remains day-to-day with an upper-body injury, but is expected to miss the next two games. #Preds https://t.co/sU1GNgq4kh

— Nashville Predators (@PredsNHL) December 28, 2016
The 27-year-old blueliner has been sidelined since Dec. 15 with what has been called an upper-body injury by the Predators. There has been speculation that Subban has been suffering from a herniated disc in his back, after Sportsnet's Elliotte Friedman reported on Dec. 21 that there had been a rumor going around that this was the issue. However, the club has never confirmed nor denied that at this point in time.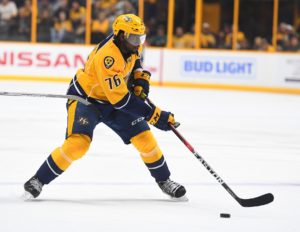 Predators general manager David Poile was a guest on Nashville's 102.5 FM radio station on Tuesday and did not confirm nor deny the rumor.
"We do everything we can to protect the player," Poile said, according to a transcript of the audio from The Tennessean's Adam Vingan. "I say almost every team just announces their injuries as either an upper- or lower-body injury. That's because when a player comes back, he's not always 100 percent, and if you knew exactly what was wrong with the player, a player on another team might go after that body part to see if they could re-injure it. It's not nice to say, but that's usually what happens.
"I don't think anybody wants to be (overly) secretive, except for the fact that we're trying to protect the athlete as best (as) possible. That's what we have to do. That's what we're doing."
The first-year Predators has registered seven goals and 10 assists in 29 games since being acquired in a blockbuster trade for defenseman Shea Weber this past offseaseason.
Flames' Brouwer Week to Week Following Surgery
Calgary Flames forward Troy Brouwer is week to week following surgery to repair a broken finger, the team announced on Wednesday.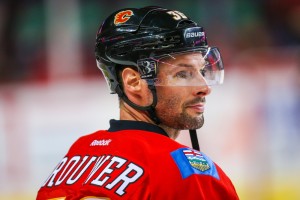 The injury occurred during a game against the Vancouver Canucks on Dec. 23 and is reportedly similar to the one that kept teammate Johnny Gaudreau out of the lineup for 10 games earlier this season.
Brouwer, 31, has registered eight goals and nine assists in 36 games this season — his first with the club since signing a four-year, $18 million deal as an unrestricted free agent this offseason.
Odds and Ends
— Los Angeles Kings forward Tyler Toffoli was placed on injured reserve, the team announced on Wednesday. The 24-year-old has missed the past two games with a lower-body injury.
— The Toronto Maple Leafs activated Tyler Bozak from injured reserve and loaned goaltender Jhonas Enroth to the American Hockey League's Toronto Marlies.
.@SportChek Player Alert: The Leafs have loaned Jhonas Enroth to the @TorontoMarlies. #TMLtalk pic.twitter.com/mvkDDhe1OH

— Toronto Maple Leafs (@MapleLeafs) December 28, 2016
— Ottawa Senators forward Zach Smith will miss the next two games with an abdominal strain, the team announced on Wednesday. The Sens recalled forward Casey Bailey from the Binghamton Senators (AHL). The 25-year-0ld has tallied 14 points in 28 AHL games this season.
#Sens Head Coach Guy Boucher speaks to media following today's practice @CdnTireCtr. pic.twitter.com/Tq9ktSGYJl

— Ottawa Senators (@Senators) December 28, 2016
— The Washington Capitals re-assigned forward Zach Sanford to the Hershey Bears (AHL).
— Tampa Bay Lightning forward Matthew Peca will make his NHL debut when they take on the Montreal Canadiens on Wednesday. The 23-year-old has 17 points in 28 games with the Syracuse Crunch (AHL).
Tonight's going to be a pretty special night for Matt Peca. #MTLvsTBL pic.twitter.com/UKK7CWGvGE

— Tampa Bay Lightning (@TBLightning) December 28, 2016
— The Lightning signed forward Brett Howden to a three-year, entry-level contract on Wednesday. The 18-year-old was selected 26th overall in the 2016 NHL Entry Draft. He's tallied 32 points in 21 games with the Moose Jaw Warriors in the Western Hockey League and was one of the last players cut from Team Canada's roster for the 2017 World Junior Championship.
.@b_howdy21… Inked. ☑️ pic.twitter.com/vZnGvOrAst

— Tampa Bay Lightning (@TBLightning) December 28, 2016
Steven is a lawyer and writer with a passion for the game of hockey. He's the Lead Writer covering the Tampa Bay Lightning with THW. He's also been press credentialed through the Lightning since 2016. His work has been published at The Fourth Period, LightningInsider.com, Bolt Prospects, The Sports Daily Network, U.S. College Hockey Online and College Hockey News. He's had radio appearances on TSN 690 in Montreal, Lightning Power Play Live and multiple podcasts to give insight and analysis on the team. He can be reached on Twitter @StevenDiOssi and by email at sdiossi@gmail.com.