Once upon a time, the Pittsburgh Penguins were a team decimated by injuries to key players. Having to get by without the likes of Sidney Crosby, Evgeni Malkin or Kris Letang became the norm. Crosby's concussion issues were obviously front and center, but multiple players spent a considerable amount of time on the shelf.
In fact, the Penguins led the league in man games lost during the 2013-14 season with a whopping 529. They followed that up with a similar — though not quite as drastic — trend in 2014-15.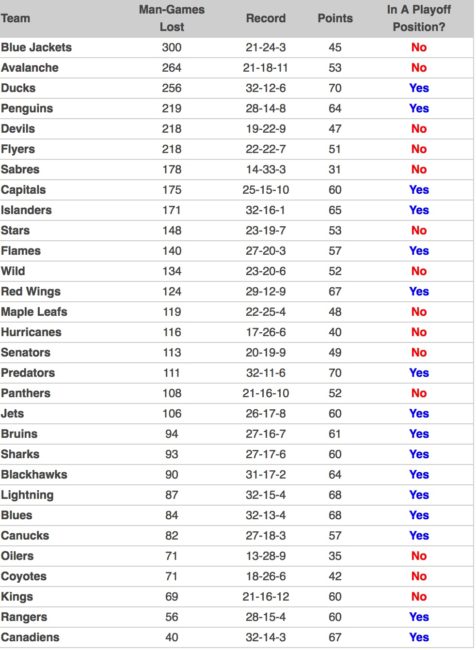 (Courtesy of Post-Gazette.Com)
While the Penguins have been much more fortunate throughout the past two seasons, they aren't without adversity due to injuries. They lost Malkin in the midst of their playoff hunt last season — which saw him miss the final two months of the season — and now they're without three of their top-six defensemen in Letang, Trevor Daley and Olli Maatta.
Most teams would be happy to simply survive in situations like the Penguins are currently facing. Pittsburgh, though, is still excelling. And it speaks volumes to their organizational depth and coaching.
Who's That Guy?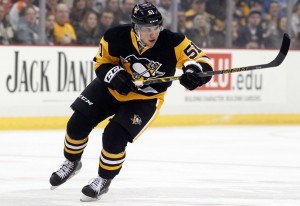 Derrick Pouliot has slotted into the lineup in what is his best chance to date to prove he belongs with the Penguins for the long-term. You'd be hard pressed to find a Pittsburgh fan who doesn't know Pouliot, but there are a couple other individuals helping this team push through tough times and they're likely much harder to recognize.
Steve Oleksy has been good and provides a different dynamic than Pittsburgh's other blue-liners. He's a physical, in-your-face style of defender, but hasn't got lost in Mike Sullivan's speedy approach.
Guys who can make positive contributions with the puck on their stick — while also making opponents think twice about skating through the neutral zone with their head down — will always be a welcomed commodity.
His willingness to drop the gloves for his teammates has gained him a ton of respect in the locker room as well.
Maybe more impressive than Olesky's ability to adapt his style of play to fit Sullivan's system is how well Chad Ruhwedel has filled in. Ruhwedel – formerly of the Buffalo Sabres — was signed by Pittsburgh on July 1, 2016, at the opening of free agency. His recall was surprising to many as David Warsofsky seemed to be the obvious choice but his performance is a testament to just how many capable individuals Pittsburgh has in their system.
And not only did Ruhwedel score his first NHL goal in this stint with the Penguins, he's making impressive plays to spring Pittsburgh's talented forwards on the rush.
These players are making their presence known, and while they won't fully replace individuals like Letang and Daley, they are giving Pittsburgh the chance to keep winning. Pittsburgh also has a familiar face providing a boost in which no one thought possible just 10 months ago.
Schultz Playing a Major Role in Pittsburgh's Success
Justin Schultz — widely viewed as a lost cause in Edmonton prior to Pittsburgh acquiring him at last season's trade deadline — has seen his average ice time increase by nearly eight minutes per game. He's averaging roughly 24-minutes per game, up from 16-minutes and 59-seconds prior to Letang and Daley's absence.
He's making the most of this opportunity.
Schultz added another goal when Pittsburgh faced the New Jersey Devils on Tuesday night, giving him seven goals and 17 total points through 14 games in the month of December. If there's anyone who could be credited with filling the void left by an impact player like Letang, it's Schultz. He's quarterbacking the power play and playing much bigger minutes than he's used to. Impressive, to say the least.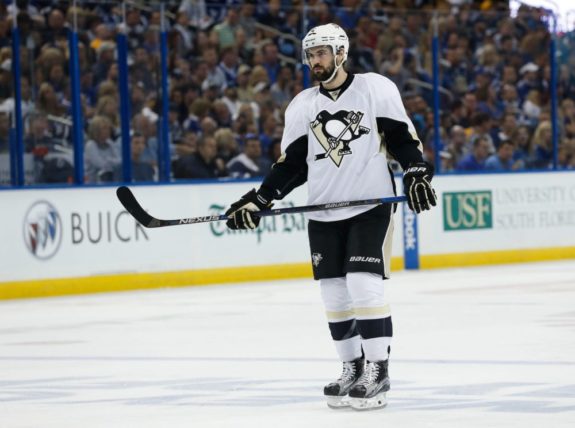 Schultz's impact isn't isolated to the last few weeks, either. So far this season, he and Ian Cole boast the ninth best Corsi-for percentage among all NHL pairings with at least 250-minutes of ice time. He has been a force for Pittsburgh all season, but his recent run has been the most impressive stretch of his Penguins' tenure, and arguably his entire career.
The Penguins will face the Carolina Hurricanes tonight as they look to continue their impressive month of December. With Letang and Daley expected to be out of the lineup at least until Pittsburgh returns from their upcoming bye week on January 8 — and news breaking today that Brian Dumoulin will miss 4-6 weeks — Schultz, Ruhwedel and Oleksy will need to keep carrying the load as they have.
At this point, there's little reason to doubt them. And I imagine it's a relief for Jim Rutherford and his staff, as they're being rewarded for the work they've done on re-tooling Pittsburgh's organizational depth, which was an area of weakness in recent seasons.