The Philadelphia Flyers managed to find success on their recent West Coast trip at the end of December, where they have not done so in previous seasons. Before their three-game trip in California, they lost two one-goal games – 4-3 to the Toronto Maple Leafs on Dec. 22 and versus the Carolina Hurricanes on Dec. 23 by a final score of 6-5. Despite losing the games, they kept those contests competitive based on the scores. They defeated the San Jose Sharks on Dec. 29, 4-3 in overtime, upset the surging Los Angeles Kings on Dec. 31, 4-2, and beat the Anaheim Ducks on Jan. 2, 4-1.
The Flyers now find themselves on a three-game winning streak as they prepare to play three of their next four contests at the Wells Fargo Center. They will look to build upon their road success in front of their home crowd beginning on Jan. 5 versus the Arizona Coyotes. Let's take a look at how Sam Ersson and the offense provided them with much-needed momentum in their three consecutive victories.
Ersson Steps Up in the Absence of Hart
After Carter Hart sustained a concussion during the loss to the Hurricanes, Ersson filled in for their starting netminder. The 23-year-old responded with his first career win in the NHL versus the Sharks followed by two more against the Kings and Ducks. Not only did he win three contests, but he also showed gradual improvement after his first NHL start based on his save percentage (SV%).

Against the Sharks, Ersson saved 25 of the 28 shots he faced for a .893 SV%. His save percentage was not impressive during his starting debut but he kept the Sharks' offense in check enough for the Flyers to secure a win in overtime. His game appeared more refined against the Kings as he stopped 27 of the 29 shots he faced for a .931 SV%.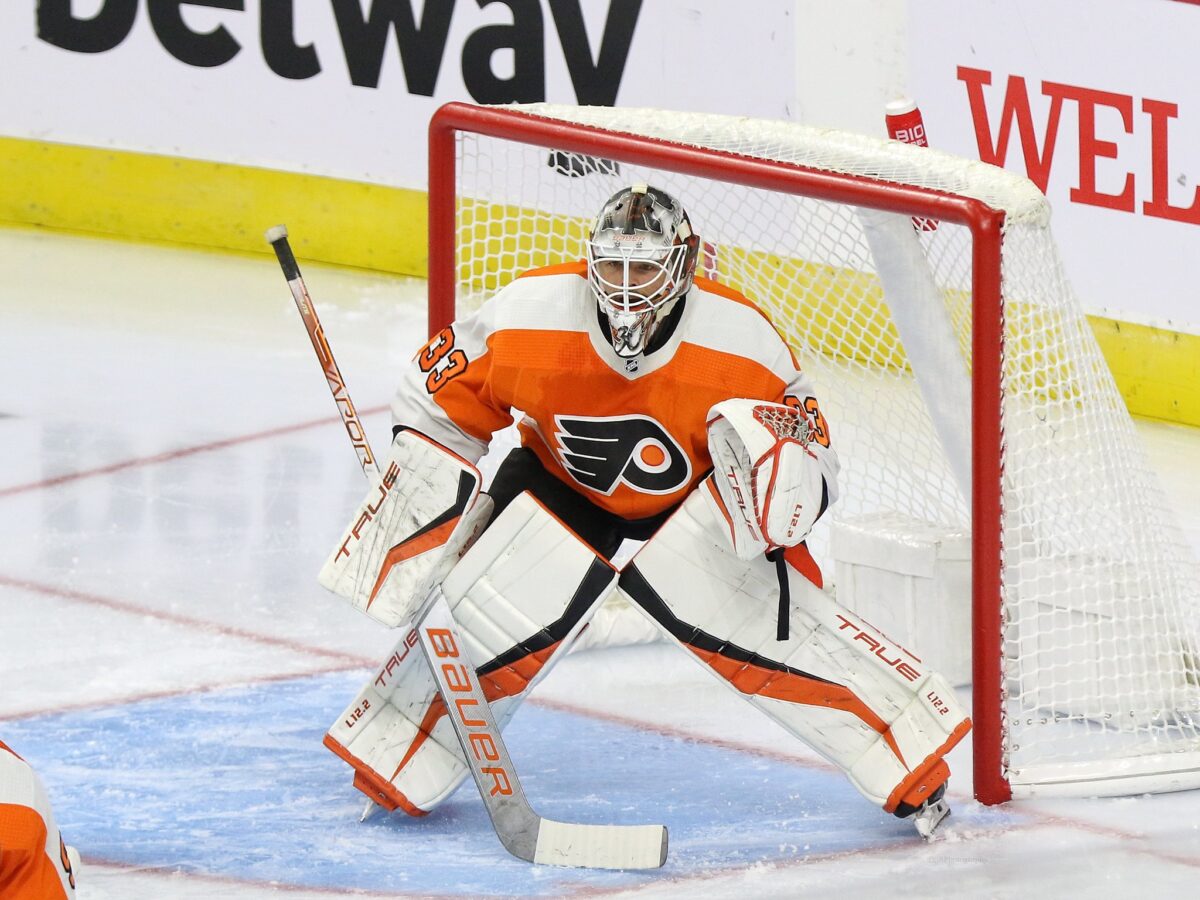 Following the Kings game, head coach John Tortorella commented on the young goalie's progression during his limited time with the Flyers, "I think he's shown his mind as far as how he can handle himself in a very important position for this team. So good for him. He's played very well." In the final game of the trip against the Ducks, he turned in his best start as he allowed only one goal during the final minute of regulation, and saved 28 shots. His save percentage was an imposing .966 as he continued to gain more experience playing in the NHL.
The Flyers now find themselves with a sudden issue to resolve: do they send Ersson back down to the Lehigh Valley Phantoms or keep him as Hart's backup and risk losing Felix Sandstrom to another club by placing him on waivers? If he were to go unclaimed, he would be sent to the American Hockey League (AHL). The likelihood is that Ersson would be optioned to the Phantoms to have him continue gaining more playing time and not risk losing Sandstrom to another NHL team.
Related: Flyers Look To Ersson and Sandstrom with Hart Out
---
Latest News & Highlights
---
Tortorella has played Hart a lot during the first half of the 2022-23 season and being the reserve goalie does not benefit Ersson's growth. If any position player is on a hot streak, he needs to keep playing. With their number one goalie due to return, they should send Ersson back down to the AHL for him to keep performing at a high level.
Flyers Show A Spark On Offense
While they still remain at the bottom of the NHL in their average of goals scored and on the power-play (PP), the Flyers notched an average of four goals during their last three games. In each of the contests, they scored a minimum of three unanswered goals – they tallied four straight against the Ducks. Travis Konecny had four goals, and Owen Tippett and Scott Laughton finished with two tallies each in the West Coast road contests. Rather than putting more pressure on Ersson, the offense took control at various parts of each game to help secure a victory.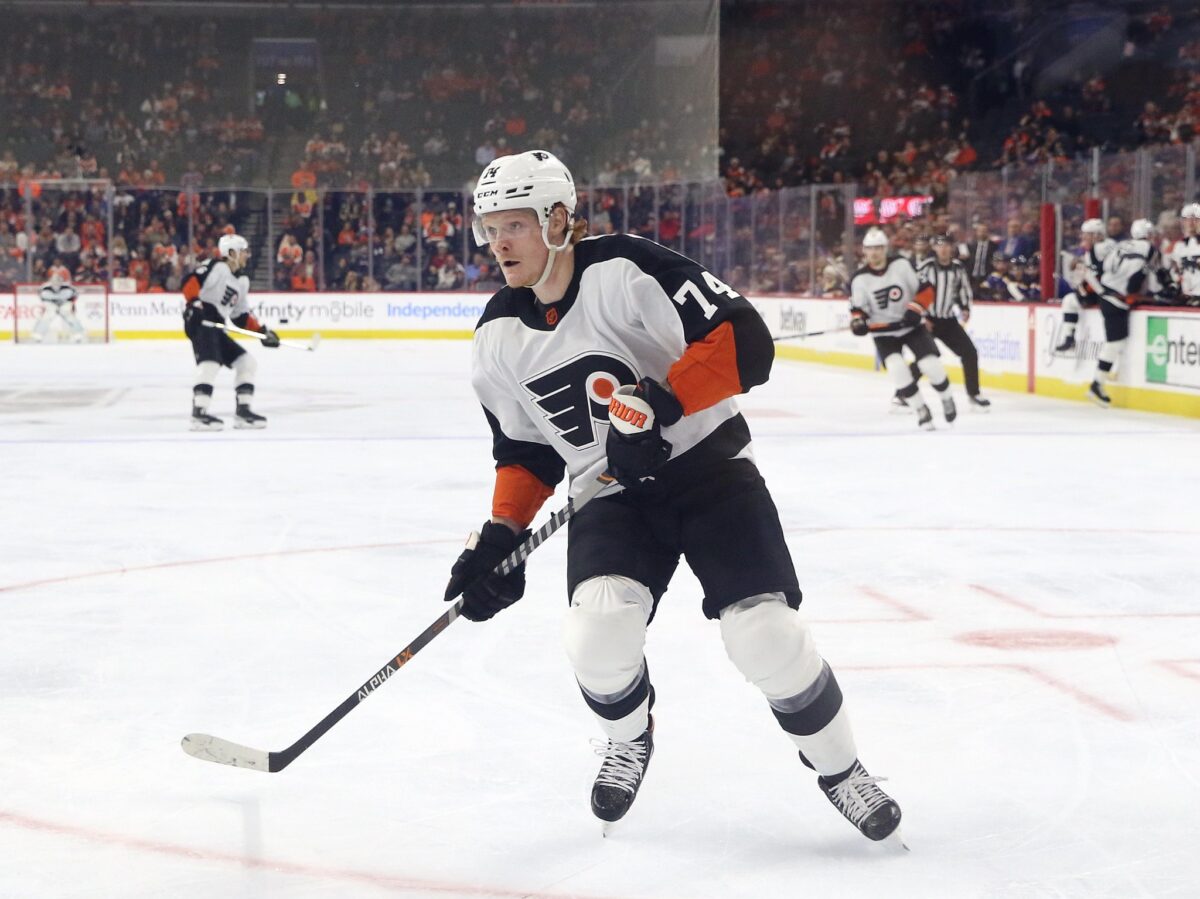 According to NBC Sports Philadelphia's Jordan Hall, prior to the holiday break, the Flyers won four of their previous 23 games in which they averaged 2.48 goals per game (from 'Flyers show growth in Cali, win 3 straight for first time since 3-0-0 start, NBC Sports Philadelphia, 1/2/23). They needed an offensive jolt in order to get back in the win column and ensure their roster is developing properly. They will look to build upon their success in their next few games in order to prolong their sudden offensive burst.
Morgan Frost, who scored one of the Flyers' four goals against the Ducks mentioned his approach as he aims to continue progressing offensively, "I'm not trying to overthink it too much. I'm just trying to keep playing. Still a lot of things that I need to work on and a lot of mistakes I make out there, but I think I'm creating more than I was maybe in past seasons or at the start of the year. I just want to keep playing. Still a lot of things that I need to work on and a lot of mistakes I made out there, but I think I'm creating more than I was maybe in past seasons or at the start of the year. I just want to keep building on that and then clean up some of the defensive stuff. I still feel confident, so we're gonna keep growing with that."
The Flyers have an opportunity to capitalize further on their winning streak during their upcoming games against the Coyotes, Maple Leafs, Buffalo Sabres, and Washington Capitals. Time will tell if the recent road trip out west is an anomaly for a young club that has not done well the previous few seasons or further positive development under their experienced head coach. With his pending return, Hart is capable of helping sustain their success as he has been one of their top players during the first half of the season. The recent offensive success and Ersson's play are encouraging for a franchise looking for wins. If they can further continue their success, it is a good sign they are adjusting positively to Tortorella's presence in his first season with the organization.
Matt contributes content about the Philadelphia Flyers for The Hockey Writers. Matt has covered the New York Rangers, New Jersey Devils, and the Pittsburgh Penguins during his time writing for THW. For interview and podcast requests, follow Matt on Twitter which appears at the end of his articles.