There's an overwhelming sentiment from a lot of media right now, both locally and nationally, which calls for the Pittsburgh Penguins to make a change between the pipes.
My question is simply, why?
A lot of people are waiting for the Penguins to re-insert veteran goaltender Marc-Andre Fleury into the lineup. For whatever reason, many believe a change is necessary to 'spark' the Penguins or give the team a boost. However, 21-year old Matt Murray has done plenty to do that on his own. In fact, you could argue that without Murray outperforming Capitals' goalie Braden Holtby multiple times this series, Penguins versus Capitals could have a completely different look.
I also have to ask why the Penguins need to find a spark in a series they lead 3-2, with a chance to eliminate the President's Trophy winning Capitals' in Game 6 at home on Tuesday night.
In Saturday night's potentially series-ending Game 5, Holtby was the star goaltender Washington needed badly in this series. The Penguins out shot the Capitals 22-13 at even-strength and 31-19 overall (according to WarOnIce.Com). Holtby made a ton of key saves as Washington's potent power play capitalized on their chances for the first time against the Penguins in this postseason.
There's no need to overanalyze or have a knee-jerk reaction based on that game.
What More Should the Penguins Expect?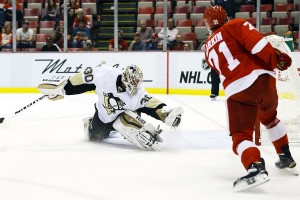 Throughout this series, Murray has stopped roughly 94-percent of the shots he has faced at even-strength. With all situations taken into account, he's a hair under 93-percent. For comparison purposes, consider that Holtby's even-strength save-percentage is .915 and in all situations, he's at .928.
So, Murray is either matching or outperforming this season's Vezina Trophy favorite. Will Fleury top that?
The performance that Murray has turned in since taking over for Jeff Zatkoff is more than just being the hot hand. If these numbers keep up and the Penguins would happen to win the Stanley Cup, he's going to be a Conn Smythe favorite. That's something everyone should consider when thinking that a change in the crease would 'spark' this team.
Fleury was spectacular this season. If it weren't for his performance in the first half of the regular season, the Penguins wouldn't have been in a position to make the run they have, as they likely would have missed the postseason despite a successful few months to close things out. However, after a six-week layoff due to concussions issues, inserting him in the middle of a tense battle with Washington is not the right move, no matter how you spin it.
There are a few Penguins that need to be better. Murray isn't one of them.
The Pittsburgh Penguins Need Their Stars to Shine
Sidney Crosby hasn't played bad hockey. Evgeni Malkin, while Game 5 was far from his best effort, hasn't been bad either. However, the Penguins need the two of them to produce if they're going to close this out on Tuesday night.
Secondary scoring has been the story of this series for Pittsburgh. Nick Bonino and Carl Hagelin have led the way so far with four points each but at some point, Crosby and Malkin have to make their mark. They've created chances and now, it's time to produce.
Crosby has two assists, both secondary, while Malkin has one goal and one primary assist. When you look at their underlying numbers though, they reflect near domination. Malkin boasts a plus-61 Corsi-for and Crosby is second on the team with plus-47. With those types of differentials in shot-attempts, you'd expect more.
The Penguins need more.
Game 5 was an example of needing a big goal. In an elimination game, you'd love to see your biggest guns breakout, just as they did when the Penguins eliminated the Capitals in Game 7 in 2009. The two of them combined for five points in what ended up being a 6-2 trouncing.
The Penguins don't need to win in that fashion. Outside of a few players, these are completely different teams from that season. However, Pittsburgh's need for a big game from their most prolific forwards is very similar.
The Penguins are still the favorites to win this series and advance to the Conference Finals, where the Tampa Bay Lightning will be awaiting their arrival. The Capitals, despite a win in Game 5, still have quite the task in front of them. Beating these Penguins three consecutive times, considering they haven't lost back-to-back games since January, seems nearly impossible. Though I wouldn't count them out just yet.
Crosby and Malkin are due. Tuesday night would be a great time to prove their critics wrong. Their reputation of disappearing when it matters most will only grow larger if they don't produce points and the Penguins forfeit another 3-1 series lead.
Pittsburgh Penguins writer for TheHockeyWriters.Com and PittsburghHockeyNow.Com. Youth hockey coach, and student of the game.