Prior to the NHL trade deadline, the Minnesota Wild acquired Buffalo Sabres' forward Jason Pominville. The official trade included Jason Pominville and a fourth round pick in the 2014 NHL Entry Draft in exchange for Matt Hackett, Johan Larsson, a first overall pick in the 2013 NHL Entry Draft and a second round pick in the 2014 NHL Entry Draft.
Due to the steep price, the trade had some mixed reviews but a clear message was sent by the Wild to the rest of the league. The Wild have struggled in recent years but a positive from this difficult stretch was that the club amassed an impressive stock of prospects. Last season marked a change in this pattern. The club qualified for the playoffs for their first appearance since the 2007-2008 season. When Pominville was acquired just before the trade deadline it became clear that GM Chuck Fletcher was looking to add some more experience to the club. Minnesota gave up several assets to get Pominville but in closing the deal the organization made a bold statement that they want to win in the near-term.
[See also: Wild Losing Skid Brings About Experience Questions]
Jason Pominville is a player who has put forth a consistent effort every night throughout his career. He will have the opportunity to re-establish his game during his first full year in a Wild uniform. The forward is playing in the final year of his current contract. Negotiations are on-going between Pominville and the Wild with both sides interested in reaching an agreement. Here is a look at Pominville's career so far and what he can bring to the Wild lineup this season.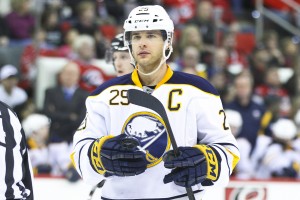 A Consistent Two-Way Forward
Jason Pominville was drafted by the Buffalo Sabres in the second round of the 2001 NHL Entry Draft. In recent years, Pominville became one of Buffalo's most consistent forwards. He scored at least twenty goals in each season from 2006-2007 through 2011-2012. He scored thirty or more goals twice in his NHL career and he had a career-high eighty points in the 2007-2008 season.
In last year's lockout-shortened season, Pominville scored fourteen goals and thirty-four points in forty-seven games played with the Wild and Sabres. Over his career he has averaged 0.79 points per game in five hundred and eighty-eight regular season games.
Pominville's career offensive numbers in the playoffs have also been solid. He has scored 0.60 points per game in forty-seven career playoff games. Over his career, Pominville netted twelve goals and sixteen assists in the playoffs.
Of particular interest is Pominville's knack for being involved with offensive plays at key times. He has three game-winning goals in the playoffs to his credit. Perhaps his most famous goal was his short-handed game-winning goal against the Ottawa Senators in 2006. This goal was the first time in NHL history that a series was clinched on an overtime short-handed goal and it sent the Buffalo Sabres to the Eastern Conference Finals.
Pominville also has experience playing in many key situations. He is a career +41 and has contributed on both the Power Play and Penalty Kill. Over his career in the regular season, Pominville has forty-three goals and one hundred and five assists on the Power Play. He also has fifteen points in short-handed situations including ten goals and five assists. Before he was traded, he led all forwards on the Buffalo Sabres last season in Average Time On Ice (ATOI) with 20:54.
The forward also has plenty of leadership qualities. He was selected by his teammates to serve as captain of the Buffalo Sabres in October 2011. He continued to serve in this role with the Sabres until he was traded to the Wild. Pominville was also selected to play in the NHL All-Star Game during the 2011-2012 season.
Pominville is an even-keeled player who leads by example. He was often criticized in Buffalo last season for lacking a fiery response while the Sabres were in the midst of a disappointing and frustrating 2012-2013 season. Despite this criticism, Pominville is a hard-worker as well as a strong leader on the ice and in the locker room. He is well-respected by teammates and he rarely takes a night off giving a solid effort in every shift.
How He Can Help the Wild
One area where the Wild can improve this season is on the Power Play. The Wild scored only twenty-seven Power Play goals out of one hundred and fifty one opportunities. This put the club's overall Power Play percentage at 17.9% ranking them sixteenth in the league. The Wild Power Play did well on the road scoring sixteen goals in sixty-eight opportunities ranking the club second in the league with a 23.5% Power Play percentage away from St. Paul. Minnesota struggled at home with only eleven Power Play goals on eighty-three opportunities giving the club the twenty-eighth best home Power Play unit.
A stronger Power Play can prove effective in helping the Wild make a deeper playoff run. In close games, an efficient Power Play can be the difference between a win or a loss. An effective Power Play can also be a difference-maker in the playoffs. The Wild did not convert a single Power Play opportunity in their series against the Chicago Blackhawks and lost the series four games to one.
Pominville played in just ten regular season games for the Wild last season. Of his nine points, three points came on the Power Play. A concussion sidelined him for the last two regular season games and the first three playoff games. This also may have played a role in his lack of production in the playoffs where he failed to record a point.
A full season will allow Pominville to become well-acquainted with Head Coach Mike Yeo's coaching style. He will also get a chance to learn the details of the new Power Play system that will be put in place by former Wild forward Andrew Brunette. Brunette was recently hired as the club's Power Play consultant. With one hundred and forty-eight points with the man advantage during his career, Pominville is poised to contribute to the Wild's efforts at making the Power Play more effective.
Pominville's leadership qualities will also be valuable for the Wild. With youngsters Mikael Granlund, Charlie Coyle, Jason Zucker and Jonas Brodin in the mix, Pominville can be very influential in their development. Pominville has lots of experience in various facets of the game, he is well-prepared for games, and he acts like a true professional. These qualities are important for youngsters looking to make the their mark in the NHL so Pominville will play a key role in the Wild's youth movement.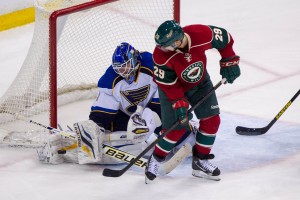 Final Thoughts
The Minnesota Wild acquired forward Jason Pominville to provide leadership, a strong two-way game, and the consistency needed to help the club win in the near future. Pominville is a hard-working player who leads by example. You can expect an honest effort from Pominville each night where he will contribute on offense and play a solid defensive game.
Having nine NHL seasons under his belt including forty-seven playoff games, Pominville is a valuable asset that the Wild paid a high price to acquire. He has started to make the adjustment to Minnesota's system but will he live up to the expectations set by his high trade price?
Pominville has a short sample size with the Wild but he had nearly a point per game with the Wild during the regular season. Early projections show that Pominville will be on the top line with Zach Parise and Mikko Koivu. Pominville's progress will continue as he learns the system and gets further acquainted with his supporting cast.
This is a big season for Jason Pominville who is in the last year of his current contract. As negotiations continue, Pominville will be prepared to pick up where he left off last season. Whether or not he signs a new contract with the Wild, the club is looking to build on last year's success and it will rely heavily on players like Pominville to lead the charge.
The NHL regular season schedule was released on Friday. Check out our partners at TiqIQ for the best deals on Minnesota Wild tickets for all 2013-14 games.
Tim joined The Hockey Writers in July 2013. He began his tenure with THW by covering the Minnesota Wild and he now writes on the Buffalo Sabres. Tim completed his undergraduate and graduate work at the University at Buffalo. In addition, he is a published historian and a Baltimore Orioles Contributing Writer for LegendsOnDeck.com. Tim's work for THW has been featured on sites such as Yahoo.com. Follow him on Twitter @TOHockeyTHW