Washington Capitals' goalie Braden Holtby continued to impress between the pipes at the AHL level Wednesday night, shutting out the Hershey Bears' division rival Wilkes-Barre/Scranton Penguins. Holtby stopped all 33 Penguins shots on goal, also recording his sixth career shutout against Wilkes-Barre/Scranton. You can view the game recap of Hershey's win, here.
He continued to increase his outstanding numbers in net, lowering his goals against average to an outstanding 2.11 and his save percentage to .934 through 22 games. Following the game, Holtby spoke to the media.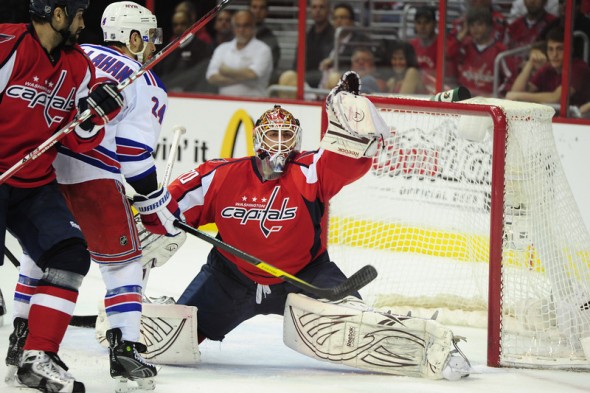 Q: On getting the shutout and what it means.
Holtby: "If you get a shutout, like I said before, your team has to play very well. There's so many bounces that usually go in that you can't control, they hit two posts tonight. That always helps. Just lucky we can come out on the better side of the shutout unlike last game."
Q: Clean up help by defense in front of him.
Holtby: "It was huge. That's been the main aspect of our success lately is our battle in front of the net. Guys seem to be in the right position, which is really hard to do. It's one of the hardest things in hockey to be in the right position for those rebounds as a defenseman. We're doing a great job of it."
Q: What in the process has gone well now that wasn't going as well in the beginning of the year?
Holtby: "At the start of the year we had a lot of new faces, it took a long time to figure each other out. We were balancing around lines, new system, that's a lot to take in for guys that have played in different places and try to come together. Now it's a point in the season where we feel comfortable with each other, we're getting some stability in lines, especially in our PK. A combination of things."
Q: On starting 5-1 against Wilkes-Barre/Scranton this season.
Holtby: "It's been better than year's past that's for sure. I think it's just our system must work well against theirs. That usually happens through the year, you have one or two teams that you play really well against and a couple that you don't. We want to keep it rolling."
Q: On the recently play of the penalty killing units.
Holtby: "If you looked at the block shots from the last half of the season compared to the start I think you'd see a huge difference. That's really what PK is all about is sacrifice, and we're doing it right now."
Q: On building momentum in hope of an NHL season.
Holtby: "Throughout the season you go up and down through different swings, so right now we're feeling pretty good. Hopefully the season gets started up top, but right now we're just focused on our season here in Hershey."
You can follow Matthew on twitter @m_speck and emailed him at mspeck21@yahoo.com with any questions or comments.