The Montreal Canadiens' season-long seven-game road trip may be over, but they're not out of the woods yet. Thankfully, they'll be getting a boost with the returns of Alex Galchenyuk and Andrew Shaw.
The Habs had to make do without Galchenyuk (missed 18 games with a knee injury) and Shaw (missed 14 games with concussion symptoms) over the toughest part of their schedule. That stretch ends at this point next Saturday, following a sixth set of back-to-back games in consecutive weeks.
Nevertheless, every game from here on out will likely have some degree of playoff implications. That could not be truer of tonight, when the Atlantic Division-leading Habs take on the wild-card New York Rangers of the Metropolitan.
Were the playoffs to start tonight, that's the matchup fans would see in the first round, with the Rangers having eliminated the Habs during their most lucrative playoff run (2014) since Montreal won it all in 1993.
---
Montreal Canadiens vs. New York Rangers
Bell Centre – 7:00 p.m. EST
Broadcast channels – SN, TVAS, MSG
2016-17 Season Series: First Matchup of the Season
New York Rangers – 28-14-1 – 57 Points
Road Record: 15-6-0
Hot Players: J.T. Miller, Michael Grabner, Kevin Hayes, Adam Clendening, Pavel Buchnevich

Key Injuries: Mika Zibanejad, Matt Puempel, Marc Staal

Projected lines:
Forwards:
Chris Kreider – Derek Stepan – Mats Zuccarello
Michael Grabner – Kevin Hayes – J.T. Miller
Jimmy Vesey – Oscar Lindberg– Rick Nash
Marek Hrivik – Brandon Pirri – Jesper Fast
Defense
Ryan McDonagh – Brady Skjei
Nick Holden – Dan Girardi
Adam Clendening – Kevin Klein
Starting Goaltender
Henrik Lundqvist
[irp]
Montreal Canadiens – 26-11-6 – 58 Points
Home Record: 15-4-2

Hot Players: Tomas Plekanec, Sven Andrighetto, Artturi Lehkonen

Key Injuries: Brendan Gallagher, Andrei Markov, David Desharnais, Greg Pateryn

Projected lines:
Forwards
Max Pacioretty – Alex Galchenyuk – Alexander Radulov
Artturi Lehkonen – Tomas Plekanec– Sven Andrighetto
Paul Byron – Philip Danault – Andrew Shaw
Brian Flynn – Torrey Mitchell – Michael McCarron
Defense
Alexei Emelin – Shea Weber
Nathan Beaulieu – Jeff Petry
Mark Barberio – Zach Redmond
Starting Goaltender
Carey Price
---
Game Notes
[miptheme_dropcap style="normal" color="#222222″ background=""]1)[/miptheme_dropcap]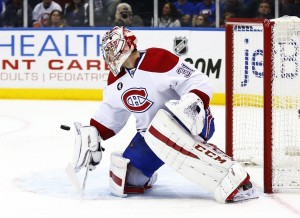 Goalie Carey Price's 7-1 loss to the Minnesota Wild this past week was only the latest in a string of disappointing performances dating back to December 4. In 14 total games, he is 7-4-3 (essentially .500) with a .889 save percentage. The Habs are hoping he can rekindle some of his Saturday night magic tonight.
[miptheme_dropcap style="normal" color="#222222″ background=""]2)[/miptheme_dropcap] For his part, Rangers goalie Henrik Lundqvist has been very pedestrian all season with a .910 save percentage (18-10-1). The Rangers have gotten by with a league-leading 146 goals in 43 games. The Habs aren't far behind with 132 in the same amount of contests. Needless to say, considering the teams' recent struggles in the blue paint, fans probably shouldn't expect a goaltending duel.
[miptheme_dropcap style="normal" color="#222222″ background=""]3)[/miptheme_dropcap] Arguably the hottest Hab, Tomas Plekanec has three goals and one assist in his last four games. His latest marker, the lone Habs goal against Minnesota, moved him past Guy Lapointe for 16th overall in all-time team scoring.
Tomas Plekanec passes Guy Lapointe for points scored, becoming the 16th highest scorer in #Habs history with 573. Next: Mario Tremblay (584)

— Andrew Zadarnowski (@AZadarski) January 13, 2017
[miptheme_dropcap style="normal" color="#222222″ background=""]4)[/miptheme_dropcap] Arguably the hottest Ranger, Pavel Buchnevich has points in each of his last five games, including an assist last night against the Toronto Maple Leafs. However, he is not expected to play tonight as the Rangers handle his return from injury with extra caution.
[miptheme_dropcap style="normal" color="#222222″ background=""]5)[/miptheme_dropcap] Following the loss to the Wild, the Habs sent down forwards Nikita Scherbak and Bobby Farnham to the American Hockey League to make room for Galchenyuk and Shaw. Scherbak and Farnham each got in three games with the team, with the former netting his first NHL goal in his first career game against the Toronto Maple Leafs last Saturday.
---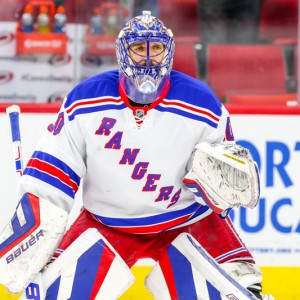 Even though the Habs are leading the Atlantic and the Rangers are holding down just a wild-card spot, only one point separates the two teams in the standings, making this even more of an intriguing matchup.
Neither team is in any immediate danger of missing the playoffs, with New York 10 points up on the closest non-playoff team (Carolina Hurricanes). However, New York is one of only two teams in a playoff spot that is in the bottom third of the league in terms of score-adjusted Corsi (Ottawa Senators). For their part, in sharp contrast relative to years past, the Habs are the fourth-best team in that same category.
Needless to say, with all factors taken into account (Rangers having played on Friday, the Habs at home, with extra motivation to perform after being blown out), Montreal should have the edge tonight.