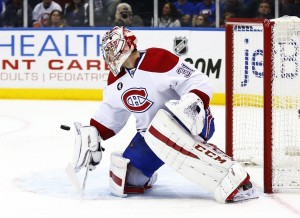 Things may not be going well for the 18-18-9 Buffalo Sabres, but neither are they for their hosts Saturday night, the Atlantic Division-leading Montreal Canadiens. Despite earning a mildly impressive 4-1-2 record on their longest road trip of the season at the start of the month, the Habs have stumbled into a routine of, for all intents and purposes, alternating wins and losses over the last few weeks (3-4, including a 7-1 loss to the Minnesota Wild).
That doesn't bode well for tonight, as the Habs won 3-1 on the road against the New Jersey Devils last night. Thankfully for them, the Sabres played on Friday as well (beating the Detroit Red Wings 3-2). Furthermore, backup goalie Al Montoya played last night, meaning star Carey Price is slated to get the start (Buffalo backup goalie Ander Nilsson also played Friday, giving Robin Lehner the reins in theory on Saturday).
---
Montreal Canadiens vs. Buffalo Sabres
Bell Centre – 7:00 p.m. EST
Broadcast channels – SN, TVAS, MSG-B
2016-17 Season Series: October 13: Canadiens 4 – Sabres 1
Buffalo Sabres – 18-18-9 – 45 Points
Road Record: 7-10-6
Hot Players: Kyle Okposo, Jack Eichel,
Key Injuries: Dmitry Kulikov, Johan Larsson, Josh Gorges, Jake McCabe

Projected lines:
Forwards
Tyler Ennis – Ryan O'Reilly – Kyle Okposo
Marcus Foligno – Jack Eichel – Sam Reinhart
Evander Kane – Zemgus Girgensons – Brian Gionta
William Carrier– Cal O'Reilly – Matt Moulson
Defense
Zach Bogosian – Rasmus Ristolainen
Casey Nelson – Cody Franson
Justin Falk – Taylor Fedun
Starting Goaltender
Robin Lehner
[irp]
Montreal Canadiens – 28-13-6 – 62 Points
Home Record: 16-5-2
Hot Players: Alex Galchenyuk, Alexander Radulov
Key Injuries: Brenden Gallagher, Andrei Markov, David Desharnais, Greg Pateryn
Projected lines:
Forwards
Max Pacioretty – Philip Danault– Alexander Radulov
Artturi Lehkonen – Tomas Plekanec – Paul Byron
Sven Andrighetto – Alex Galchenyuk – Andrew Shaw
Jacob de a Rose – Torrey Mitchell – Brian Flynn
Defense
Alexei Emelin – Shea Weber
Nathan Beaulieu – Jeff Petry
Mark Barberio – Zach Redmond
Starting Goaltender
Carey Price
---
Game Notes
[miptheme_dropcap style="normal" color="#222222″ background=""]1)[/miptheme_dropcap] While the Habs would no doubt prefer Price than Montoya in net, Montreal's MVP has been in a well-documented funk since December 4 (for a reason). He's posted a save percentage of .888 with an 8-6-3 record since then. Sabres goalie Robin Lehner has been very good overall, with a .920 save percentage (same as Price).
[miptheme_dropcap style="normal" color="#222222″ background=""]2)[/miptheme_dropcap] This is slated to be Lehner's first game since being pulled midway through Tuesday's loss to the Toronto Maple Leafs. That was after he allowed three goals on 16 shots and was caught on camera being a decent human being by a broadcaster (and potentially head coach Dan Bylsma, leading to the hook).
[miptheme_dropcap style="normal" color="#222222″ background=""]3)[/miptheme_dropcap]Ex-Hab Brian Gionta will be making a homecoming of sorts. He served as Montreal's captain from 2010-2014, before signing with the Sabres as a free agent. Former Habs defenseman Josh Gorges, who coincidentally got dealt to the Sabres the same day, is day-to-day with a hip injury.
[miptheme_dropcap style="normal" color="#222222″ background=""]4)[/miptheme_dropcap] Despite Alex Galchenyuk being taken off the first line ahead of the game on Friday, the trio (Alexander Radulov, Max Pacioretty) clicked for seven points on the power play against the Devils. Galchenyuk now has four points (two goals) in four games since returning from his knee injury.
[miptheme_dropcap style="normal" color="#222222″ background=""]5)[/miptheme_dropcap]Whoever stays out of the penalty box has a good shot at pulling this one out. The Canadiens (79.7%) and Sabres (73.9%) each have horrible penalty kills, with Buffalo placing last in the entire league (Habs are ranked 23rd). Each also boasts a top-10 power play. Things could get ugly.
[irp]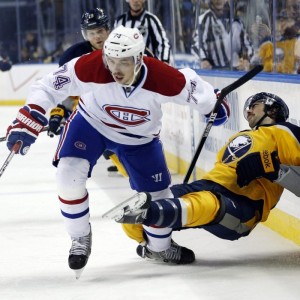 This game represents the end of the roughest stretch in the schedule for the Habs. Dating back to December 16, they've played a total of 19 games, including tonight. Twelve, including a monster seven-game road trip, have been away from the friendly confines of the Bell Centre. In each of the six weeks during that span of time, they've also had one set of back-to-back games.
Overall, the Habs survived… barely. They posted a 9-7-2 record (which excludes tonight's game) and are still in first place in the Atlantic, but with potentially just two points separating them from the second-place Ottawa Senators, who have 10 fewer points (52), but four games in hand. The Sabres are meanwhile in last place in the division and just playing for pride at this point. Nothing should serve as more of a motivator in that regard than a shot to take out the team currently in first place tonight.