The Toronto Maple Leafs will look to close the gap between them and the Boston Bruins when the two clubs meet at the Air Canada Centre on Monday. Toronto will look to rebound from a heartbreaking overtime loss to the Chicago Blackhawks on Saturday, while the Bruins look to keep pace with the Ottawa Senators who sit second in the Atlantic Division.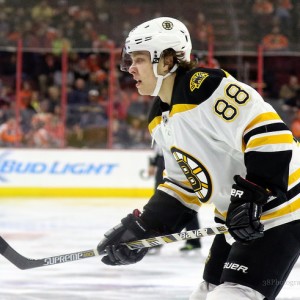 With Boston, Brad Marchand and David Pastrnak are two players to keep an eye on heading into this one. Marchand – a pesky but talented player – has the ability to get under the skin of opposing players. Still, he had 79 points in 71 games this season and sits just one point back of Crosby and McDavid for the league lead.
Pastrnak hit the 30-goal plateau for the first time in his young career and has 63 points of his own. The Leafs will have to watch him closely if they want to escape Monday with a win.
On the other side, Auston Matthews will look to make it two straight games with a point after not recording one in seven consecutive games. Mitch Marner will also look to continue his torrid season. With 38 assists this year, he's made the players around him better. The Leafs will need a big game from all four lines if they hope to hold down the second wild card spot in the Eastern Conference.
---
Boston Bruins at Toronto Maple Leafs
Air Canada Centre – 7:30 p.m. EST
Broadcast channels – TVAS, TSN4 and NESN
2016-17 Season Series:
October 15 – Maple Leafs 4 – Bruins 1
December 10 – Maple Leafs 4 – Bruins 1
February 4 – Maple Leafs 6 – Bruins 5
Boston Bruins – 38-27-6 – 82 Points
Road Record: 19-13-6
Hot Players: Brad Marchand, David Pastrnak, David Krejci and Patrice Bergeron
Key Injuries: Tim Schaller
Projected Lines:
Forwards
Brad Marchand-Patrice Bergeron-David Backes
Drew Stafford-David Krejci-David Pastrnak
Frank Vatrano-Ryan Spooner-Jimmy Hayes
Matt Beleskey-Dominic Moore-Riley Nash
Defense
Zdeno Chara-Brandon Carlo
Torey Krug-Adam McQuaid
Colin Miller-Kevan Miller
Goaltender
Tuukka Rask
Toronto Maple Leafs – 32-23-15 – 79 Points
Home Record: 17-10-7
Hot Players: William Nylander, Tyler Bozak and Mitch Marner
Key Injuries: Joffrey Lupul
Projected Lines:
Forwards
Zach Hyman-Auston Matthews-William Nylander
Leo Komarov-Nazem Kadri-Connor Brown
James van Riemsdyk-Tyler Bozak-Mitch Marner
Matt Martin-Brian Boyle-Nikita Soshnikov
Defense
Morgan Rielly-Connor Carrick
Jake Gardiner-Nikita Zaitsev
Matt Hunwick-Roman Polak
Goaltender
Frederik Andersen
---
Game Notes
[miptheme_dropcap style="normal" color="#222222″ background=""]1)[/miptheme_dropcap]Andersen is 7-0-0 against the Bruins over his young career. He holds a 1.85 goals against average and a .944 save percentage with one shutout. That includes a 3-0-0 record this season against the Atlantic Division rival with a .929 save percentage and 2.33 goals against average. He's stopped 92 of 99 shots faced against them in 2016-17.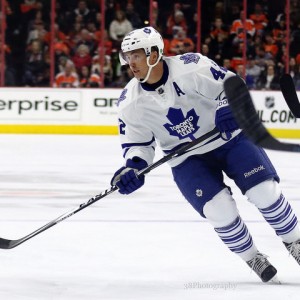 [miptheme_dropcap style="normal" color="#222222″ background=""]2)[/miptheme_dropcap]Rask has had similar success against the team that drafted him. In 24 games against the Leafs over his career, he holds a 15-4-2 record with a 2.07 goals against and .927 save percentage. This season, however, hasn't been as kind to him. In two games, he holds a 0-1-0 record with a 4.69 goals against and .788 save percentage – not great by his standards.
[miptheme_dropcap style="normal" color="#222222″ background=""]3)[/miptheme_dropcap]Tyler Bozak is just two goals shy of tying Nik Antropov for 33rd on the Maple Leafs all-time goals list. On the same stream of things, Nazem Kadri is one goal away from passing Tiger Williams and Tim Horton for 47th on the franchise list.
[miptheme_dropcap style="normal" color="#222222″ background=""]4)[/miptheme_dropcap]The Leafs are a top-10 team on both sides of the special teams spectrum. When it comes to power play, the Leafs are number one in the NHL operating at a 23.6 percent success rate. When it comes to the penalty kill, they're not nearly as efficient, but they sit ninth in the league with 83.3 percent success. Safe to say the Bruins should stay out of the penalty box on Monday.
[miptheme_dropcap style="normal" color="#222222″ background=""]5)[/miptheme_dropcap]That being said, the Bruins are also top-10 on both the power play and penalty kill. They sit 10th with the man advantage at 20.8 percent and second in the league when it comes to killing penalties (85.4 percent).
The Bruins sit just three points ahead of the Leafs for the third spot in the Atlantic Division – the Leafs with a game in hand. Bitter rivals, this game will likely get chippy and could end up being a high-scoring affair. That remains to be seen, though, as both goalies have had respectably good seasons so far.