The individual award that garners the most attention every year is the Hart Trophy, awarded to the league's Most Valuable Player. Some years, it's an easy decision. Others, it's more of a debate. This is shaping up to be one of those years. With a bunch of players squashed up at the top of the scoring leaderboard, no one has really separated themselves from the pack.
With just a few weeks left in the season, will the battle go down to the wire, or will one player assert themselves as the clear-cut favorite? Here are a few of the contenders.
Connor McDavid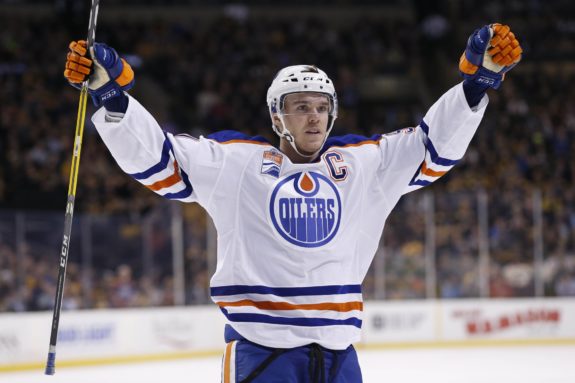 It would seem that Connor McDavid is a shoe-in to take home MVP honors. After-all, he's led the league in points for virtually the entire season, and all due respect to what the Oilers have done this season, they wouldn't be anywhere without him. That said, Cam Talbot has had an outstanding campaign. He's kept the Oilers in many a game, and stolen a bunch for them too.
Talbot has won 36 games and counting this season, moving him into a tie for second on the Oilers all-time list. McDavid has been brilliant, there's no questioning that, but Talbot has been right there with him, in terms of importance. Craig Morgan, of FanRag Sports, had an interesting argument when judging McDavid's candidacy, and that's the issue of goals scored.
Morgan noted that the lowest goal total for a Hart Trophy winning forward since 1975 (when Bobby Clarke scored 27), is 29. McDavid has 25 goals on the season, with 11 games remaining. He has five goals in his past nine games, so he's starting to heat up in that department. It's very plausible that he could finish the year with more than 29, which would render that argument a moot point.
Sidney Crosby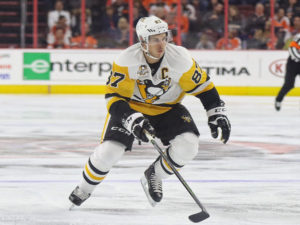 Thanks to a hat trick against the Florida Panthers, Sidney Crosby has overtaken the goal-scoring lead, and tied McDavid for the points lead. Crosby is always in the conversation for the MVP, but this season may be one of his more convincing cases.
The knock against Crosby's candidacy (as it usually is), is that he plays on a great team, one that would likely be playoff bound even without him. Firstly, it's not Crosby's fault that his team is good. That doesn't diminish his abilities. But here's the biggest pro when making the case for Sid. The Penguins have been decimated and demolished by injuries this season. And their captain has them in contention for the Presidents' Trophy.
Pittsburgh's success is largely attributed to their depth, but if Crosby can win at least the goal-scoring title, or the Art Ross, or both, it will be really difficult to overlook him in the Hart Trophy conversation. He lost both his wingers (Bryan Rust and Connor Sheary) at different points in the season, and is playing without his number one defenceman, Kris Letang.
His running-mate Evgeni Malkin has been hurt as well. There is a sense, though, that Crosby will have to win one of the two individual awards to keep him as a Hart favorite. But there aren't many teams that would be able to withstand the kind of injuries the Penguins have had. To see Crosby leading the way (and he missed games himself due to injury), is impossible to ignore.
Erik Karlsson
In a goals and points driven league, it's easy to look at the top of the leaderboard and gather your candidates from there. But the Hart is meant to go to the player most valuable to his team. And perhaps one of the most valuable is defenceman Erik Karlsson of the Ottawa Senators. Karlsson trails only Brent Burns in points among blueliners, and leads his team in that category.
The Senators have been one of the more remarkable stories this season, as they find themselves in contention (albeit a long shot now), for a division title. They've sustained injuries to their best goal scorer (Mark Stone), and lost their starting goalie for a long stretch of time. Yet despite all of that, the scrappy Sens are firmly in a playoff spot, and their captain has been a huge reason why.
The knock on Karlsson's game has been his play in the defensive zone, but under coach Guy Boucher, he's a different player. His team-leading 65 points are one thing. But he also leads the NHL in blocked shots. He has become the two-way defenceman that critics have been waiting for, and he's leading his team in every area of the game.
Brad Marchand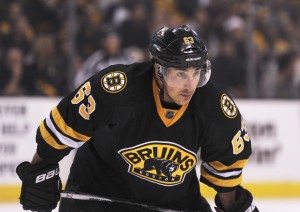 The Boston Bruins were going nowhere fast this season, until they fired their coach. Since then, they've got themselves back into a playoff spot, and looking dangerous as ever. But make no mistake. The Bruins aren't a star-studded squad. They have just five players who have scored 15 or more goals, and only two above 50 points.
Their catalyst has been an unlikely one, super-pest Brad Marchand. For most of the season, he's gained a reputation for dirty hits, but in the past few weeks has rocketed to the top of the NHL scoring list. We should have seen this coming, after his brilliant play in the World Cup of Hockey. But we were all distracted by the manner in which he conducted himself on the ice.
Marchand doesn't need to play dirty to be effective, because he's got the skills to make an impact on the score sheet. Perhaps he's finally figured that out? In any case, his play as of late has been impressive. He's challenging for the both the Rocket Richard and Art Ross Trophies. But we know how voters tend to lean. He'll probably have to win at least one, if not both, and by a decent margin, to take home significant Hart votes.
Other Hart Trophy Candidates
A lot of Tampa Bay Lightning fans will point to Nikita Kucherov as a candidate, if the Lightning make the playoffs that is. But for a team to squeak in, and their leading scorer isn't in contention for the Art Ross, that would be a tough sell. Similar to Crosby, the amount of injuries the Lightning have sustained this season will work in Kucherov's favor.
Patrick Kane is once again right there among the scoring leaders, and is certainly in contention to win his second straight Hart Trophy. But as with Marchand, Kane is a winger, a position that voters don't tend to favor unless he captures the scoring title by a wide margin.
I don't remember a Hart trophy race will this wide open. Five guys could potentially win it.

— Blake Van Poucke (@SoldierFieldBlg) March 19, 2017
Brent Burns was a heavy favorite, but his play has slipped as of late. That doesn't mean he won't get some love from the voters. A defenceman putting up those numbers on a first place team is very significant.
Will Carey Price, who is clearly the heart and soul of the Montreal Canadiens, get some attention as well? How about another goalie, like Sergei Bobrovsky of the Columbus Blue Jackets? Perhaps even a guy like Nicklas Backstrom, who may be the most underrated player in the league, should get some votes.
There are a lot of worthy candidates to be sure, but this one will likely go down to the wire to determine a winner. Who would you like to see take home the honors?