"True Grit"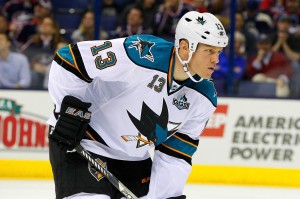 After acquiring "tough guy" Raffi Torres in a deadline deal in 2013, the San Jose Sharks have rarely had his services available. No, not because of suspension (although he was suspended in the 2013 playoffs on a bogus call) but primarily due to an ACL injury. Torres missed the vast majority of 2013-14 after a preseason collision with Anaheim Ducks forward Emerson Etem. He returned for a few regular season games and to use his words "played on one leg" in the playoffs. Torres has yet to play this regular season. Complications from an infection in the surgically repaired knee were thought to require a repeat surgery but the plan now is for Torres to play without an ACL and wear a brace for support. Former NHL players like Joe Nieuwendyk have played a number of games without an ACL so it is possible Torres could return and have an impact this season. If he can return, even a limited and rusty Torres would be a big boost for the Sharks.
While Torres has a fairly deserved reputation for past dirty hits, that reputation unfortunately overshadows his high level of skill. We are not talking about your basic fourth line agitator here, this is a winger capable of playing in the top-six. Back in 2013 with Martin Havlat injured, Torres stepped up and played phenomenally well alongside Patrick Marleau and Logan Couture on San Jose's second line. With Brent Burns on the first line and Torres on the second, the Sharks had top scoring lines with a high level of nasty. The speed and physical play from these two up front made the Sharks look as dangerous as ever. With Torres injured and Burns back on the blue-line, it is difficult to envision them winning the Stanley Cup without that type of tenacious forechecking presence.
Trust me, when it comes to Torres' dirty past, I was as big of a critic as you could find. Torres knocked my favorite player Milan Michalek out of the playoffs with this hit back in 2006. I still have my Michalek jersey but how does the saying go? Time heals all wounds? The impact Torres had on the Sharks during the 2013 stretch run was undeniable. His intense style, ability to possess the puck, and be a physical presence was a much needed combination. His energetic style and "true grit" had the ability to wake up the Sharks more than any Mike Brown fight ever could. The 33-year-old Torres was drafted fifth overall back in 2000 and it is easy to see why. He won't light up the league with 50 or more points when healthy but he is an underrated even strength producer who can set people up and finish equally as well. His goal and assist numbers are nearly identical over his career, with a few more goals than assists. Overall 260 career points in 635 games is a respectable .41 points per game. When you consider the fact the large majority of this points have come at even strength, that is a phenomenal output for a top-9 winger.
Paprika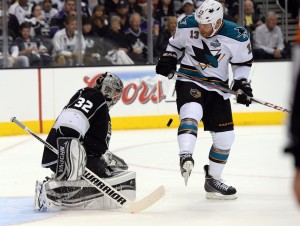 Awhile back at my previous site Inside Hockey, I wrote that Torres is to the Sharks as paprika spice is to deviled eggs. Anyone who has ever made deviled eggs knows exactly what I'm talking about. The tasty h'orderve doesn't need paprika to taste good, it isn't a vital cog to the overall taste. However, without it, there lacks that finish product, that extra little final touch that really puts it over the top in terms of taste. Similarly, Torres isn't an All-Star player, he isn't a big time performer on the top power-play or anything, but he brings an element or ingredient I should say to the Sharks that they lack without him. They can still be pretty good without him, but just not quite as good.
When/if Torres can return is still a big question mark. Last update a few weeks ago was that he had begun skating on his own in San Jose. The lack of updates certainly isn't good news but Torres did make an immediate impact in the few regular season games he was able to play last year. He also made a strong impact in the first part of the playoff series against LA before the entire team fell apart. With the Sharks having an unimpressive bottom six forward group for the majority of their 10 straight playoff appearances, even a Torres on say one-and-a-half good legs would be better than no Torres at all.