Breakouts became fairly synonymous with the New York Rangers during the 2019-20 season.
Rookies and veterans alike delivered surprising performances that simultaneously generated hope for the future and pushed the Rangers to an unexpected playoff spot, earning the Blueshirts a berth in the NHL's Qualifying Round that was a product of the pandemic.
First-year defenseman Adam Fox looked like a soon-to-be franchise cornerstone with a 42-point effort, while his blue-line partner Ryan Lindgren also might be a long-term keeper. Rookie Igor Shesterkin more than matched the hype attached to him as a highly regarded goaltending prospect, ably succeeding Henrik Lundqvist – albeit over a small sample size – in his first NHL season. Tony DeAngelo delivered one of the best offensive performances in the NHL by a defenseman, recording 15 goals and 38 assists in nearly doubling his previous best point total.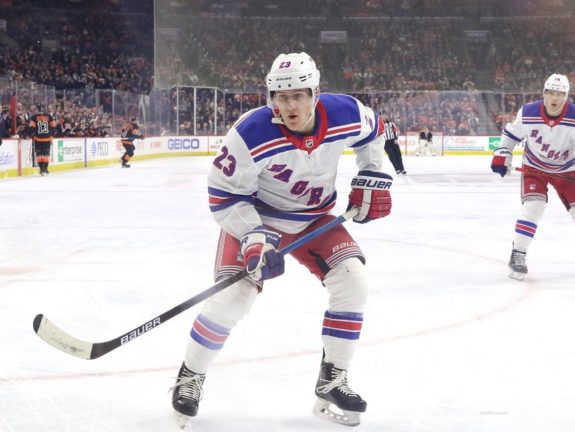 The most eye-opening performances belonged to a pair of established stars: Artemi Panarin turned in a career-best 95-point effort in 69 games in his first season with the Rangers, while Mika Zibanejad's 41 goals and 75 points – both career highs – came in just 57 games.
While it might seem difficult to believe that the Rangers will receive a similar number of breakout seasons in 2020-21, it's probably not entirely far-fetched, given the club's burgeoning high-end young talent pool. Here are six candidates who could deliver such a performance this season:
Kaapo Kakko
Lost on the ice for most of his rookie season, the No. 2 pick of the 2019 draft started to find it toward the end of the regular season and into the playoff round, showing more confidence with the puck and better awareness in all three zones, which allowed his elite hands and power start to emerge.
The Rangers might have rushed Kakko somewhat as the teenager struggled to adjust to the realities of the North American game, the level of play in the NHL and a new culture, but the signs of progress at the end were unmistakable. The Finn's continued development this season could be aided exponentially should he earn the prime right-wing assignment on the Panarin-Ryan Strome line, a spot in which he opened training camp.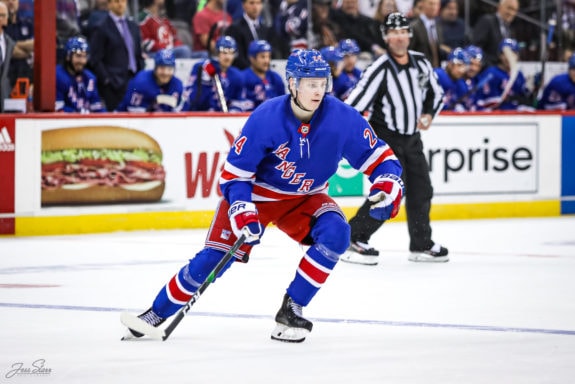 Might Kakko become the ideal finisher of Panarin's pinpoint passes? The combination has the chance to be something special.
Earning a consistent presence in the top six will require Kakko to show steady improvement defensively, an area in which he struggled mightily as a rookie. Still, everything is aligned for the big guy to begin a steady rise into the star the Rangers believe he'll become.
Alexis Lafreniere
The Rangers certainly hope this one is a given, as the top choice in the 2020 draft is all but certain to make the team out of camp. Lafreniere appears ticketed for a third-line left-wing assignment to start the season, but the coaching staff would love to see him force his way onto one of the top two lines in short order.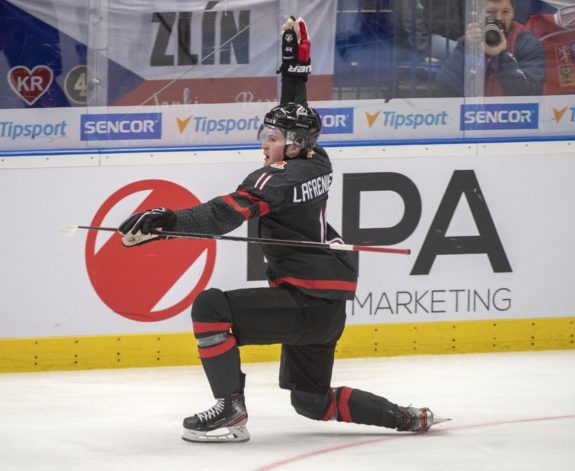 Lafreniere is a special talent, and many observers predicted that he'd reach 60 points as a rookie (that was before the 56-game schedule was announced, of course). Even if some preseason prognostications prove a tad unrealistic, Lafreniere, like Kakko, should be in an ideal situation to excel.
He'll face considerably less pressure to produce, given the strength of the team's top two lines, and he won't be held back should he earn a promotion into that top six. Coach David Quinn will be careful with the prized rookie, but not overly cautious if Lafreniere shows that the situation doesn't warrant it.
Filip Chytil
Is 2020-21 the season the talented Czech center finally busts out? The arrival of players like Fox, Kakko and Lafreniere almost makes Chytil seem like old news, but it's important to remember that he's only 21 and has played less than two full seasons.
The 21st overall pick in 2017 continued to show flashes of becoming a significant player last season, most impressively overcoming a demotion to the AHL out of camp before earning a return to the big club with nine points in nine games for Hartford – and then sticking with the Rangers for the rest of 2019-20.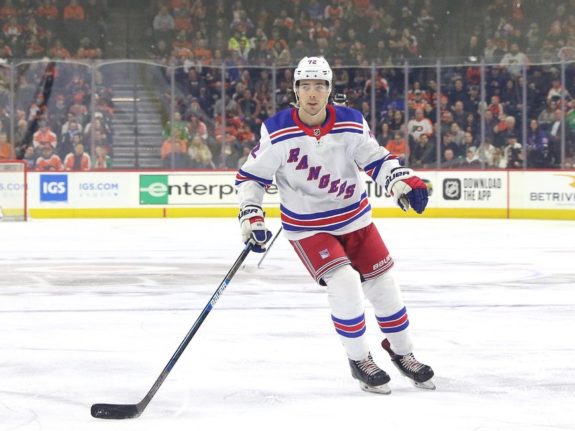 Chytil finished with a career-best 14 goals in 60 games, remaining vulnerable to stretches of inconsistency. The Rangers, though, still see him as their potential second-line pivot of the future – and with plenty of high-end talent around him, this would be the season for him to outperform Strome for that spot. At 6-foot-2, 206 pounds, with speed to burn and a powerful wrist shot, Chytil's time is now.
Pavel Buchnevich
Like Chytil, it seems as if the Russian right wing has been around longer than he actually has. In this case, though, Buchnevich has indeed been with the Rangers for more than just a short stint – the 25-year-old heads into his fifth season on Broadway since being chosen in the third round of the 2013 draft.
Yet a breakout performance just might be in the cards for Buchnevich in 2020-21. He recorded career bests of 30 assists and 46 points in 68 games of the shortened season, closing with a seven-game point streak (two goals, seven assists). Buchnevich's underrated passing has made him a perfect fit on the erstwhile KZB Line with finishers Chris Kreider and Zibanejad, and if he can add more goal production, the Rangers might face a tough decision when he becomes a restricted free agent with arbitration rights next offseason.
The Blueshirts might be envisioning prospect Vitali Kravtsov in Buchnevich's spot going forward. A career season for Buchnevich, however, could leave the organization with some pleasant problems when it comes to future lineup decisions.
Julien Gauthier
This one might prove to be a long shot for 2020-21, but the big right wing will get his chance to produce on what could be a formidable third line, which opened as him, Lafreniere and Chytil at the start of camp. Gauthier got into 12 games with the Rangers last season after being acquired Feb. 18 from the Carolina Hurricanes for defenseman Joey Keane, averaging under 10 minutes and producing just two assists.
Yet the workout warrior, sought after by the Blueshirts because of his size and straight-line speed, should be more settled this season and in prime position to start justifying his 21st overall selection by the Hurricanes in 2016. The 23-year-old's north-south game fits Quinn's desired style, and if the 6-foot-4, 227-pounder proves to be a force in front of the net and in the corners as well, he'll have a good chance to deliver some of the depth scoring the Rangers so desperately need.
K'Andre Miller
While this list thus far has been limited to players who are expected to make the team out of training camp, Miller deserves mention as a breakout candidate, given that the defensive prospect appears to have a good chance to be on the roster opening night. His tantalizing blend of power, skating ability and size has been on display in camp, impressing Quinn enough for him to say that Miller was likely making his way into the lineup. (From 'K'Andre Miller Playing Way Into Rangers Lineup', New York Post, 1/8/21)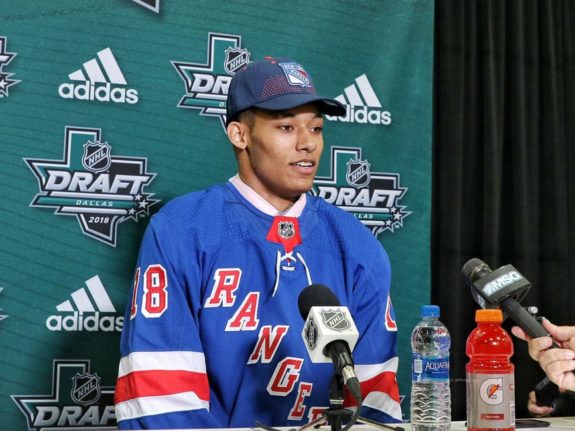 The 6-foot-5, 210-pounder opened eyes while practicing with the team before the qualifying round this summer, and he's continued to state his case that his time on Broadway might come earlier than expected. His long reach and ability to deny zone entry and join the rush would be a boon to a left defense that's wide open for Miller to seize a spot. The Rangers have big plans for the Wisconsin alum, and those might begin in 2020-21.
More Breakouts in 2020-21 Could Put Rangers Back in Playoffs
Despite the litany of big seasons from young and old(er) in 2019-20, it's highly unlikely every Ranger who delivered an outstanding performance will match those levels this season. That's why the Blueshirts need more of their youngsters to trend upward in 2020-21 if they want to find their way back to the postseason. The aforementioned six candidates are the club's best bets to do so as they look to establish themselves as big parts of the future of a perennial Stanley Cup contender, the ultimate goal of the front office's decision to start rebuilding the team nearly three years ago.
---
---