The New York Rangers have made the decision to waive skilled defenseman Tony DeAngelo. He has had a history of off the ice incidents, and this season he has struggled on the ice as well. While his defensive woes have clearly hurt New York this season, the Rangers' defensive issues run far deeper than just him, and they need to make more changes to turn the season around.
Defensive Struggles
Although the Rangers have yet to find continuity on defense, they have had bright spots this season. K'Andre Miller has been excellent at both ends of the ice, as has Adam Fox. Jacob Trouba and Ryan Lindgren have both struggled at times, but for the most part, have done a nice job defensively. The four of them should give the Blueshirts two trustworthy pairs on defense.
Outside of those four defensemen, head coach David Quinn has mixed and matched other players on defense, but no one else has stepped up yet. Like DeAngelo, both Brendan Smith and Jack Johnson have struggled so far this season.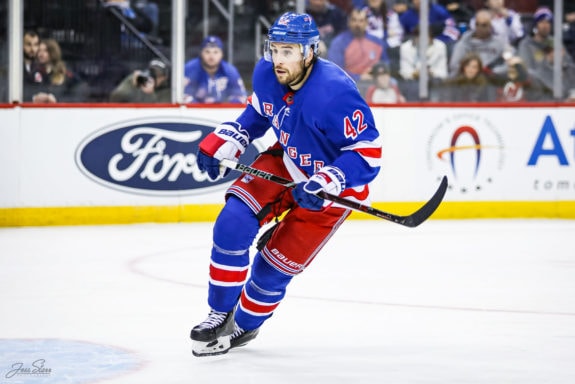 Smith began the season as a healthy scratch but was moved into the lineup in the second game of the season, as Quinn scratched DeAngelo. He performed well in his first game, playing well defensively and picking up an assist; however, he has failed to replicate that performance. After a couple of poor giveaways against the Pittsburgh Penguins, including one that led to a goal, Quinn benched him. The Rangers need him to make better decisions.
New York tried to replace Marc Staal, who they traded to the Detroit Red Wings in the offseason with Johnson, but it hasn't gone smoothly. Johnson has already taken two unnecessary penalties this season and has made a few mistakes in the defensive zone. While he has been a physical presence, it doesn't make sense for this young team to continue to stick with the veteran blueliner.
Options on the Taxi Squad
The Rangers have a few defensemen they could give an opportunity this season, including Matthew Robertson and Libor Hajek. Robertson is just 19 years old and may not be ready to make the jump to the NHL yet, but Hajek already has NHL experience. He struggled last season after showing promise during a brief stint with the Blueshirts during the 2018-19 season.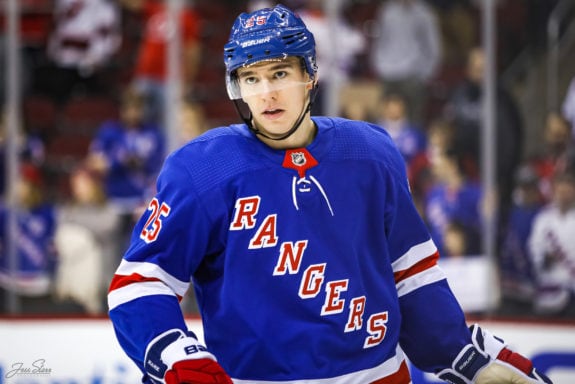 Hajek spent the majority of last season in the AHL and didn't produce much offensively, but he possesses the skills to be successful in the NHL. He skates well, has the size to be a strong defensive defenseman, and is still just 22 years old.
In addition to Hajek, the Rangers could give veteran blueliner Anthony Bitetto a chance to play after they signed him this offseason. He played in a career-high 51 games for the Winnipeg Jets last season, finishing with no goals and eight assists. He isn't going to provide a lot of offense, but he can kill penalties and defend effectively. New York can use him in a similar role to the one Johnson and Smith have struggled in so far this season.
Vince Dunn
The Rangers could also look to improve on defense by making a trade, and without DeAngelo, the Blueshirts could certainly use another skilled defenseman. St. Louis Blues' blueliner Vince Dunn has been involved in lots of trade rumors this season, and New York could make a push to acquire him. He's young, skilled, gritty and would add playoff experience to the Rangers, as he played a key role in the Blues' Stanley Cup victory in 2019. He has two goals and nine assists in 29 career playoff games.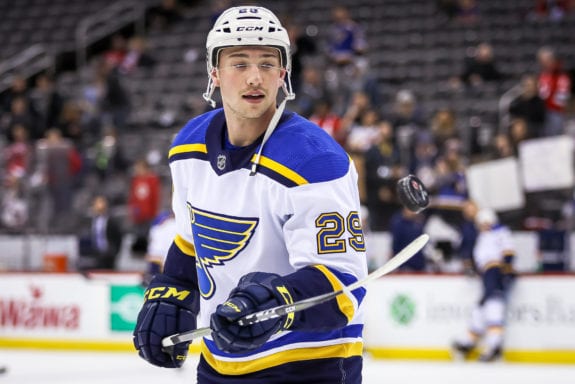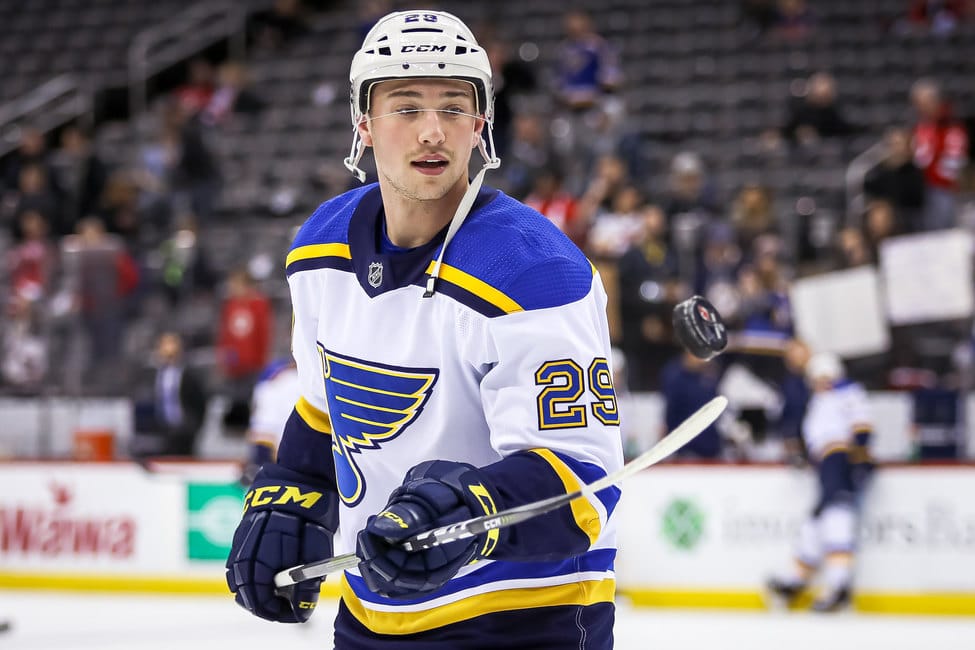 Dunn could be an ideal replacement for DeAngelo, given his vision, quickness and ability to get shots through traffic. He is also signed to a one-year, $1.875 million contract and will be a restricted free agent after this season. Smith is in his final year of a four-year, $17.4 million contract with the Rangers, which would help free up cap space for New York to re-sign Dunn if they were to trade for him.
Moving Forward
The Rangers' defense is off to a disappointing start, but they could get help from some unlikely heroes. The Blueshirts have already gotten key offensive contributions from forwards Colin Blackwell and Phil Di Giuseppe so far this season. Perhaps Hajek or Bitetto can do the same on defense.
Additionally, a blockbuster trade for Dunn isn't totally out of the question; however, the price to acquire him is very high. The Rangers could look to make a smaller trade to find a short-term solution on defense rather than a long-term one.
Right now, New York has plenty of skilled prospects on defense who can become key contributors over the next few seasons. Robertson, Nils Lundkvist, Braden Schneider and Zac Jones all have the potential to be successful in the NHL, and if a few of those prospects can reach their full potential, the Blueshirts would have an excellent group of defensemen.
However, as of now, the Rangers desperately need to improve on defense in order to have a shot at making the playoffs this season, and a starting place is giving players like Hajek and Bitetto an opportunity.
---
---
I grew up in Brooklyn, New York, rooting for the Rangers, Yankees, Giants, and Knicks. When my dream of playing shortstop for the Yankees fell short, I started writing about sports instead. I'm a proud graduate of the Philip Merrill College of Journalism at the University of Maryland.