The New York Rangers are off to a slow start this season, as they've struggled defensively and have shuffled defensemen in and out of their lineup. Despite those struggles, 21-year-old K'Andre Miller has been a bright spot for the Blueshirts and has shown that he isn't overmatched playing in the NHL.
Miller's Rise
During the 2018 NHL Draft, the Rangers traded up to acquire the 22nd overall pick and used it to select Miller. His size, strength and skating ability made him stand out, and he decided to attend the University of Wisconsin, where he played during the 2018-19 season.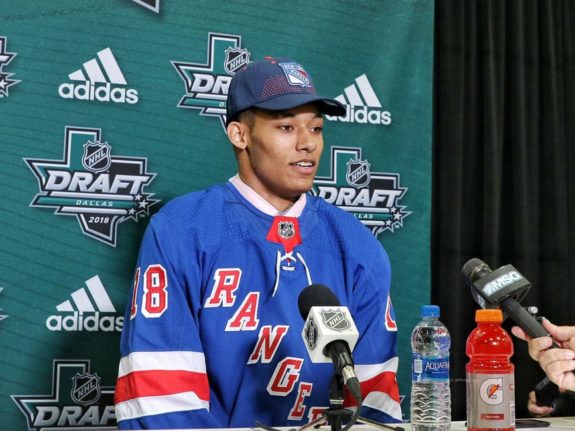 Miller had a fantastic freshman season at Wisconsin, proving to be a two-way defenseman and finishing with 5 goals and 17 assists in 26 games. The following season, Wisconsin had a down year and the team struggled to win games, finishing with a 14-20-2 record. Despite the team's struggles, he had 7 goals and 11 assists, while playing in all 36 games.
In addition to Miller's time at Wisconsin, he represented the United States at the U20 World Junior Championships in both 2019 and 2020, serving as an alternate captain in 2020. He had one poor giveaway against Canada in the opening game of the tournament in 2020, leading to a goal by fellow Ranger Alexis Lafreniere. However, for the most part, he was very impressive defensively and also showed the ability to make clean passes out of his own zone. He finished with 3 assists in 11 games over both tournaments and helped the team earn a silver medal in 2019.
Miller's Impressive Start With the Rangers
When Miller decided to turn professional rather than return to Wisconsin, he was initially a long-shot to make New York's opening night lineup, as the Blueshirts had plenty of veteran defensemen. He was just 20 years old during training camp and didn't have the opportunity to prove himself during preseason games, as the NHL decided to forgo the preseason due to the COVID-19 pandemic. Despite the odds, he proved he deserved to be in the lineup and thus far has made the most of his opportunity.
Miller looked shaky during the Rangers' first period of the season, but the entire team looked rusty and struggled. Since then, he has been one of the team's best defensemen in their first few games of the season and is already earning more ice time.
---
Latest Rangers Content:
---
While many of New York's defensemen have struggled with giveaways and mistakes in their coverage, Miller has been trustworthy defensively. He's made smart decisions about when to pinch in the offensive zone, and has used his speed and size effectively to win one-on-one battles.
On Friday, playing against the Pittsburgh Penguins, Miller dropped a pass back to Filip Chytil in the offensive zone and drove to the net, leading to a goal for Kaapo Kakko. It was Miller's first NHL point. He is a plus-four, which is the best on the team, and he also has an impressive Corsi for a percentage of 54.0. His strong play has led to an increase in ice time in each game he's played this season. He played just 13:59 in the season opener but 21:17 in Friday's game against the Penguins.
Moving Forward
Entering the season, Miller was expected to be an important part of the team's future but his impressive play has made him a key player for the Rangers this season. Adam Fox, Jacob Trouba and Tony DeAngelo are all right-handed, which makes the left-handed Miller even more valuable.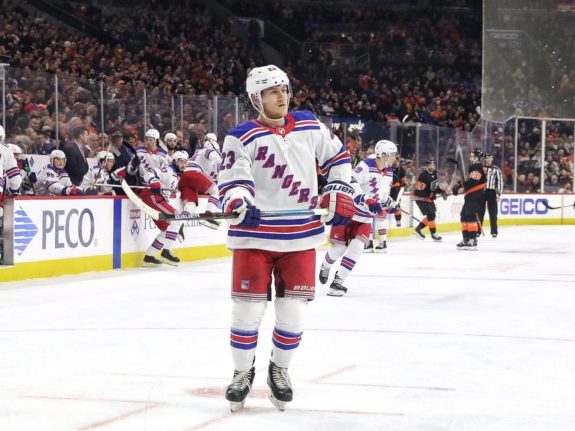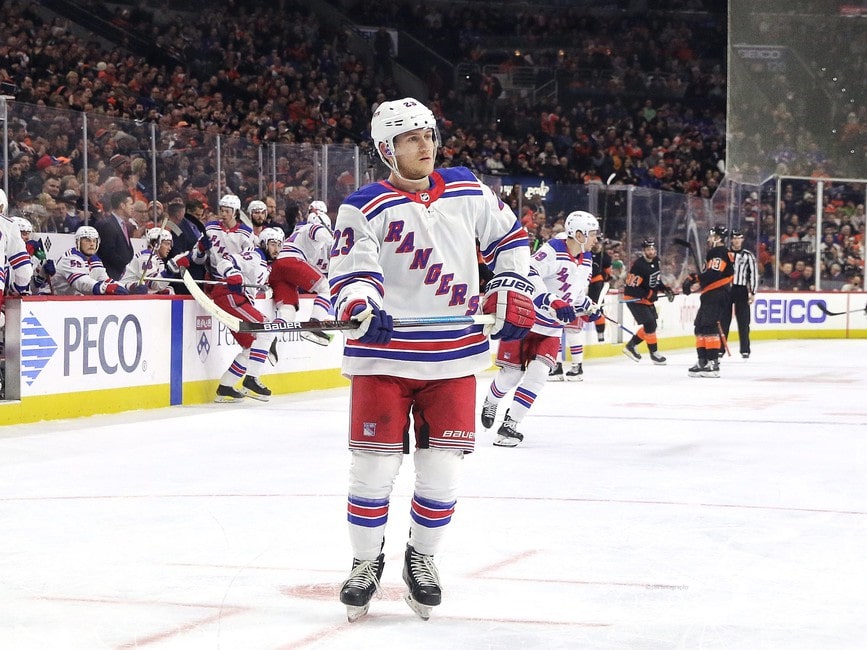 So far this season, head coach David Quinn has been mixing and matching the team's defense pairs, but Miller could end up paired with Fox or Trouba, playing like a top-four defenseman. While it's still very early in the season, he has shown poise and looks like he belongs in the NHL. Last season, as rookies, Fox and Ryan Lindgren developed into New York's top defense pair so it's certainly possible that Miller will play a big role on the team this season.
The Rangers' lack of depth on defense has created an opportunity for Miller, and so far he is making the most of it. His strong start is a positive sign for the Blueshirts' future, as he has the potential to become a franchise cornerstone on the blue line.
---
---