This series will appear in three parts on July 21, 23 and 25 (The Good Guys, The Bad Guys, and Too Soon to Tell)   The Rangers are a big market, big money squad and even with their recent emphasis on homegrown talent they still find themselves being the former team of many players around the league. It was not so long ago when the Rangers seemingly turned over their roster every single offseason and were amongst the five most likely destinations for every big free agent name. Though that led to many talented players coming to the garden it also brought along some horror stories of players who got swallowed up by the big market or for some other reason did not succeed in blue. With former Rangers all over the NHL it can be difficult to know who you can root for and who you must root against. In an attempt to clear the air on former blueshirts, here is the definitive guide to former Rangers:  
The Bad Guys: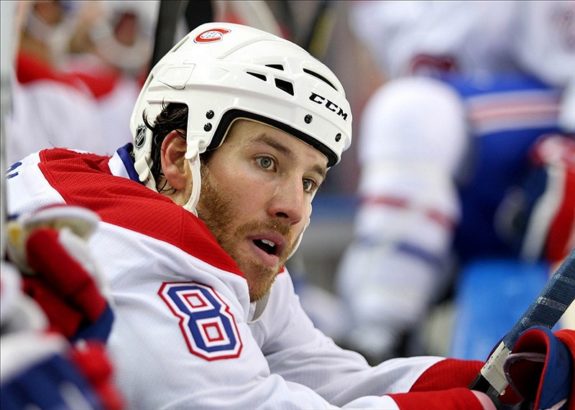 Brandon Prust:
Brandon Prust parlayed two and a half strong seasons in New York into the biggest pay day of his career from the Montreal Canadiens. At the time this was not enough to transform him into a villain as he was seen as a guy who had to take the big deal and had been a fan favorite when on the Rangers. The fact that Prust was unable to replicate his best season at 29 points in 2010-11 while on the Rangers even made the team feel smart for not matching the big money that the Habs threw at him. All perception of Prust changed in one fell swoop when he laid a nasty and dirty hit on Derek Stepan in the conference finals last year. The fact that Stepan broke his jaw on the play and no penalty was called only added insult to injury. Even with Prust showing remorse in subsequent interviews he is still on the Rangers fans hated list for now.
Michal Rozsival:
Rozsival was at one point among the Rangers fan favorites. After a stint in the Czech League he returned to the NHL for the Rangers and found great success in his first few years including a +35 rating in his first year and forty points in his second. Prior to the 2008 season he signed his biggest contract to date, a 4-year $20-million bode of confidence based on his impressive play. Once he got paid, that was the beginning of the end. He posted a -7 in his first year post payday and followed that up with decreased point totals every year cementing his fall from grace from breakout star to salary albatross. Big contracts and small results area a sore spot from Rangers faithful and brought out the boo birds towards the end of Rozsival's tenure as a Ranger. Watching him win a cup in Chicago only added salt to the wound and the booing can still be heard when he enters Madison Square Garden.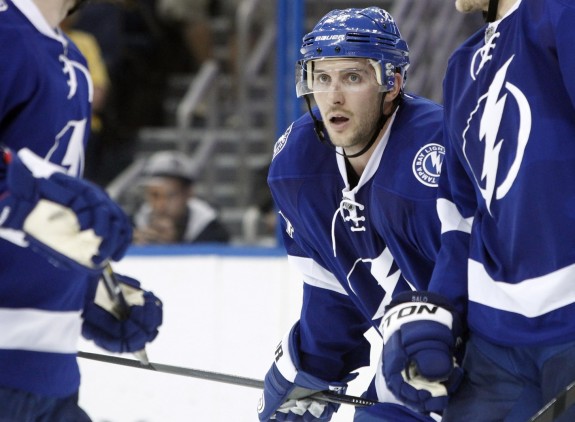 Ryan Callahan:
Within a span of a few months the Rangers captain has went from the heart and soul of the team to a definite "boo" magnet next time he comes to town. It all began with last years trade deadline approaching. Ryan Callahan was facing free agency at seasons end and was asking for an exuberant 6-year $39 million while the Rangers countered with a still lofty 6 year $36 million deal. Callahan has intangible value that is tough to quantify in dollar figures but his numbers aren't impressive with a peak season of 54 points and 36 points or less in his last three seasons.  When Callahan rejected that offer the Rangers made a blockbuster deal swapping captains with Tampa Bay. Martin St. Louis cost the Rangers their captain and a handful of first round picks once the provision based on the Rangers performance was fulfilled with their Stanley Cup Finals run. Callahan officially became one of the bad guys when he signed with the Lightning for a lower deal than the Rangers had offered: $34.8 million over 6 years. Since the deal has went down Callahan has added insult to injury by reportedly recruiting Anton Stralman and Brian Boyle to join him down south. The last laugh went to the Rangers however as they thrived and made the finals without their former captain and Tampa Bay exited the playoffs in the first round. So Ryan Callahan took a pay cut to leave the team he has played for his entire NHL career, losing the "C" on his jersey and joining an inferior squad at the same time. Definitely not copacetic separation but thus far the Rangers have gotten the last laugh.
Scott Gomez:
The Rangers have a long history of horror story signings, especially when it comes to big names and big deals. In the saga of bad signings, Scott Gomez  may just be on the Mount Rushmore. His 7-year $51-million dollar deal initially looked brilliant, signing away a top talent from a division rival. Gomez was unable to ever get in a rhythym as a Ranger and looked downright pathetic much of his blueshirt tenure. It is no surprise that a player who was wildly successful for the Devils and a complete bust for the Rangers while getting paid a lot of money to not produce is among the most hated of former Rangers. For the Rangers the story had a happy ending as they were able to trade Gomez to Montreal for a group of prospects which included Ryan McDonagh in a deal that is now considered one of the biggest steals in NHL history. Gomez went on to at one point go an entire calendar year without a goal and spent last year in the black hole that is the Florida Panthers organization. It is unclear whether he will play next year but it is safe to conclude he won't play for the Rangers.