After a disappointing end to what many hoped would be a promising 2023 postseason run, the New York Rangers' focus turns to the upcoming 2023-24 season. With a hectic offseason in store for president and general manager Chris Drury, much discussion has been made about the coaching search and pending free agents. Still, little has been discussed about the upcoming NHL Entry Draft.
The Rangers will have the 23rd selection in the first round, keeping their original pick despite making numerous deadline trades. Late first-round choices have seemingly been more successful for the Rangers, who most recently have taken K'Andre Miller (22nd in 2018), Braden Schneider (19th in 2020), and Filip Chytil (21st in 2017).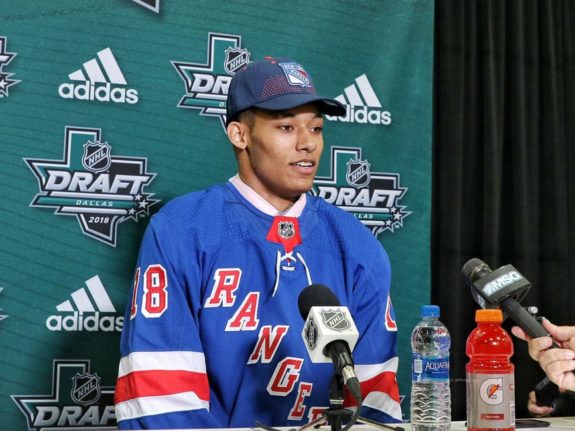 The 2023 NHL Entry Draft will find Drury and his scouting staff in a similar spot, selecting towards the end of the first round at a point where the premium talent will have already been taken. But, as previous drafts have shown, there is a possibility to grab future stars at any point in the draft, not just in the top-five positions.
With the salary cap being a constant issue for the Rangers, getting cost-controllable young talent is essential for sustaining a successful team. Although the 23rd overall selection is unlikely to make an impact immediately, having a player with a high upside on the horizon is undoubtedly something Drury is looking to add. Outside of Brennan Othmann (16th overall in 2021), the Rangers don't have many highly touted young players on the horizon.
So, who will the Rangers select at No. 23? Well, let's take a look at a few of their options. I will utilize Sportsnet's Draft Rankings: May Edition and Elite Prospects Draft Center Rankings.
Mikhail Gulyayev, Defenseman
Height: 5-foot-10, Weight: 170 pounds, Team: Omskie Yastreby, League: MHL
Mikhail Gulyayev is a defenseman in the MHL, the junior league of the Kontinental Hockey League (KHL) in Russia. Gulyayev is undersized but a mobile player with good offensive ability. His mobility can impact the breakout, allowing him clean exits from his end, an attribute the Rangers lack on their blue line outside of Adam Fox.
He is ranked 23 on Sportsnet's NHL Draft Rankings and 25th on Elite Prospects Draft Rankings. Gulyayev had two goals and 23 assists in 22 games with Omskie, including another 10 points in 17 playoff games. He also spent some time with Avangard Omsk in the KHL, registering one assist in 13 games.
Riley Heidt, Center
Height: 5-foot-11, Weight: 179 pounds, Team: Prince George Cougars, League: WHL
Riley Heidt has spent the last two and a half seasons with Prince George in the Western Hockey League (WHL). He broke through in the 2022-23 campaign with 25 goals and 72 assists for 97 points over 68 games. Heidt also played for Canada's U-18 team and registered two assists over five games at the U18 World Junior Championships.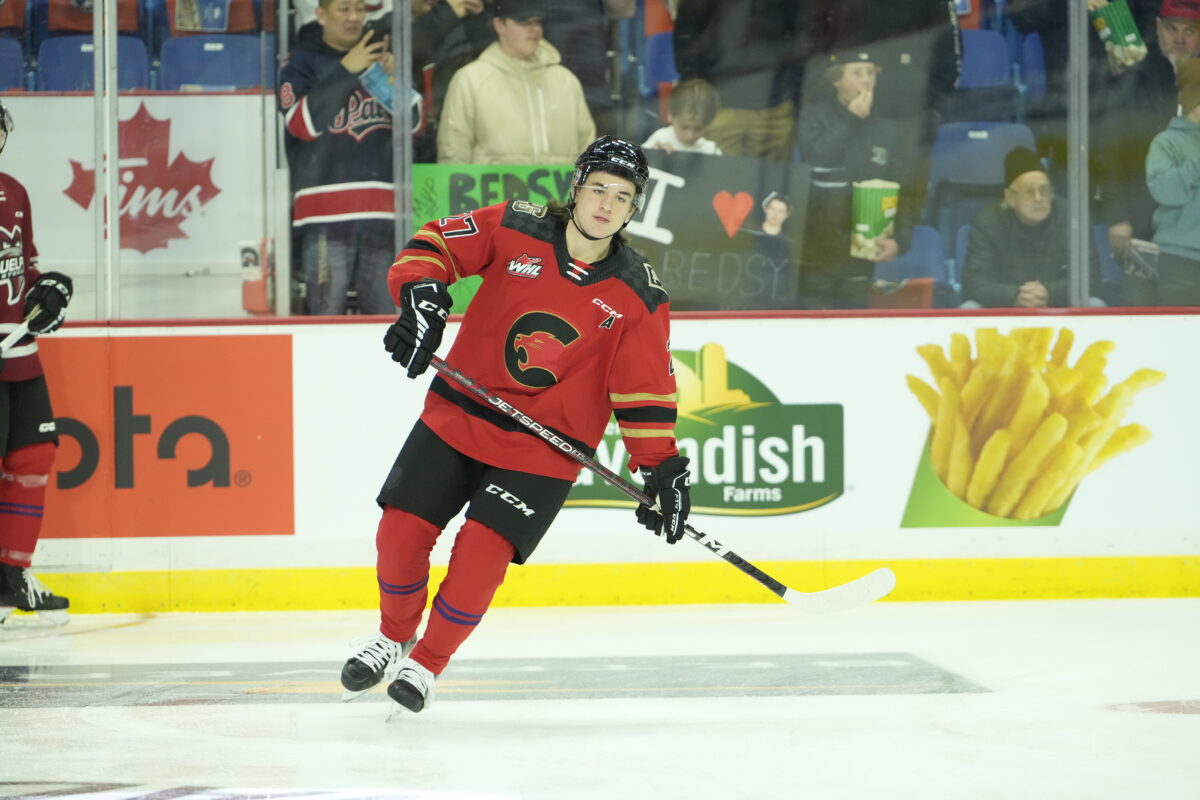 Heidt is a pass-first guy, evident by his 72 assists this season. In nine games during the WHL playoffs, he recorded six more assists and eight points. The 18-year-old is an excellent skater, an element the Rangers need. He is currently 26th on Sportsnet's rankings and 18th on Elite Prospects. If available when the Rangers select, Heidt is a playmaking forward with speed, an excellent combination for Drury to select.
Gabriel Perrault, Right Wing
Height: 5-foot-11, Weight: 165 pounds, Team: US National Development Team, League: USHL, NTDP
Gabriel Perrault is an exciting name for the Rangers to keep their eyes on. Many mock drafts have him going just outside of the top 10, but Sportsnet ranks him 19th, and Elite Prospects ranks him 31st. Although a long shot, Perrault is a highly talented forward with a ton of scoring potential.
Related Story: 2023 NHL Draft Guide
---
Latest News & Highlights
---
Perrault had 132 points in 63 games for the US National U18 team. He also played in the U18 World Junior Championships, racking up five goals and 13 assists in seven games. I doubt he will be available when the Rangers are on the clock, but stranger things have happened. His elite vision and hockey IQ make him an enticing pick for any team looking for a high ceiling outside the top 10.
Eduard Sale, Right Wing
Height: 6-foot-1, Weight: 168 pounds, Team: HC Kometa Brno, League: Czech Extraliga
Eduard Sale spent his 18-year-old season playing in the highest league in Czechia. He finished with seven goals and seven assists over 43 games, a solid showing for the young forward. His international play is a better indication of his talent relative to his age group.
Sale had four goals and six points in five games at the U18 World Championships. In all international U18 competitions, Sale had 19 points in 18 games. The right-winger also played for Czechia's U20 World Junior team, recording one goal and five assists in seven games. Sportsnet has him ranked 22nd, while Elite Prospects ranks him 27th.
Calum Ritchie, Center
Height: 6-foot-2, Weight: 187 pounds, Team: Oshawa Generals, League: OHL
Calum Ritchie is a big center currently playing in the Ontario Hockey League (OHL). In 59 games for Oshawa, he tallied 59 points. He has talent on both ends of the puck, poised to pan into a solid two-way player in the NHL. He had three goals and six assists for Canada at the U18 World Junior Championships. Ritchie was a shade over a point-per-game player in both postseasons he participated in with Oshawa.
Sportsnet has Ritchie as the 29th-ranked prospect, while Elite Prospects ranks him 28th. The Ontario native has skill, but the point totals have yet to reach the eye-popping totals that some of his fellow prospects have. Despite that, Ritchie is a two-way center that the Rangers will surely consider if he is on the board when they are drafting.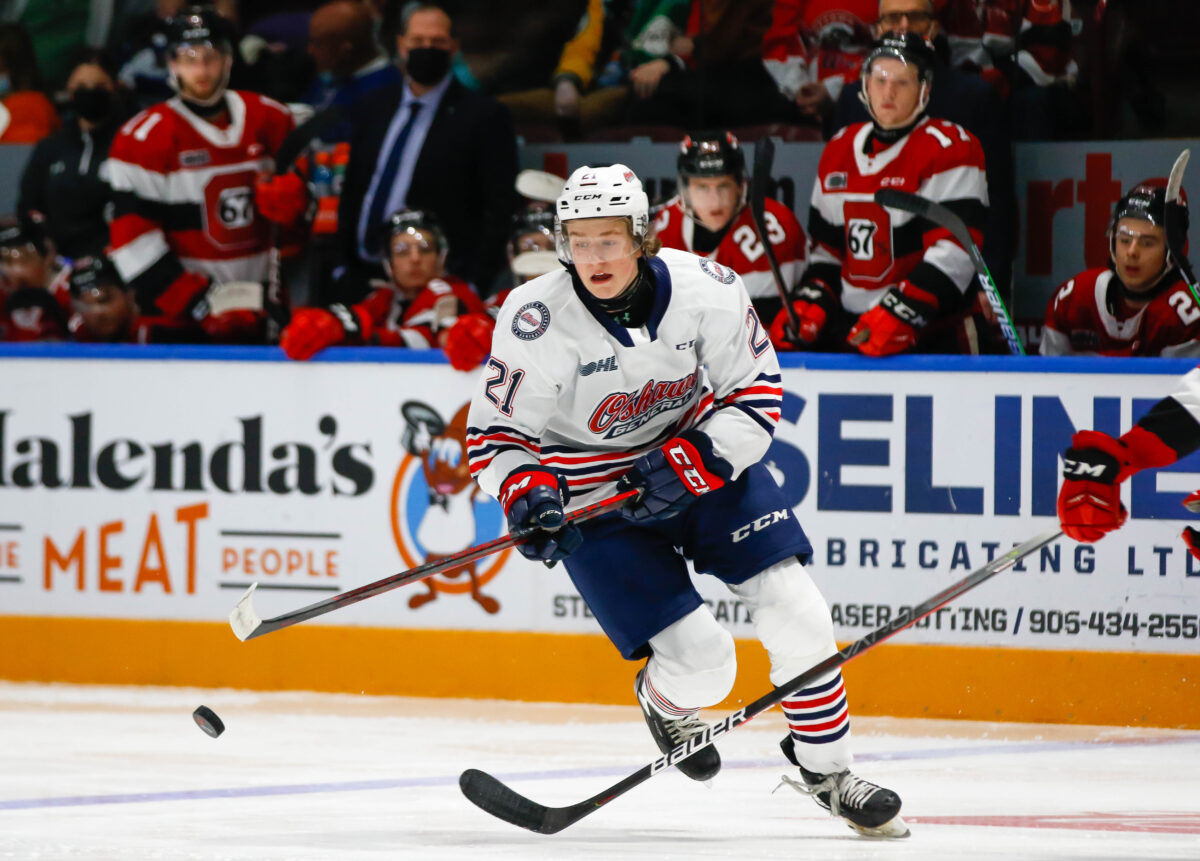 Drury needs to ensure this selection is one they thoroughly like and plan on developing. Alexis Lafreniere, first overall, and Kaapo Kakko, second overall, were immediately ushered into the NHL in roles that didn't fit their selection status. The Rangers can ill-afford to rush another prospect, and their 2023 selection should benefit from this newfound approach.
Whether it is one of the five names mentioned here or another prospect who dons a Rangers sweater comes draft night, June 28 will certainly be an exciting night for the Rangers and their prospects.
---
---