With their season hanging in the balance, the New York Rangers played their best contest of the series on April 29. They did not get discouraged after Curtis Lazar's goal gave the New Jersey Devils a 1-0 lead during the opening period of Game 6.
Toward the end of the first period, Dawson Mercer's tripping call on Patrick Kane put the Rangers on the power play. New York proceeded to score the first of five unanswered goals against the Devils on that power play chance in a 5-2 win. They evened up the series at 3-3 with the deciding Game 7 on the horizon scheduled for May 1. Let's look at some key players for New York in their latest win, what to expect from the Devils in Game 7, and more in the latest edition of Rangers News & Rumors.
Familiar Faces Make A Difference For the Rangers in Game 6 Win
Chris Kreider scored his fifth power-play goal of the 2023 Postseason to give the Rangers their first goal since Vincent Trocheck's tally early in the third period of Game 4 on April 24. It was a big night for Kreider as he contributed two assists on the club's two goals during the second period. The 32-year-old forward leads New York with six goals and nine points in six contests during the first-round series.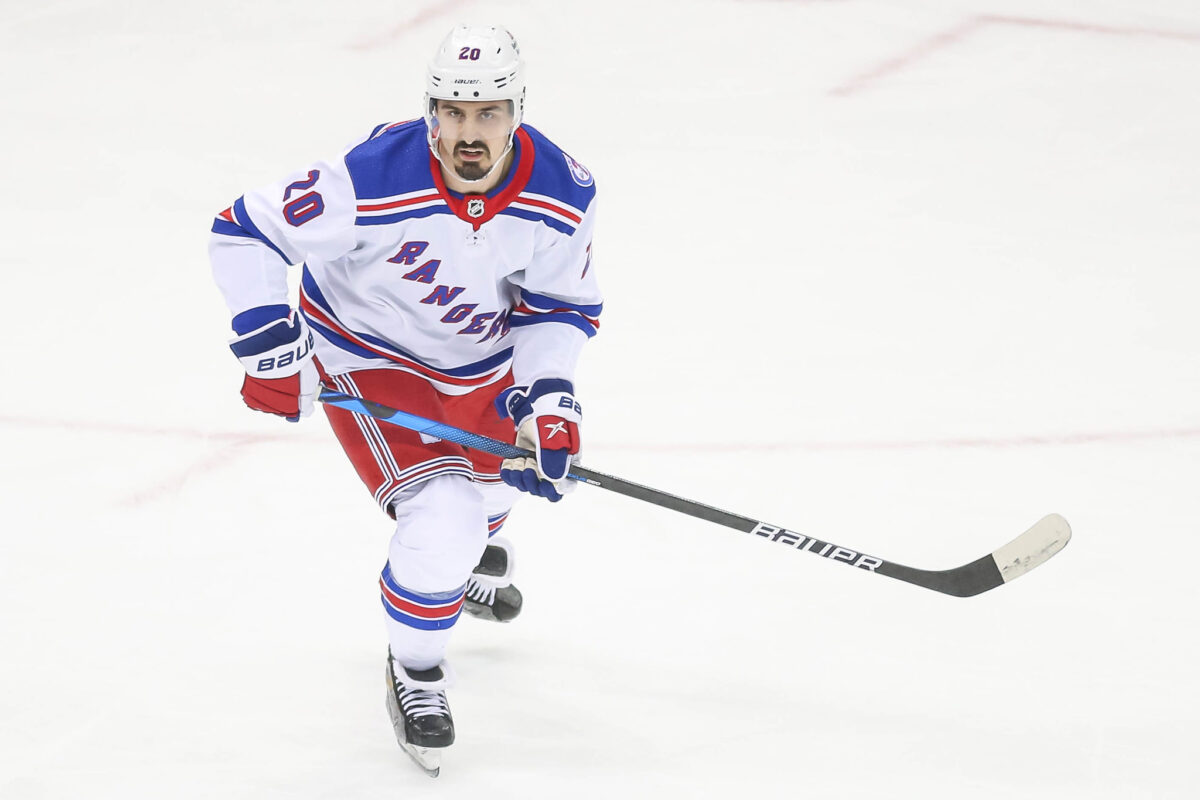 Mika Zibanejad scored his first goal of the 2023 Playoffs during the second period to put the Rangers ahead 2-1. It was their first lead in the series since Kreider's tally early in Game 3 on April 22 that put New York ahead 1-0. The Stockholm, Sweden native credited the team's ability to attack the Devils offensively during his postgame comments, "We got to our forecheck a little bit more today, winning the battles down low and maintaining some zone time. Try to take advantage of that and the chances are going to be there."
Shesterkin Dominates the Devils in Game 6
Igor Shesterkin continues to be the Rangers' best player in the series against the Devils. The most goals he has allowed was three during New Jersey's 4-0 Game 5 victory on April 27. He finished Game 6 saving 34 of the Devils' 36 shots on goal for a .944 save percentage (SV%).
Kreider credited the talented Shesterkin following Game 6, "It's not just about how consistent he is, but his ability to shine in big games like this." The netminder certainly stood out for the Rangers during the 2022 Playoffs as he finished with a 2.59 goals-against-average (GAA) and a .929 SV% in 20 contests. In six contests this postseason he has a 1.79 GAA and a .939 SV%.
Related: 3 Rangers Predictions for the Rest of the Series vs. the Devils
---
Latest News & Highlights
---
During Game 5, a frustrated and irate Shesterkin skated over to the Rangers' bench and yelled at the players to get going offensively. The Rangers eventually got his message based on their offensive performance in Game 6. There is no doubt the goalie will bring his best effort for Game 7. Fans should feel most confident in him to give New York an opportunity to win the series.
Other Observations
Vladimir Tarasenko netted the contest's game-winning goal for the Rangers during the second period to give them a 3-1 lead in Game 6. He finished the game with an assist also for his first multi-point contest of the series. Prior to Game 6, he did not contribute any points since New York's 5-1 victory in Game 2 on April 20.
Rangers head coach Gerard Gallant commented on Tarasenko's play, "He was good, he played well. You try and get everybody playing well and you make line changes. You're hoping for the best. We've done it a lot during the season and tonight it probably paid off a little bit" (from 'Vladimir Tarasenko's line move pays big dividends for Rangers,' New York Post, 4/30/23).
Tarasenko expressed satisfaction with the play of his linemates, Kreider and Zibanejad, but believes there can be room for improvement in Game 7, "I think we played well, but we can improve our game. Stay closer to each other, in playoffs it's way tighter, like almost no space." Gallant moved Tarasenko up to the first power-play unit for Game 6 in place of Patrick Kane.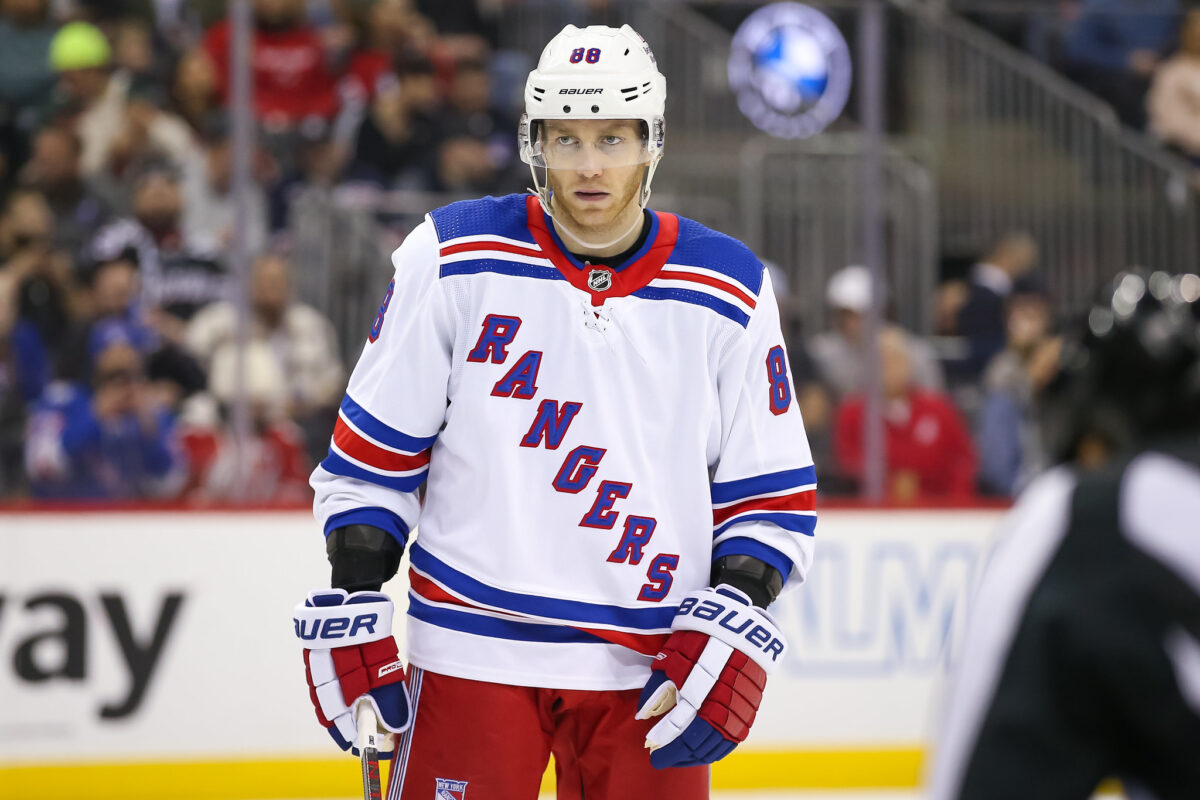 Speaking of Kane, he has been pressing, particularly in the last game. He has one goal and five assists in six games but has no points in the past two contests. His only multi-point game was in Game 2 in which he had one goal and two assists. He finished Game 6 with the highest Corsi For (iCF) of six, Fenwick For (iFF) of six, and tied Tarasenko and Artemi Panarin for the most scoring chances (iSCF) with four.
Whether it be adjusting to playing on another team for the first time in his career or fighting through an ongoing lower-body injury, Kane's time with the Rangers has been somewhat of a struggle for him. However, he has the reputation of being one of the league's top playmakers and will still get his fair share of chances in the offensive zone.
What to Expect For Game 7
The Rangers will be faced with a raucous crowd in Game 7 at Prudential Center that will be in support of the Devils. The fans will be eager with anticipation and enthusiasm that New Jersey can win their first postseason series in 11 years with a victory against New York.
The Rangers have done an excellent job in keeping three of the Devils' goalscorers – Nico Hischier, Jesper Bratt, and Timo Meier, from scoring goals through the first six games. Meier, in particular, has demonstrated physicality against New York. He leads New Jersey with 17 hits while ranking fifth among skaters in hits taken with 13.
It won't be easy for the Rangers but they need to limit the chances of Meier for one more game. The former San Jose Shark has done everything offensively except produce points during the first-round series. He is second among Devils skaters with 26 shots, a 2.71 in individual expected goals created, 51 iCF, 33 iFF, and 25 iSCF. He is overdue to score in this series. Also, Jack Hughes is a magician whether it be shooting or passing the puck. New York obviously needs to anticipate he will bring his A-game to help New Jersey win Game 7.
Akira Schmid had a rough outing for the Devils in Game 6 and did not finish the game due to the lopsided score. I think he will not let his performance in the contest rattle him as he played excellently in three contests prior to the latest game. New Jersey recorded their fewest amount of blocked shots in front of Schmid during the latest loss. Here is the total number of shot blocks with the young netminder starting for them this series:
Game 3 – 17
Game 4 – 13
Game 5 – 24
Game 6 – 11
In Game 6, the Rangers did an excellent job of setting screens in front of Schmid and getting shots through to the net for the goaltender to stop. Following Game 2, the Devils cleaned up their defensive troubles and made it more difficult for New York to have quality shots. Expect them to correct their mistakes and clean up their defensive coverage in preparation for the most important contest of the series.
Both the Rangers and Devils have had their fair share of advantages during the six games played in the series. Now both teams will need to play their best game to determine which club advances to play the Carolina Hurricanes in the second round. The Devils need to remain disciplined in Game 7. They need to avoid taking too many penalties consecutively as they did for a portion of Game 6. Kreider's power-play goal near the end of the first period ended up dictating the outcome of the contest. In order to have a good chance of advancing in the postseason, the Rangers need to remain patient and have a good forecheck as they did during the last game.

*Advanced statistics provided by Natural Stat Trick
---
---