The New York Rangers' season is on the line as they prepare for Game 6 tonight against the New Jersey Devils. If New York wins, they force a deciding Game 7 on May 1 at the Prudential Center. Lose and their season is over. With the way the series has been trending since Game 3, this may be their final game of 2022-23. The Devils will make sure to put their best effort forward this evening to avoid playing in a Game 7 where anything can happen.
The Rangers have been in a similar position of needing to come from behind to extend postseason series during the 2022 Playoffs. They forced Game 7s in their first- and second-round series against the Pittsburgh Penguins and Carolina Hurricanes, respectively. New York attempted to rally once again vs. the Tampa Bay Lightning but was defeated in six contests.
Vladimir Tarasenko and Patrick Kane were not members of last year's Rangers club but each has significant postseason experience and have previously won Stanley Cup championships. Can New York force a winner-take-all Game 7? Let's preview tonight's matchup.
New York Rangers Projected Lines
Forwards
Chris Kreider – Mika Zibanejad – Tarasenko
Alexis Lafreniere – Vincent Trocheck – Kane
Artemi Panarin – Filip Chytil – Kaapo Kakko
Jimmy Vesey – Barclay Goodrow – Tyler Motte
Defense
Ryan Lindgren – Adam Fox
K'Andre Miller – Jacob Trouba
Niko Mikkola – Braden Schneider
Goaltenders
Igor Shesterkin – Jaroslav Halak
Gallant Alters Top Nine in an Effort to Spark the Rangers
Rangers head coach Gerard Gallant shuffled the lines around during practice on April 28. The intent is to jumpstart an offense that has tallied two goals combined in Games 3-5. The most notable change is putting Panarin on the "Kid Line" with Chytil and Kakko.
Related: Rangers Concerns Are Plentiful Ahead of Pivotal Game 6
---
Latest News & Highlights
---
Panarin has gotten plenty of scoring chances during the series. However, like the rest of the Rangers, he has been affected by the Devils' tight defensive scheme and the play of goaltender Akira Schmid during Games 3-5. Chytil has been one of New York's productive players ranking in their top five with 1.53 individual expected goals created (iXG), a Corsi For (iCF) of 23, and 14 scoring chances (iSCF). The hope is that the pairing of the experienced Panarin with the two young forwards will generate plenty of opportunities for the trio.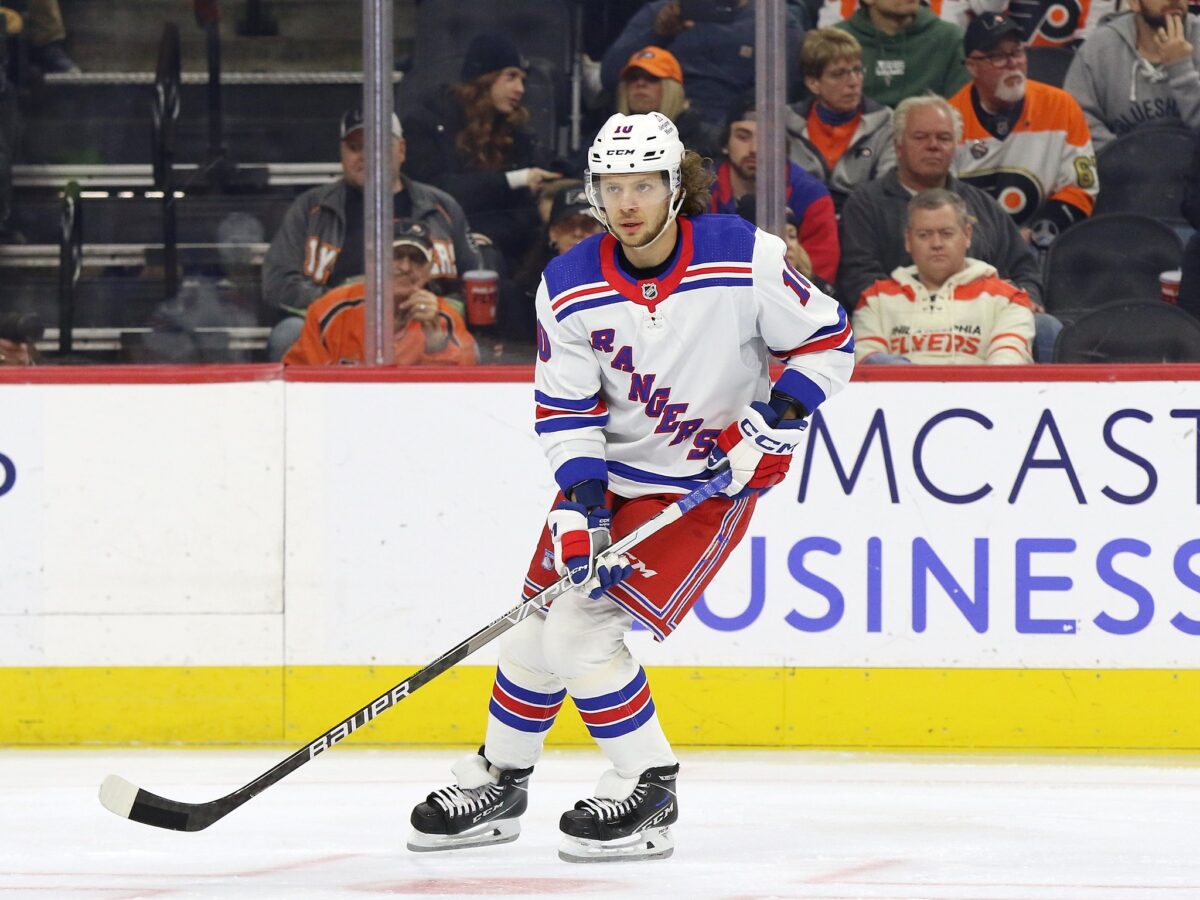 The young Lafreniere can benefit from playing with veterans in Trocheck and Kane. Trocheck has struggled this series as he is tied for 10th with only six shots on goal, for 12th with a 12 iCF, and ninth with an 11 Fenwick For (iFF). He and Kane are familiar with one another from playing on the same line after the Rangers acquired the former Chicago Blackhawk. Kane has skills with the puck that place him among the league's best and it will be interesting to see how the line will gel against a swarming Devils defense.
Tarasenko Needs to Be Better in Game 6 for the Rangers
Tarasenko has not been as productive as anticipated through the first five contests of the series. Here is his time on ice (TOI) for each game out of 18 skaters and 12 forwards:

Game 1: 11:46 – 16th, 10th
Game 2: 13:52 – 12th, 8th
Game 3: 18:40 – 10th, 6th
Game 4: 16:37 – 10th, 6th
Game 5: 14:25 – 12th, 6th
Tarasenko has seen a bit more ice time in Games 3-5 compared to the first two games of the series. However, according to Larry Brooks of The New York Post, the forward's average TOI of 15:04 is 3:04 less than his career average with the St. Louis Blues during the playoffs (from 'Vladimir Tarasenko's ice time at crux of necessary Rangers changes,' New York Post, 4/29/23).
Tarasenko was critical of his play saying, "I have to find a way to score goals and create goals. I don't think I've been good enough." Being placed on the second power-play unit does not help his offensive chances as the top unit will get the first chance at scoring a goal. However, he needs to play better for Gallant to consider moving him up to the first power-play unit.
Gallant commented about the forward's ice time following practice on April 28, "I like to see him play more but I also want guys to take it. When you get the opportunities, make me play you more. I want guys who go out there and say, 'Make me play 18 minutes, make me play 20 minutes.'" Expect Tarasenko to put his best foot forward in a must-win scenario tonight for the Rangers.
Can the Rangers Get Pucks Past Schmid?
Following the decision by Devils head coach, Lindy Ruff, to start Schmid in Game 3 over Vitek Vanecek, New Jersey has not lost and has given up only two goals in the last three games. They surrendered 10 in the first two contests of the series that Vanecek played in. The inexperienced Devils also adjusted their defensive zone coverage and got their playoff jitters out of the way following Games 1 and 2.
Schmid has a 0.63 goals-against average and a .976 save percentage in three contests against the Rangers. He has stopped 80 of the 82 shots he has faced. However, he and this Devils team have not been in a series-clinching scenario before.
The Rangers need to score first tonight, getting a 2-0 or 3-1 lead would be ideal, but they have not led since they were up 1-0 in Game 3. If New York gets a multi-goal lead in Game 6, it will force the Devils to change their approach since they will be pressing more due to trailing.
Player To Watch

Mika Zibanejad
Zibanejad started slowly in the 2022 postseason series against the Penguins. He scored his first two goals of the playoffs along with tallying two assists in a Game 6 win for the Rangers. New York's chances of winning tonight increase if he scores for the first time in the 2023 Playoffs and has his best game of the series with multiple points.
The Rangers' season is on the line, which is a familiar situation they find themselves in considering how they fared during the 2022 Playoffs. They need to remain calm while maintaining a sense of urgency given the circumstances of tonight's contest. The loyal fans will be ready with enthusiasm to cheer them on at Madison Square Garden for what should be an exciting game between the Hudson River rivals.
*Advanced Stats Provided By Natural Stat Trick.
---
---