The New York Rangers are a quarter of the way through the 2020-21 NHL season and things aren't awful, but they're far from good. At the moment, two of their best players thus far are out with injuries. Artemi Panarin (lower-body) and K'Andre Miller (upper-body) are out – none of them seem to be seriously injured, but the Rangers need all the firepower they can get and to miss those guys for even a game or two is not what the team needs in any form. Sure, it can create some room for players like Kaapo Kakko and Alexis Lafreniere, or allow Pavel Buchnevich to get into a groove after a couple of weeks of mediocre play at best, however, they can't afford to lose many more games if they want any hope or even a sniff at the fourth and last East Division playoff spot.
Panarin and Miller Day to Day
The Breadman is listed as day-to-day and, according to head coach David Quinn, he's very close to being inserted back in the lineup. Quinn said in Tuesday's pregame presser that "he was really close today, but he's not going to go tonight."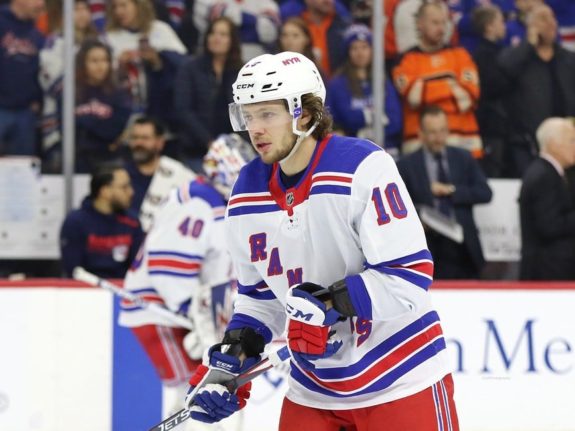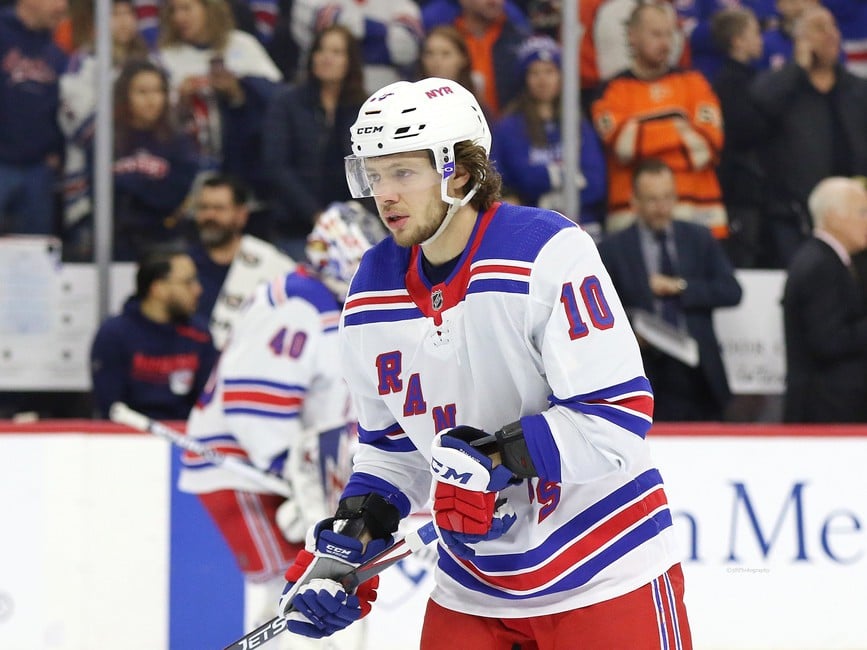 The Blueshirts' coach also said Miller was also close to playing. Quinn said, "K'Andre is getting better, similar situation, there was discussion that those guys might be able to go but, unfortunately, they won't be able to."
Trouba Out 4-6 Weeks
Jacob Trouba was injured early in Tuesday's 5-2 loss against the New Jersey Devils and never returned after the second intermission. The Rangers put out a statement Wednesday saying he'd miss 4-6 weeks with an upper-body injury. With the D-corps already depleted from injuries to Miller and Jack Johnson, this is the last thing the team needs as they're desperately trying to turn their early woes into a solid season. However, the Rangers did reveal via Twitter and coach Quinn, that Panarin is expected to play on the road Thursday against the Philadelphia Flyers.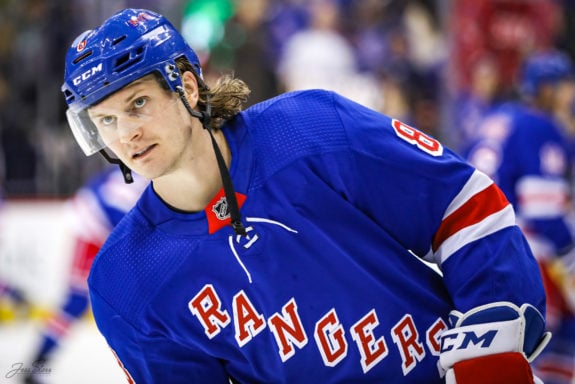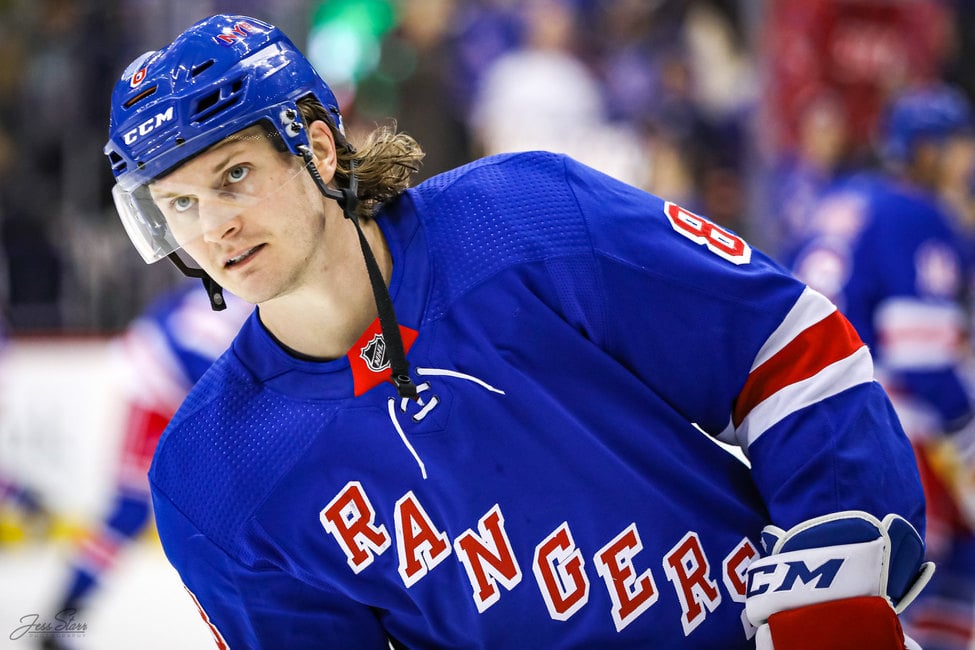 When asked about the Trouba news, Rangers' defenseman Adam Fox said, "When you lose one of your veteran guys on the D corps, it hurts, but I think it's an opportunity for guys to step up and fill that role. It falls on everyone to step up." Fox, whose 23rd birthday is today, is the Rangers' third-leading scorer with 7 points in 14 games. Center Ryan Strome also added, "It's part of the game. Obviously, Troub's [Trouba] is a big part of our team." Strome continued, "We've got to find a way. It's [a] next-man-up mentality. I think we've got a lot of guys hungry for opportunities. We've gotta keep marching on."
Fans Are Coming Back
The state of New York recently made the decision to allow fans back into Madison Square Garden for both the Rangers and New York Knicks of the NBA. The Rangers and MSG made the announcement a few days ago that the building can operate at up to 10% capacity. The Knicks will play their first game of the 2020-21 season with fans on Feb. 23. The Blueshirts will play their first game of the season with fans on Feb. 26. The statement MSG put out iterated that this is an important first step back to full capacity.
Sunday's Game Postponed
The Rangers weekend back-to-back series against the Washington Capitals has been rearranged. The league and Rangers made the announcement Tuesday:
Most speculation is that the NHL is setting the Rangers up to possibly step in and play the NHL Outdoors in Lake Tahoe game Sunday if the Philadelphia Flyers, who were stuck in COVID-19 protocol for a week and just returned to the facility and the ice Tuesday morning, had a relapse of positive tests before the weekend. There hasn't been any official word given by either the team or the league, but, one would think this is what's in the works.
The Rangers have had an eventful week so far with injuries, rescheduled games, and speculation they may be playing outdoors in Lake Tahoe, all while trying to right the ship before the season gets away from them. Let's hope things calm down soon and this young roster can start to progress as most had hoped.
---
---
Scott Blair is an author and journalist from Los Angeles, CA, by way of Detroit, MI.  Uniquely diverse experiences have shaped Scott's life in both of those places he calls home.  He is now traveling the world, learning and growing as a human and a writer.  He was a professional hockey player and then turned to the arts, becoming an actor for about 15 years.  His passions turned to poetry, prose, politics, and journalism when he got tired of the Hollywood machine and what it represents. Scott is available for interviews and welcomes questions and topic ideas.