New York Rangers head coach David Quinn says there are going to be tough decisions ahead as training camp comes to an end and the 2020-21 NHL season looms for the Blueshirts and the rest of the league. Quinn told Dan Rosen of NHL.com essentially the Group B team from Monday's practice/scrimmage would be the opening night roster.
Opening Night Roster/Lineup
Here's what the opening night roster is looking like as of now, assuming Zibanejad can go and with Robertson most likely on the taxi squad.
| | | |
| --- | --- | --- |
| Chris Kreider | Mika Zibanejad | Pavel Buchnevich |
| Artemi Panarin | Ryan Strome | Kaapo Kakko |
| Alexis Lafreniere | Filip Chytil | Julien Gauthier |
| Brendan Lemieux | Brett Howden | Philip Di Giuseppe |
| Kevin Rooney | | |
| | |
| --- | --- |
| Ryan Lindgren | Adam Fox |
| Jack Johnson | Tony DeAngelo |
| K' Andre Miller | Jacob Trouba |
| Brendan Smith | Mathew Robertson |
Alexandar Georgiev
Igor Shesterkin
The lineup will most likely be the 12 forwards except for Rooney and six defensemen, save Smith and Robertson, and the two goaltenders. Quinn says Robertson is a likely candidate to be on the taxi squad, at least until the WHL resumes play (from Rangers defenseman K'Andre Miller set to be part of David Quinn's 22-man roster,' Newsday, 01/11/2021).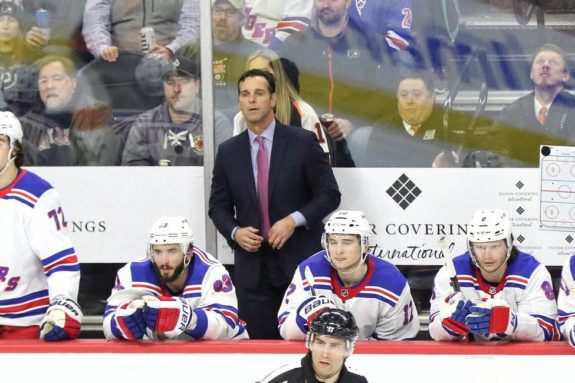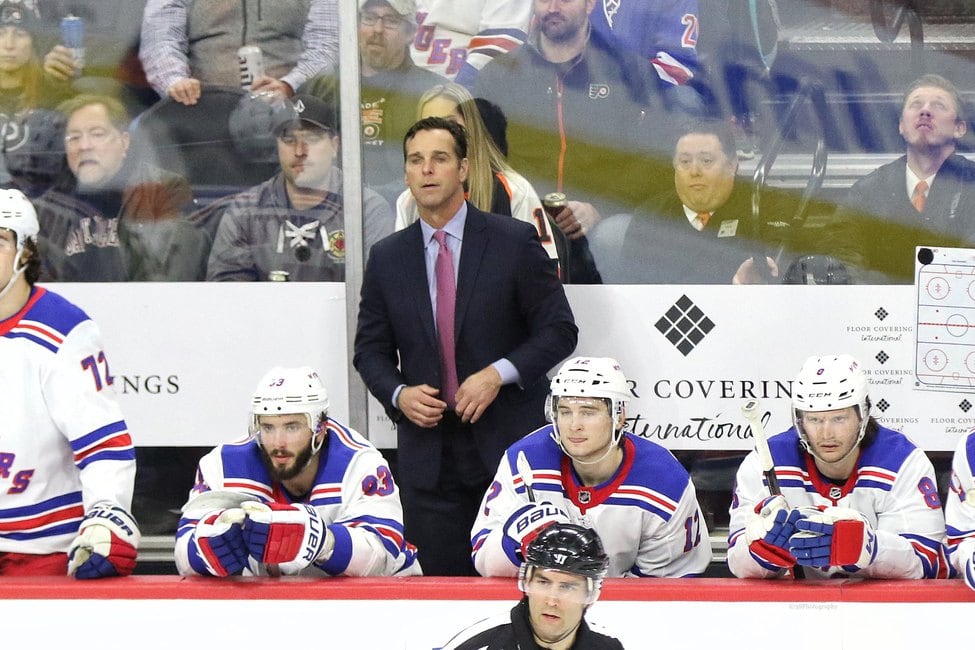 It looks like Georgiev is listed as the number one, but that may change by Thursday depending on how the next few days go.
Where Was Mika Zibanejad?
Mika Zibanejad was finally able to get on the ice Monday at Rangers training camp after having to sit out because he tested positive for COVID-19. Since the NHL isn't requiring players to announce they've tested positive during training camp, no one was sure the reason Zibanejad was out. Yesterday, he told Dan Rosen and other beat writers that he tested positive for COVID-19, and that was the reason for him being absent on the ice until Monday. During the season, things will be different on that front, and teams will announce who tests positive for the virus moving forward.
Monday at practice, Quinn told Rosen in reference to the lineup and Zibanejad, "Right now that is what our roster will look like come Thursday night." The question is, "will Zibanejad get enough time to get into game shape come Thursday?"
Zibanejad, the Rangers' leading goal scorer last season, had this to say after Monday's practice, "I was out for a certain amount of days going through and sticking to protocol. I've been skating on my own and now first real skate with the team. It felt good."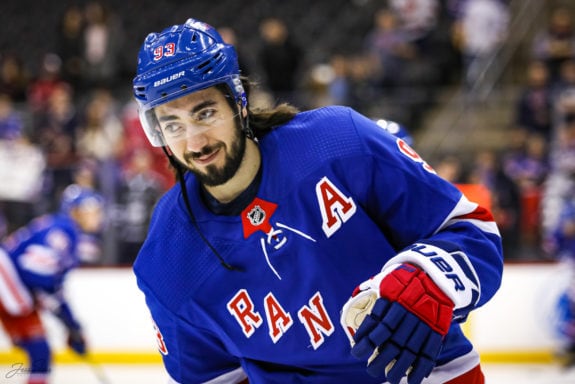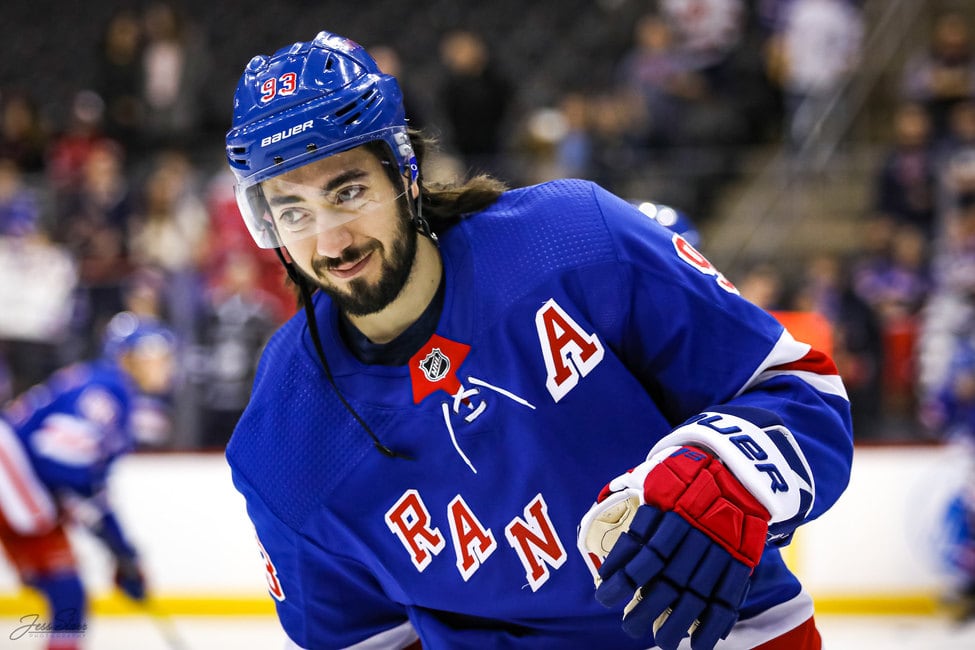 Zibanejad also said "I feel good now, I felt good in practice. I've been feeling pretty good for a certain amount of days now. We've been taking this day by day and following the protocol and listening to the (doctors) and everyone. We'll take it day by day. I don't know exactly what happens for Thursday but felt good today and we'll see how things are [Tuesday] and we'll just go from there."
It would probably take a lot to keep him from taking the opening faceoff against the New York Islanders on Thursday. However, Quinn did say, "This is really a day-to-day situation, you just don't know how you're going to respond. The good news is he's gotten better and better over the last four or five days once he was able to start some light activity. We're not sure what's going to happen tomorrow. We're not sure what's going to happen Wednesday or Thursday but talking to him after practice I think he felt pretty good about where he was at and how he felt."
K'Andre Miller Makes the Jump
All signs are pointing to K'Andre Miller making the squad and playing on the second or third defensive pair alongside veteran Jacob Trouba. The two have been playing well together in team scrimmages, and Quinn had this to say, "I thought it was a very good pair. I thought Trouba was the best defenseman out there tonight. I really like that d-pair – they certainly take up a lot of space."
Miller, the Rangers' first-round pick in 2018, came up through the U.S. National Developmental Program and played for the University of Wisconsin the last couple of seasons. At 6-foot-6 and 210 pounds, combined with Trouba's 6-foot-3, 209-pound frame, the two certainly will take up a lot of space in the defensive zone and make it hard for teams to create chances. As my colleague Tom Castro pointed out, Miller could be poised for a breakout season.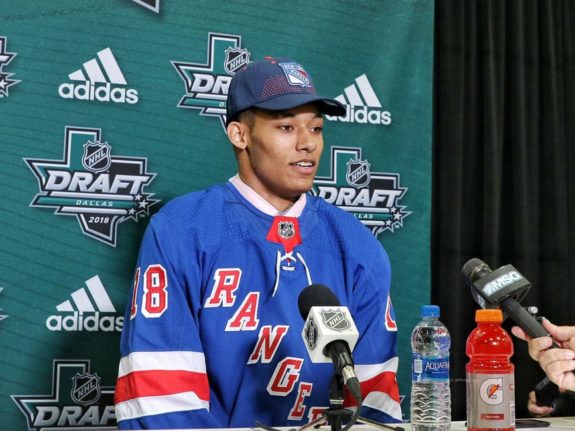 Quinn told Mollie Walker of the NY Post, "We all have to keep in mind it was bubble practices and training camp so far, but what has impressed me is how calm he's been," Quinn said. "He's worked hard, he's closed down people, he's made good decisions with the puck and from a defending standpoint, he's like a praying mantis with that stick and his arms and his legs. Quinn also said this about the left defenseman who turns 21 on Jan. 21 "He's tough to get around, and you think you have him beat, there he is with his stick. There's just an awful lot to like about him." (from K''Andre Miller to play major role after dazzling Rangers', New York Post-1/11/21)
116 Straight Nights
As ESPN Hockey Reporter and self-proclaimed bagel snob Emily Kaplan pointed out via Twitter, there are 116 straight nights of hockey starting Wednesday, Jan. 13. If that doesn't make you smile after a tumultuous 2020, there might be something wrong. Let's hope there aren't many cancelations. Enjoy the season, everyone, and go Rangers.
---
---