When the new-look New York Rangers go for what is sure to be a second round of reconstructive surgery this June at the NHL Entry Draft, the team isn't expected to have many untouchables. The club made that known when they issued the now infamous letter to their fanbase back in February designed to give the Garden faithful time to brace for the impact that trading "familiar faces" would cause.
Rick Nash, Michael Grabner, J.T. Miller, and Ryan McDonagh were all excised. Come June, names like Mats Zuccarello, or perhaps any number of the Blueshirts "big-five" Restricted Free Agents could be next up on the chopping block. One player who belongs nowhere near it is Pavel Buchnevich. With the right conditions, the 22-year-old is poised to be one of the Blueshirts' brightest stars as soon as next season.
Undeterred by Obstacles, Pavel Buchnevich is a Rising Star
Despite being seventh among forwards in total time on ice (TOI) this season (940:12) and ninth in time on ice per game played (TOI/GP) at 14:55, Buchnevich is tied for second on the team in scoring in his sophomore year with 14 goals and 40 points in 63 games played. His 14 goal total is one greater than J.T. Miller had in as many games, yet Buchnevich accomplished it with a lower shooting percentage (11.5%) and two fewer minutes at even strength TOI/GP (12:12).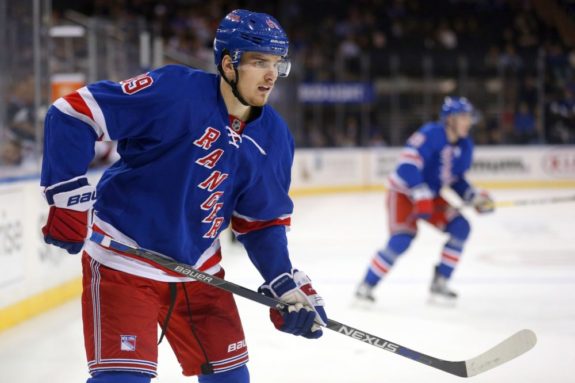 Buchnevich's even strength TOI averages are so low, in fact, he ranks 12th on the roster among forwards behind names like Jimmy Vesey and Jesper Fast. Which is odd for a player tied for fifth in even strength points this season (25) and third in power play points (15). His power play totals trail only the team's leading goal-scorer Mika Zibanejad and leading scorer Mats Zuccarello.
Even with low ice time totals, Buchnevich has repeatedly shown he's capable of producing brilliantly on offense, like the display he put on recently against the Carolina Hurricanes on March 12th:
Jimmy Vesey scores off a great play from Pavel Buchnevich and the Rangers are up 2-1 #NYR pic.twitter.com/tfudGta72k

— Fitz (@FitzGSN_) March 13, 2018
Not only did Buchnevich find an open Jimmy Vesey with a creative cross-crease pass, but he did so after pulling off a dynamic power move right off the draw, thoroughly embarrassing Canes' center Derek Ryan—Carolina's strongest face-off performer—in the process.
Buchnevich's evolutionary rise dates back to his time in the KHL where he scored 37 goals and 87 points in 158 games—a 0.55 points per game played (P/GP) pace—between the ages of 18 and 20. Since coming over to North America to begin his NHL career, the Russian-born youngster has seen his P/GP average increase to 0.58 in the aggregate, and through his first two NHL seasons, his performance is trending up. Last season in which his 20 points in 41 games were tied for 19th in scoring among all rookies, he averaged 0.49 P/GP. This season, with 40 points in 63 games, his P/GP has risen to 0.63, again in spite of his low ice time totals.
A 0.63 P/GP pace might not scream superstar when juxtaposed to the most elite players the game has to offer, but it extrapolates to roughly 52 points over 82 games. Logistically, with an increase in ice time and more trust by the coaches in his game as it continues to develop, perhaps his scoring average could grow to the 0.73 rate he produced for the KHL's Severstal Cherepovets in 2015-16 before he was traded to SKA St. Petersburg. That rate would bring his NHL seasonal totals to about 60 points.
Conquering the Language Barrier
Despite having to initially deal with a language barrier, he's performed admirably. Even though he began working with a language coach to learn English right away, he spoke very little of it when he joined the Rangers for his rookie season. One need only go back and watch his interview after scoring his first NHL goal to see why fluency can be such a problematic area, especially for a young player.
With just one teammate in Chris Kreider at the time who actually spoke some Russian, things couldn't have been very easy for him.
Though perhaps a season late, the Rangers have also made things a little easier on Buchnevich, having increased their Russian-speaking quota since recalling Bulgarian-born goaltender Alexandar Georgiev in February ahead of the trade deadline when they also acquired 25-year-old Vladislav Namestnikov. With their additions, the transition to life in North America should be a smoother affair for Buchnevich.
Things might get even easier should the Rangers sign Ilya Kovalchuk this summer. Kovalchuk, who played for 18 short games with Buchnevich in the KHL, has the kind of pedigree and scoring prowess that would certainly be a boon to Buchnevich's continued growth as a rising NHL star. Not to mention should things with Igor Shesterkin and Yegor Rykov—also teammates of Kovalchuk—work out as planned, he can look forward to even more native Russian speakers joining his team down the line.
Buchnevich's 200-Foot Game Still Needs Polish
None of this is to suggest he's a perfect hockey player, or even close to it. Like most youngsters, he still has much learning to do, particularly in the defensive and neutral zones where his play can wane from time-to-time. It's something Alain Vigneault has spoken to on more than one occasion this season.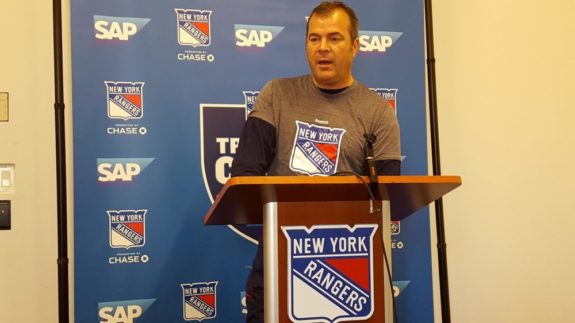 "I would say he's shown a real skill set to get away from people and make plays with the puck, but we are talking to him about a little better consistency," Vigneault recently told the New York Post. "But that's normal with 90 percent — I'm throwing a number out there, I haven't checked my stats — of most of the young players coming into the league."
Refining Buchnevich's play to one capable of playing a 200-foot game is a work in progress that should sort itself out in time. Yet he's already made great strides early on in spite of barriers including language and low ice time.
"Any young player I've had throughout my NHL career, there's a learning curve, there's peaks and valleys, and Butchie is a lot like that," Vigneault said. "But there is a tremendous amount of upside with that young man. We've just got to continue to work with him to get it to be more consistent."
All-in-all, there's plenty of reason to believe Buchnevich's stock will continue to rise. And that's something the Rangers can hang their hats on, knowing that as they continue to rebuild their image in the effort of returning to contention, they have a star in the making. One who, despite the roadblocks, is already paying dividends that have nowhere to go but up.