For anyone who happened to watch what people are calling a "Stanley Cup Playoff Second Round Game 4" last night, you know how difficult it was to actually feel as though what Rangers fans were watching was actually a postseason game.
Since stealing Game 1 with a tremendous overtime win in Pittsburgh, the Rangers have played as though they had already won the Cup and seemed to be focused on enjoying the celebratory summer until training camp begins in September, rather than play to advance in their actual quest for a championship. The NHL betting lines are telling us that they have some heavy work yet to do.
However, all that has gotten them is a 3-1 hole with the series shifting back to Pittsburgh, and their anticipated summer may finally be here after Friday's contest.
Despite the Penguins' stellar effort and increasingly strong play, the Rangers have been giving the series away. If you would have said prior to the series that the Blueshirts would allow Penguins goalie Marc-Andre Fluery to record back-to-back shutouts, while losing two straight games at Madison Square Garden – I'm not sure many would have believed it.
Yet here we are, with the Rangers facing elimination and playing arguably the worst hockey they have played since the pre-lockout era of 2004-05.
Their highly-paid star players are not playing up to their potential, the team concept that the Rangers have instilled so well over the last few years seems to have been replaced by individuals trying to put the load on their backs, and the passes are so sloppy and uncoordinated that it looks like the team is more ready for Learn to Skate than competing for a Cup.
The worst part? After finally having a day off to rest and think about how to up their game in a "must-win" situation at home, the Rangers not only didn't show up, but also played their worst game of the entire playoffs.
It was the type of game that was as frustrating for the fans as it was for the players, and because of the lackadaisical play the Rangers season is now on life support.
Offensive Prow-less
 It would be hard to say that the Rangers' offense is struggling, because in order to do so it would imply that there is even an offense presence to criticize. The team has only managed to get 15 shots on goal the entire game last night…15! That's six shots in the first, five in the second, and just four in the third. According to Doc Emerick during the broadcast of last night's game, Penguins forward Evgeni Malkin attempted more shots on his own than the entire Rangers team mustered throughout the contest.
For a team playing in a "must-win" playoff game on home ice, that is not nearly good enough.
In addition, the Blueshirts have only managed to put the puck past Fleury twice in the last three games. Two of those goals came last night. They have struggled to get anything past a goaltender who has notorious struggled in the playoffs with an under .900 sv . % in the last four postseasons, and over 3.00 GAA in the past two.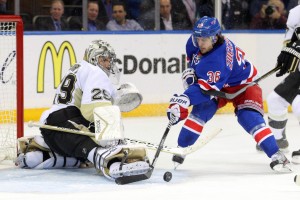 They have made a goalie, who is famous for his playoff flubs and choking more than the guy on the warning labels, look like a Conn Smythe candidate. Not to take anything away from Fleury in this series, as he has been good when needed, but the Rangers have yet to really test him and bring him out of his comfort zone thus far.
They aren't getting traffic in front of the net, they aren't forcing him to go side to side, and they aren't taking the open shots when they're in perfect position to do so. The Rangers are literally providing Fleury with more confidence with each period that passes by – something that they definitely don't want to be doing at this point of the year.
If the Rangers continue to make Fleury look this good in Game 5, they will be hitting the links before they know it. They are in desperate need of a more pressing offense, and for that they will need their stars to come up big.
Nash-ville: Population Zero
Perhaps no one is as in need of as big a spark, both individually and for the team, as Rick Nash. Although he had 4 assists in the first round vs. the Flyers, he is still goal-less the entire postseason, and last night The Garden Faithful let him know it.
Number 61 began hearing boos every time he touched the puck, and with all the pressure already on him, the weight now appears to be crushing him. Nash was responsible for the turnover that lead to the awful and deflating short-handed goal after he attempted to force a backhand pass up the middle of the ice on his own blue line, and from there, his grip on the stick continued to tighten.
"It's tough, but I understand where they're coming from. I have to take ownership of those plays," Nash said following the shower of boos in Game 4. "It doesn't matter what you do all year, it matters what you do in the playoffs when things count. Obviously I've been struggling."
It's not for lack of trying, as he does lead all players in the playoffs with over 40 shots so far. However, he was brought to New York to score and despite the fact that his overall play for the most of the postseason hasn't been bad, it is being overshadowed by his extreme lack of production:
What do shots on goal mean, my stats friends? Rick Nash leads playoffs with 41 shots. He has no goals. J Toews has 14 shots, four goals.

— steve simmons (@simmonssteve)

May 6, 2014

 
He's getting his chances, he's creating space for himself, and he's even played well defensively for the most part, especially on the penalty kill. Unfortunately in his case, that isn't what the fans are looking for him to do, and since he is not achieving his primary objective of scoring, nothing else matters.
For the Rangers to have any chance of staying alive in this series, they need Rick Nash to step out of his funk, "don the big boy pants," and put one in the back of the net. It's gut check time for both the Blueshirts and Nash, now is the time to show what they are made of.
For anyone who has ever played hockey, they know just how true the cliché is…once you get one, more will follow. Nash is getting opportunities, and while it may be too late at this point, as soon as he puts one in, it's a whole different ball game.
Defensive "Woahs"
Perhaps the scariest part of this series for the Rangers is how badly their play has been in the defensive end. Not only have they not been able to gain access to the offensive zone in transition, but they are turning the puck over and barely even testing the Penguins high-octane attack the other way.
Their backcheck has been lagging, and they have allowed Pittsburgh to blow right past them to both the outside and inside, and find the open man for the easy goal. It happened on the botched play that led to Brandon Sutter's shorthanded dagger, and it happened again late in the third after the Rangers brought the game back to within one.
Much like he has for most of the year, Mats Zuccarello lifted both the team and the fans with a tremendous individual effort and scored on a weak backhander that finally exposed the playoff Fleury as we all know and love him (save for Pens fans). However, just 52 seconds later, with a tremendous amount of energy back in the building, the Rangers saw their chances at tying slip away once again as James Neal skated around Ryan McDonagh, behind the net, and found a wide open Jussi Jokinen in the slot, with no New York player even remotely close to the winger who fired home a one-timer to suck any life out of MSG for good.
Veteran Martin St. Louis, who is usually not apt to make major mental and fundamental mistakes, completely ignored the only man standing in front of the net, and went after Neal by the faceoff dot. His stick was in the air, his back wast turned toward the open Jokinen, and his feet were barely moving. And that's the way the last few games have gone for the Rangers – even their best and most reliable players have made uncharacteristic mistakes that leads to a golden opportunity for Pittsburgh.
Against Pittsburgh, mistakes simply cannot be made. They will capitalize and make you pay, and so far that is exactly what has happened to New York this round. Despite the players admitting how much they know it and how seriously they are taking this to heart, it hasn't translated onto the ice, and therefore could lead to their demise.
Even McDonagh, who has not only been one of the Rangers best shutdown defensemen over the last few years, but has emerged as one of the top defensemen in the entire league, has been a step behind this series – a highly disheartening thing to see when watching this team.
He is getting beat to pucks, he is getting beat with speed, and making some pretty questionable decisions with the puck. Also, he is playing very reserved and not joining the rush like we have become accustomed to seeing. He just seems lost out there, and as Emerick and company stated last night, he seems hurt.
This is a very bad sign for the Blueshirts as he is supposed to be the rock on the blue line, and if he is still recovering from the shoulder injury suffered late in the season and not playing 100%, the team is in big trouble.
Much like we saw with Marian Gaborik after the 2012 Eastern Conference finals run, there may be something wrong with McDonagh that won't be revealed until the summer when he has surprise surgery to fix a torn labrum, or whatever could potentially be the problem. All we know now is that "Mack Truck" is not right, and for the Rangers it is a very scary sight to see.
He is yet to record a point this post season, and the Rangers leading D-man is well in the negatives for +/- rating. That combination spells out a world of hurt for New York.
Die Another Day
For the New York Rangers, this is it. There's no more second chances, there's no more "we'll get em next time," its do or die. One more loss, and it's over – another year, another glimmer of hope lost before it ever really has a chance to begin.
Heading into Pittsburgh for Game 5, the Rangers need to show something drastic. They need to prove to the fans that they still want it, that they still believe they can get it done. The problem is, it appears they are having a tougher time convincing themselves of that.
They need to play hard, they need to play smart, and they need to play like they want it. At this point of the year, enough is not enough, they need more. Players like Nash, St. Louis, and McDonagh need to be on their A++ game for the team to have any shot at doing something special.
It's now win or go home, and if the Rangers truly do believe in this year's playoff slogan of "Above and Beyond…Earn it," then they have to start playing like it. For them, Friday's game isn't a Game 5 – it's just one game, and that's all it can be.
One game at a time, one chance to get that win, and one more step closer to that ultimate goal.
Right now the team isn't playing like they want to add a piece to their Stanley Cup puzzle. If they want to add any more before it's time to hit the links, they need to "put on their big boy pants," muster up everything they have, and show themselves that the series isn't over no matter how much if feels that way right now.
Remember, it is still Marc-Andre Fleury in net, and despite the last three games, history shows that no lead is safe with him. However, the key for the Rangers now is getting that lead. It's gut check time, there is no tomorrow.
What will the Rangers do? If the Kings can claw back from down 3-0, then who is to say the Rangers can't win the next two and force a Game 7 with all the momentum?
Why not them? Why not now?
The Rangers have dug themselves into a deep hole, but now they have a chance to do something special. The odds are against them, but it's a best of 7 game series for a reason, and as of now, no team has won four.
For the best road team in hockey, it's time to go back to the drawing board and get one win in Pittsburgh. Just one more win, and then they can focus on the next one.
It's up to them, how badly do they want it?