To anyone who has not followed the New York Rangers closely this season (or is living under a rock), a quick glance at their current roster might be awfully confusing. If not to specifically question where familiar faces like Rick Nash, Michael Grabner, and Ryan McDonagh have gone—all off to participate in runs at Lord Stanley's glory this spring in unfamiliar new uniforms—then perhaps to question who exactly this troupe of young and hopeful players are that have seemingly replaced them.
The Rangers' blue line has been particularly transformed in the wake of a blockbuster deadline deal that sent McDonagh—the club's 27th captain in history—to the Tampa Bay Lightning. The aftermath of that trade has paved a proverbial path for youngsters like Neal Pionk, John Gilmour, and Rob O'Gara to make lasting impressions designed to earn them the right to pull on Rangers sweaters all next season.
According to Michael Russo of The Athletic's Minnesota chapter, another name could soon be added to what promises to be a highly-competitive mixture of rearguards fighting to make the cut: Ryan Lindgren.
Lindgren Would Add Unique Element to Rangers
The Rangers acquired the rights to Lindgren—selected 49th overall by the Boston Bruins in 2016—as part of the larger-than-expected trade that sent Nash to the Bs a day before the trade deadline this year. According to Larry Brooks of the New York Post, up until yesterday, it was expected the sophomore would return to the University of Minnesota for his junior year. An apparent desire to turn pro early has seemingly changed those plans, with Russo reporting he could sign as soon as this Friday.
Lindgren's contract should be done in the next day or so #gophers #nyrangers https://t.co/NOZpTN4vvi

— Michael Russo (@RussoHockey) March 21, 2018
At 6-foot, 198 pounds, Lindgren projects as a physical two-way defenseman, esteemed for his leadership skills both on and off the ice. He was one of three key young players not playing professionally that The Hockey Writers' Dave Rogers isolated on recently. He also caught the eye of THW's Dan Bahl back in January:
"His track record of leadership shows maturity, which is important for a transition to the pro game. He plays at an elite level in his own zone. He's adapted to the college game extremely well, and has become one of the best defensive defensemen in the nation as only a sophomore."
"I'd say I'm a tough defenseman," Lindgren told Matt Calamia of NHL.com back on March 2. "I'm more of a shutdown guy. I go against the other team's top line and try and shut them down. I'm a good passer out of the defensive zone. My game is going to be physical. I'm going to be tough to play against and I'm going to be a leader. I've worn a letter in most places I've gone."
Gophers D Ryan Lindgren (BOS) absolutely wrecks Michigan's Nick Pastujov with a huge check, even Pastujov was impressed pic.twitter.com/3aI0a3XPaV

— CJ Fogler 6'7" IQ 269 #BlackLivesMatter (@cjzero) January 14, 2018
Physical, indeed!
That physicality is certainly something Rangers assistant general manager Chris Drury can appreciate. In speaking to Calamia following the deal, he noted that regarding amateur players, "it's a piece of the puzzle, the leadership and the character."
"He's a gritty guy that blocks pucks and goes into the trenches. He's got that great mixture of what we want to have going forward," Drury also said of the youngster.
Lindgren a Longshot But Has Earned Opportunity
Should the deal be completed as Russo reported, Lindgren would join a long list of left-side defensemen under contract to the Blueshirts. That group currently includes Brady Skjei, Marc Staal, the aforementioned O'Gara and John Gilmour, as well as Brendan Smith, who faces a tough climb back to the NHL after an especially poor first half with the Rangers resulted in his being waived and reassigned to the Hartford Wolf Pack in early February.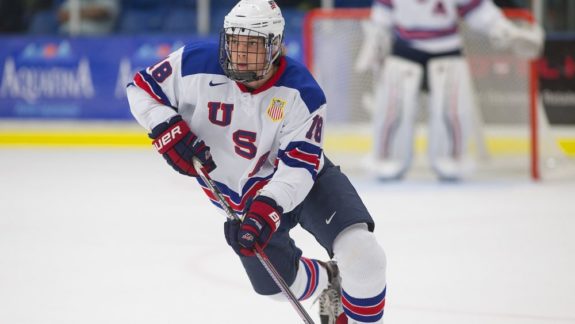 But this kind of depth is precisely the atmosphere the Rangers should benefit from by creating a highly competitive culture heading into next season's training camp. For a prospect of Lindgren's caliber, it may even be ideal in helping to raise his game by highlighting his brand of physical hockey and vocal leadership – anachronistic as they may be when juxtaposed against the NHL's speed-and-skill bonanza.
Though he could dress for the Rangers upon signing an entry-level contract, he can't do so without burning the first year of his deal – a practice the Rangers have been keen on not doing this season as they prepare to rebuild.
Yet even if Lindgren fails to crack the Rangers' lineup out of training camp next season, he'd just as soon be a welcomed addition to a transforming Wolf Pack defense group. The Pack are in their first full season under the leadership of Drury, who just eight months after being named Rangers' assistant general manager was subsequently named Hartford's general manager last May.
Being unlikely to play for the Rangers before next season, Lindgren could join the Pack for the remainder of their season by signing a Professional Tryout (PTO) contract. Hartford is unlikely to qualify for the AHL playoffs, but by signing a PTO, Lindgren could give both Drury and the Rangers an early look at what they were so excited to have acquired in the first place.