The New York Rangers had an impressive 2019-20 season, as many of their young players thrived and exceeded expectations. Artemi Panarin and Mika Zibanejad were dominant, Chris Kreider's strong play earned him a contract extension, and young defensemen Tony DeAngelo, Adam Fox and Ryan Lindgren were all very good last season.
While these players stood out, a few Blueshirts didn't play as well as they were expected to. However, they can certainly raise their play this season. Jacob Trouba, Kaapo Kakko and Brendan Lemieux are all poised to improve this season.
Jacob Trouba
Trouba signed a seven-year, $56 million contract last offseason after New York acquired him from the Winnipeg Jets in exchange for Neal Pionk and a first-round draft pick. He was coming off an excellent 2018-19 season with the Jets, with eight goals, 42 assists and strong defensive play.
Trouba's first season with the Rangers wasn't a failure but he is definitely capable of playing at a higher level. He finished the season with seven goals and 20 assists and his powerful shot helped New York's second power-play unit. He was also physical and cleared out the front of the crease for the Rangers' goaltenders. However, he got caught pinching in his own zone too many times leading to odd-man rushes and at times he struggled with coverage in his own end of the ice.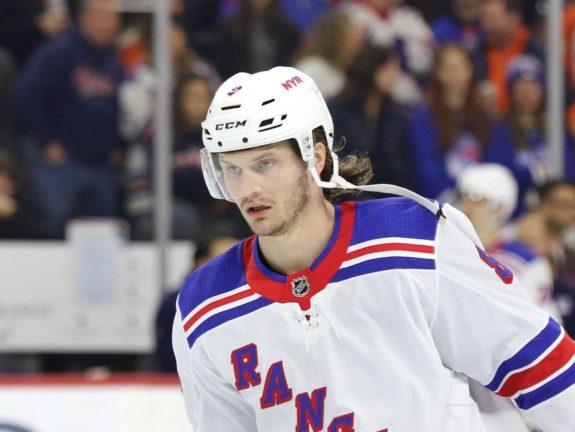 Trouba's play was a bit inconsistent last season, which may be due in part to the fact that he never got the opportunity to play with the same defense partner for long. He had great success in Winnipeg while being consistently paired with skilled defenseman Josh Morrissey. Last season Trouba was paired with Libor Hajek, then Brady Skjei, and then Brendan Smith.
This season the Rangers will look to find a steady, reliable defense partner for Trouba to build chemistry with. That may be top prospect K'Andre Miller, Hajek, Smith or someone else. Having a reliable defense partner should allow Trouba to be a bit more aggressive offensively. He will also be entering his second year with the team and will know what is expected of him.
Trouba's strength, ability to defend, including killing penalties, and his leadership make him a key player for the Blueshirts and they'll need him to play well, especially given their lack of depth on defense. He plays a physical style so the long offseason should benefit him and he should be ready to play at a high level.
Kaapo Kakko
The expectations for Kakko were extremely high for a rookie because he was coming off of an excellent season playing professionally in the Finnish Liiga and then helped Finland capture the 2019 IIHF World Championship. He showed a few flashes of brilliant play with the Rangers as a rookie but failed to play with consistency or play up to his potential. He spent most of the season on New York's third or fourth line and their second power-play unit.
Kakko played much better in the Rangers' three postseason games following the layoff due to the coronavirus pandemic, after appearing to wear down as the season went on. Like Trouba, he should benefit from having a long offseason.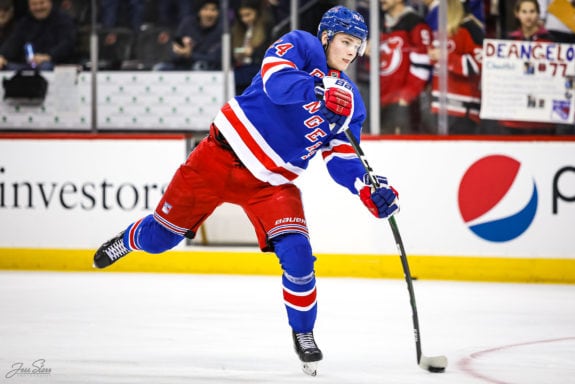 Kakko may also get the opportunity to play with more skilled linemates this season. New York lacks depth at right-wing, especially after Jesper Fast signed with the Carolina Hurricanes earlier in the offseason. Last season, Fast played on a line with Panarin and Ryan Strome. Kakko will be a likely candidate to replace Fast on that line this season and getting an opportunity to play alongside an elite playmaker like Panarin would be a huge boost for Kakko.
Playing with more skilled linemates along with having a long offseason to get stronger and improve his conditioning should lead to improved play from Kakko.
Brendan Lemieux
Lemieux proved to be fearless, dropping the gloves to defend his teammates and blocking shots, but he failed to produce much offensively. In 2018-19 with the Rangers and the Jets, he combined for 12 goals and five assists in 63 games, while averaging just 9:03 in time on ice per game. Last season he averaged 12:52 in time on ice per game but finished with just six goals and 12 assists in 59 games. He also was suspended for New York's first two postseason games because of a reckless, high hit.
Lemieux is a gritty forward but also has enough skill to be a very effective player. He skates well and repeatedly goes to the front of the net, which has earned him some power-play time. He was slowed by a broken hand last season but he is healthy now and should play a big role for the Rangers this season. He is one of the team's key penalty killers and is also valuable because of his ability to forecheck effectively.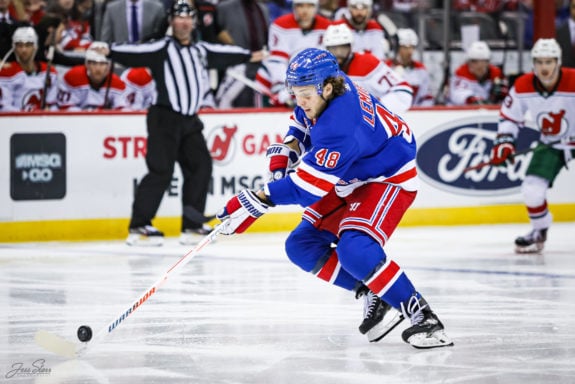 After a bit of a down year last season, I expect Lemieux to bounce back and produce more offensively this season as long as he can stay healthy. While his willingness to block shots, go to the front of the net, and stand up for teammates increases his risk for injuries, he has already proven he can play effectively despite minor injuries. Look for him to contribute on special teams, to be noticeable on the forecheck and to create havoc in front of opposing goaltenders throughout the season.
Moving Forward
The Rangers were one of the youngest teams in the league last season and have gotten even younger with the addition of top pick Alexis Lafreniere. They should enter this season with high hopes after taking a big step in the right direction last season. They have players who have become stars and now need their young players to continue to develop and show improvement.
Trouba, Kakko and Lemieux will all play an important role for the Rangers next season and it would be a huge boost for New York if they can show improvement from last season. All three have great potential and should benefit from the long offseason. The Blueshirts will need their young players to steadily improve in order to compete for the postseason since the Metropolitan Division is stacked with talent. Fortunately, Trouba, Kakko and Lemieux are all in a position to improve this season and that bodes well for the Rangers.
---
---