Goalies are a unique bunch. One year, a goalie is competing for the Vezina Trophy. The next, he's riding the pine and watching as another goalie after his starting job was usurped.
A quarter of the way into the 2015-16 season, there have been a few surprises around the league. Martin Jones got off to a hot start for San Jose. Columbus' Sergei Bobrovsky did not. Buffalo, Detroit, Colorado, St. Louis, Calgary, and Toronto are all in the midst of goaltending battles.
Goaltenders are all different. None have the same combination of athleticism, confidence, positioning, style, lateral movement, rebound control, and the ability to make saves that should surely be a goal. The 30 starting goalies are ranked on their current, overall abilities—regardless of how the team in front of them is playing. However, a team's play can sway the goalies' confidence in either direction, which directly impacts their performance. Additionally, this can deviate on a night-to-night basis.
Basically, goalies are complicated.
#30 – Linus Ullmark (Buffalo)
To be fair, Linus Ullmark is not ready to be an NHL starting goalie yet. He has talent, but is still adjusting to the speed of the NHL. Ullmark has great size, but needs to improve his lateral movement beyond just stretching out.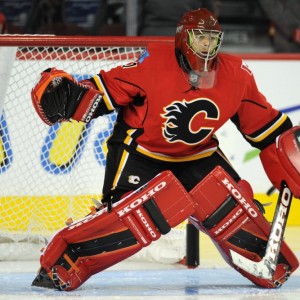 #29 – Jonas Hiller (Calgary)
Once a top flight goalie with Anaheim, Jonas Hiller has been a below average starter for Calgary this season after he "beat" Karri Ramo for the job. As the only Calgary Flames goaltender not to be put on waivers this season, Hiller's positioning has been off and his style of staying in butterfly position is becoming less effective.
#28 – Cam Ward (Carolina)
The former Conn Smythe Trophy winner has had a subpar past few seasons in Carolina. His defensemen do not help much, but he still lets in goals that should be stopped. He is often caught out of position after choosing the wrong save selection technique for a shot. Sometimes he makes an spectacular sprawling save, but also let's in a few too many as well.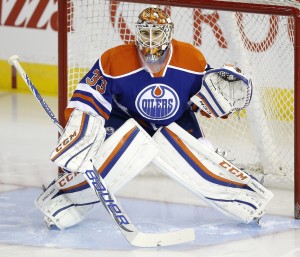 #27 – Cam Talbot (Edmonton)
The Edmonton Oilers had high expectations for Cam Talbot entering the season—perhaps too high. Talbot has struggled early on behind a shaky Edmonton defense. Backup Anders Nilsson has been getting more playing time as a result. Talbot has been positionally sound and competing hard, but gives up too many juicy rebounds and goals he should stop.
#26 – Craig Anderson (Ottawa)
Similar to Toronto's James Reimer, Craig Anderson has the ability to steal games for Ottawa. He can also look average though. One of Anderson's best characteristics is the ability to make saves that he has not business making.
#25 – Semyon Varlamov (Colorado)
You'd think with Patrick Roy as his coach, Semyon Varlamov would have better numbers with the Avalanche. Often out-played by backup Reto Berra, Varlamov is positionally sound and have great lateral movement, but lets in soft goals. He also has trouble picking up the puck in traffic.
#24 – Jaroslav Halak (New York I.)
With a great team in front of him, Jaroslav Halak has been a bit sheltered this year in Brooklyn. His game-to-game play has a high ceiling, but he can also fight the puck in a few too many games. Halak's stats look great, but he starting to look his age out on the ice with weak lateral movement and subpar athleticism.
#23 – Ondrej Pavalec (Winnipeg)
With a 5-6-1 record this season, Winnipeg's Ondrej Pavalec is in danger of losing his starting job with the Jets' excellent goaltending pipeline. He is a hybrid goalie that plays smaller than his size, far different than the likes of Michael Hutchinson and Connor Hellebucyk. Pavalec often lets in softer goals with his technique, but does have fantastic lateral movement than can translate into other-worldly saves.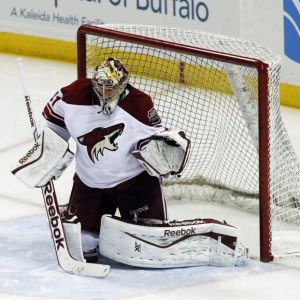 #22 – Mike Smith (Phoenix)
After working with a new goalie coach in the offseason, Mike Smith entered the year on a tear. However, he has not performed well lately. Smith is technically sound, but has been letting in too many goals for the Coyotes. Smith's style is to play deep in his net given his size. However, if there's room to cut off the angle, he needs to take it.
#21 – Antti Niemi (Dallas)
Probably the most unorthodox goalie since Dominik Hasek, Antti Niemi has been decent in his first year in Dallas. Some games he makes unbelievable saves and other games he lets in goals that he should have stopped. To be superior, Niemi needs to consistently control his rebounds and not get caught up sprawling.
#20 – Sergei Bobrovsky (Columbus)
At this point, Sergei Bobrovsky is not playing particularly well. After having strong seasons since joining Columbus, Bobrovsky is again dealing with confidence issues that mess with his game. When he is confident in his game, "Bob" is challenging shooter and making tremendous—and controlled—lateral movements. Bobrovsky has improved since the start of the season though.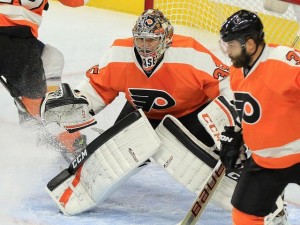 #19 – Steve Mason (Philadelphia)
Injuries and shotty defense have kept Steve Mason from getting on a roll this season. Instead he has been inconsistent and, when playing well, hung out to dry by the team in front of him. Mason has Vezina potential, but needs a little help in front of him.
#18 – Martin Jones (San Jose)
After starting off scorching hot, San Jose's Martin Jones has come back down to Earth. Nonetheless, he has put together a solid first season as a starting goaltender in the NHL. Jones is challenging the shooter, playing with confidence, and remaining calm—maybe too calm in net for the Sharks.
#17 – James Reimer (Toronto)
Make no mistake, playing for the lowly Maple Leafs does not make James Reimer a poor goaltender, despite the losses. As of late, Reimer has been playing very solid—square to the shooter and making seamless lateral adjustments. He has kept the Leafs in games, even when they are playing far below their opponents' level.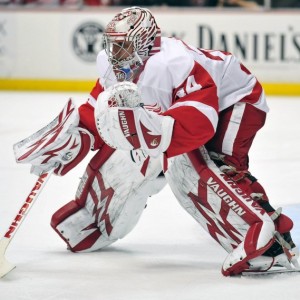 #16 – Petr Mrazek (Detroit)
In more of a 1A/1B starting goaltender situation in Detroit, Petr Mrazek has often been lights out for the Red Wings. Low scoring games and third period comebacks have kept Mrazek from a few wins, but he has played tremendously in those games regardless of the decision. Mrazek's compete level is close to the top in the NHL and his unorthodox playing style creates issues for shooters. He needs to work on being more controlled in net in some circumstances though.
#15 – Devan Dubnyk (Minnesota)
The Minnesota Wild have sparks some sort of revival in Devan Dubnyk's career. Their workhorse netminder has regained his confidence in the crease for the Wild. His butterfly, positioning, and rebound control have been very solid this season. He does need to work on finding the puck in traffic and when players are scrambling in front of him.
#14 – Roberto Luongo (Florida)
The fourth overall pick from 1997 is still battling almost 20 years later. Robert Luongo is keeping the Panthers in the playoffs hunt early in the season, but teams are catching on to his diminishing lateral movement. If Luongo can improve as the season goes on, the Panthers will find themselves in the playoffs.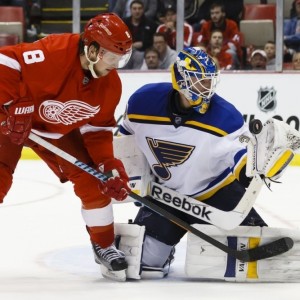 #13 – Jake Allen (St. Louis)
After taking over the starting goaltender job from Brian Elliott, Jake Allen has not looked back. His confidence and explosiveness has been apparent over the last month and has been making a bunch of saves that he has no business making. If Allen can maintain his confidence level throughout the season, he's get through the first round of the playoffs without a goaltending change.
#12 – Ryan Miller (Vancouver)
Now in his second season in Vancouver, Ryan Miller is starting to look like the dominant goalie he was on Buffalo's good teams. Miller has been square, calm, and efficient in net this season for the 4th place (in the Pacific) Canucks.
#11 – Ben Bishop (Tampa Bay)
So far this year, Ben Bishop has not played poorly, just not well. Despite his enormous frame, Bishop can struggle playing his angles. If Bishop can play above average this year, the Lightning will once again challenge for another Prince of Wales Trophy as the Eastern Conference champion.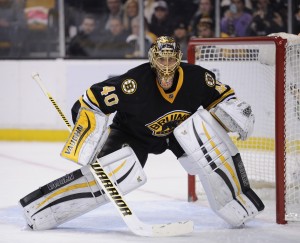 #10 – Tuukka Rask (Boston)
The Finnish goaltender has been one of the best goalies in the NHL over the past five years, but got off to a slow start this year. He has noticeably been staying down longer—close to Jonas Hiller's style—and that does not help him. However, his lower-body strength and controlled lateral pushes are among the best in the NHL.
#9 – Corey Crawford (Chicago)
If we were ranking goalies based on their equipment style, Corey Crawford would at the top of the list with his all-black pads and Jeff Hackett-esque mask. Crawford has had a solid season so far, but has not been spectacular enough to steal too many games for the rebuilt Blackhawks. He is technically sound and cut out the angle well, but lets in goals that a two-time Stanley Cup champion usually doesn't let in.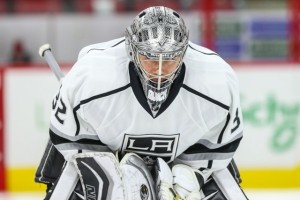 #8 – Jonathan Quick (Los Angeles)
After getting off to a slow start, Jonathan Quick and the Kings are back in the thick of things out west. Quick's lateral movement and reflexes continue to live up to his name, but some goals he allows are questionable. If he can put together a consistently good end to the season, the Kings could challenge for another Cup.
#7 – Fredrik Andersen (Anaheim)
In Fredrik Andersen, the Ducks have a goalie who is on the cusp of dominant form. The only knocks on the 26-year old Danish netminder is that he relies on his blocking butterfly too much and often gives up rebounds that he needs to control. Apart from that, he makes all the saves that he's supposed to—plus some he has no business making. Andersen is reason why the goal-anemic Ducks are still contending.
#6 – Cory Schneider (New Jersey)
Replacing Martin Brodeur in New Jersey is a tall task and Cory Schneider has done an excellent job. If the Devils were able to ice a legitimate offensive and defensive lineup, they have a goalie that could carry them through the playoffs. Schneider's save selection and compete level are that of an All-Star goaltender.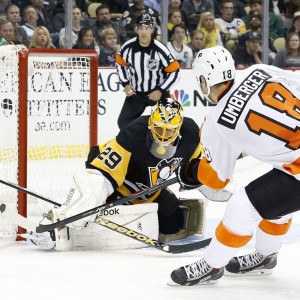 #5 – Marc-Andre Fleury (Pittsburgh)
Often known for letting in soft goals, Marc-Andre Fleury has been battling this season for the Pittsburgh Penguins. Goal-starved, Fleury has put together a respectable 11-7-1 record for the anemic Penguins. Fleury has an excellent blocking butterfly and still has the flexibility and lateral movement that he did in their 2009 Cup run.
#4 – Pekka Rinne (Nashville)
Arguably the best goalie in the NHL, Pekka Rinne has an unrivaled compete level and excellent lateral movement. He gets beat for some odd goals, but gives the Predators a chance to win every night. Rinne's 2.34 GAA is ranked 16th(?!) in the NHL so far this season.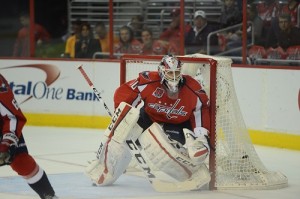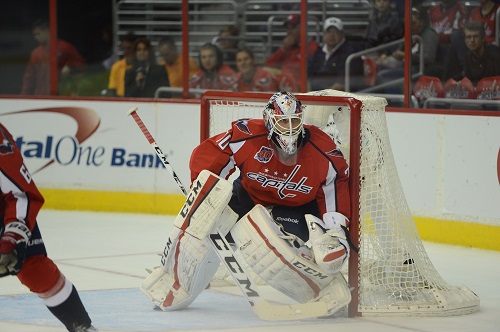 #3 – Braden Holtby (Washington)
This may be the year for the Capitals to do some damage in the playoffs. Apart from Carey Price, Braden Holtby is the most technically sound goalie in the NHL. His stickhandling, compete level, and confidence are all superior to any of his predecessors in DC. Holtby should be a Vezina Trophy finalist this year, if not the winner.
#2 – Henrik Lundqvist (New York R.)
The New York Rangers have a special goalie in Henrik Lundqvist. King Henrik looks to be fully recovered from last season's injuries and in dominant form again. His uncanny reflexes allow for his deep stance to work and his compete level is probably tops in the NHL. Stickhandling is not his best, but Lundqvist has found ways to bail himself out.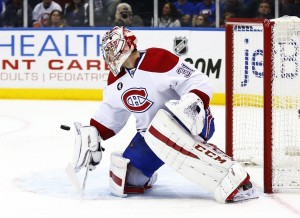 #1 – Carey Price (Montreal)
If Price can return to his pre-injury form after fully recovering from his lower body injury, he will give the Canadiens a chance to reel off another few 10-game winning streaks. Price is the best goalie in the NHL today. His positioning and angles are perfect. He is rarely beat when he sees the puck, and Montreal's sturdy defense usually allows that. Price could easily bring home his second straight Vezina Trophy this season, provided he plays enough games to earn consideration.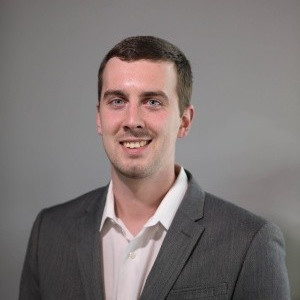 Tony Wolak is based in the Washington D.C. area and covers the Detroit Red Wings for THW. As a former junior and college hockey player, Tony has a unique perspective on Red Wings topics.