The Detroit Red Wings have had a lot of players come and go since the introduction of a salary cap in 2005-06, so here's a crack at the organization's all-time salary cap team.
Given the increase of the cap ceiling from the original $39 million in its inaugural season, salaries had to be prorated to the current $75 million cap ceiling in order to include current roster players.
Each player's highest cap hit as a Red Wing from 2005 to present day was converted into the percentage of the salary cap said player cost during the season with the highest cap ceiling. That percentage was then carried over into the current $75 million cap ceiling to determine the player's cap hit in 2017-18.
For example, Steve Yzerman played in one season following the introduction of the salary cap, where he had a cap hit of $1.25 million. That cap hit accounted for 3.21 percent of the $39 million cap ceiling. That 3.21 percent is the 2017-18 equivalent of a $2.4 million cap hit for the $75 million cap ceiling.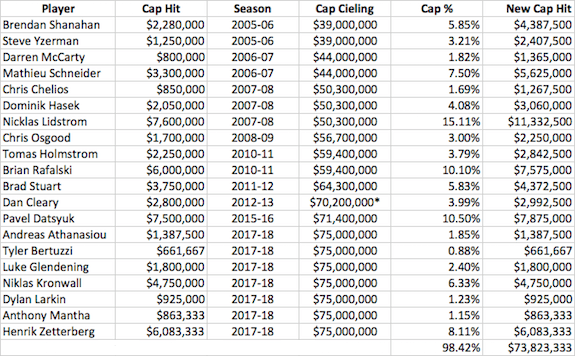 Percentages were rounded to the nearest hundredth spot to keep numbers cleaner, causing a slight difference in percentage versus the overall cap hit of $73.8 million, leaving just $1.18 million of cap room. All players skating in the current season were calculated outright. During the 2012-13 lockout-shortened season, the salary cap was prorated to allow teams to spend $70.2 million towards the cap ceiling.*
The Forward Lines
The key to any potent salary cap team is being able to balance young players with superstars while adding wins. Given the ability to look back at players who failed to graduate from entry-level deals with Detroit, or have since earned raises, three current Red Wings on entry-level contracts made the cut.
Henrik Zetterberg – Pavel Datsyuk – Tomas Holmstrom
The Red Wings go-to scoring line from 2007-2012, the Euro Twins were among the league's best duos. Add in the master of net-front presence in Holmstrom and there's a reason they led the team to the 2008 Stanley Cup title and a near repeat in 2009.
Once ranked the eleventh best line of the modern era, one can argue they would have been even more productive with a more offensive-minded winger to fill Holmstrom's spot, but his tenacity rightfully earned him his role.
Brendan Shanahan – Steve Yzerman – Dan Cleary
There's no true all-time Red Wings team without The Captain. Yzerman was the creator of Hockeytown and was also its heart and soul. It's perfect that Yzerman and Shanahan played one season of salary cap hockey in Detroit, just so they could claim their deserving spots on this team.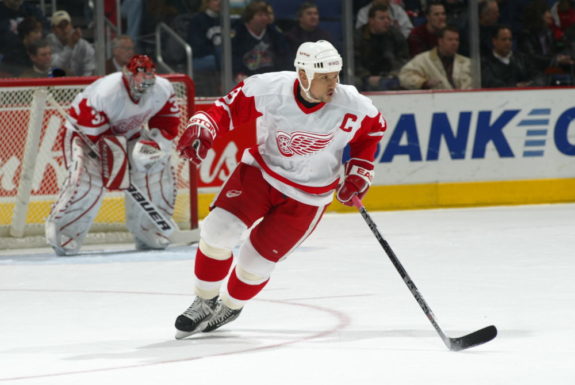 The always-underappreciated Cleary just brings more two-way hockey and leadership to this line. His scoring never reached his draft position, but with a pair of near 700-goal scorers, he'd certainly add to the offense.
Andreas Athanasiou – Dylan Larkin – Anthony Mantha
These three spent some time together this season under Jeff Blashill, where they had some success. Athanasiou may be the biggest surprise on the team given that he isn't on a real entry-level deal, but exchanging his price point for someone unquestionably more deserving wasn't feasible.
Larkin and Mantha are proving to be the future of the Red Wings, even if they're not quite Fedorov and Yzerman or Zetterberg and Datsyuk. They're young and have shown enough flashes to be game-changers once they reach their prime.
Tyler Bertuzzi – Luke Glendening – Darren McCarty
"The New Grind Line" would be a fitting name for this trio, since rebuilding the original was roughly $300,000 too expensive. Some minor finagling would have forced other deserving players out of a spot.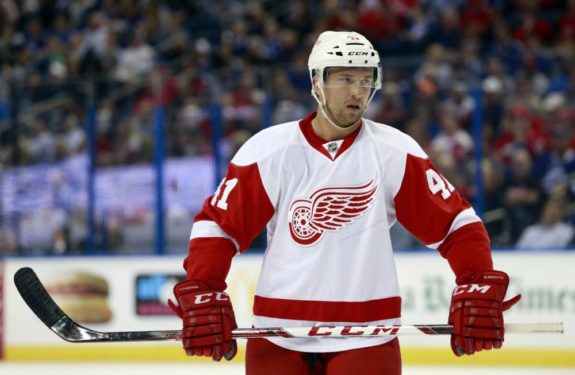 Bertuzzi is probably the biggest outlier on this team, but at such a cheap cost and a strong showing in 2017-18, he'd be a perfect piece to go with a faceoff-winning center in Glendening and fan favorite, bruiser McCarty.
The Blue Line
This is where it all began. The Red Wings haven't fielded an enviable defensive corps since Nicklas Lidstrom manned the blue line. Following his retirement in 2012, Detroit's backend has had a visible, gaping hole as general manager Ken Holland has attempted to pale water faster than the ship's submersion.
Nicklas Lidstrom – Brian Rafalski
Lidstrom is the highest cap hit on the team for good cause as a seven-time Norris Trophy winner. He was a significant part of the Red Wings during his career and one of the greatest to ever play as he consistently did it all.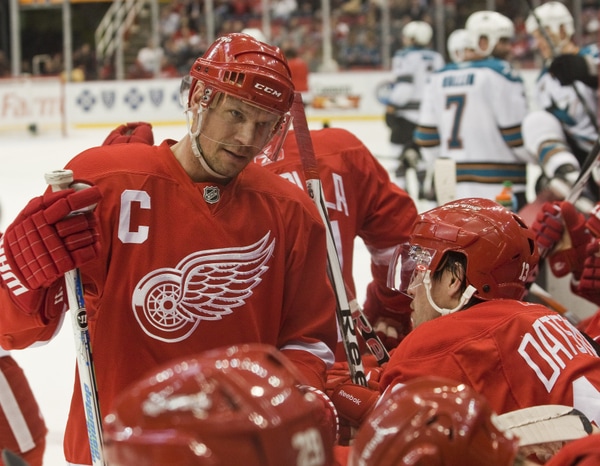 In his first year in Detroit, Rafalski scored a career high of 13 goals while tying his career high of 55 points. The following season he posted the second double-digit goal total of his career. The two formed one of the best defense pairs in the league.
Brad Stuart – Niklas Kronwall
A dominant shutdown pair behind Lidstrom and Rafalski, the hard-hitting defensive play of Kronwall and Stuart was intimidating. With an incredible offense in front of them during their time together, they were able to push the offense and contribute on both sides of the ice.
Kronwall's career season of 51 points came during their first year together. Conversely, Stuart's two most productive goal-scoring seasons came alongside Kronwall as each could confidently join the rush knowing his partner could handle an opposing break.
Mathieu Schneider – Chris Chelios
Brought in at the 2002-03 trade deadline, Schneider's two-way play fit right in with Detroit. He would spend the next three seasons with the team where he had two of his most productive offensive seasons, including a career year with 21 goals and 59 points in 2005-06.
Chelios was among the best of his era, even if his prime wasn't in Detroit. He was already 37 when he came to Hockeytown, but was a bruiser that played on the edge, coached youngsters and chipped in modest offense.
In the Crease
The Red Wings have lacked premier goaltending since Osgood retired in 2011. Jimmy Howard has had too much inconsistency during his career and costs too much to overthrow either of Hasek or Osgood. Petr Mrazek showed flashes of being a top-tier NHL goaltender, but bouts of inconsistency also held him back.
Related: Time to Upgrade Wings' Goalie Pipeline
Dominik Hasek
Hasek was another player whose prime came prior to joining the Red Wings in 2001. But even at 37, he remained effective and helped the team win the Stanley Cup in 2002 and 2008.
It helped that the 2001-02 Red Wings team was one of the greatest ever assembled with nine Hall of Fame players (including Hasek) and a Hall of Fame coach in Scotty Bowman. Add in the deserving career of Datsyuk and that team will go down with 11 Hall of Fame pieces.
Chris Osgood
He was either loved or hated, but as one of just 13 goalies to record 400 wins, he was a reliable netminder. Add in three Stanley Cups and the case for Osgood is strong. He was backup in 1996-97 when Detroit won its first Stanley Cup in 42 years. Then as the starter in 1997-98, he was the guy when the Red Wings won a consecutive title.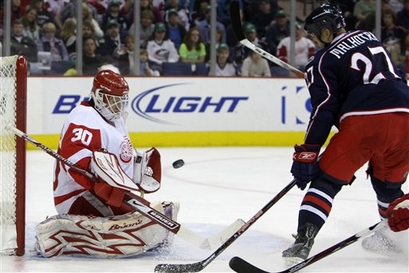 In 2008, he took over for Hasek after a shaky start to the postseason and backstopped Detroit to another Stanley Cup. The title came by defeating a Pittsburgh Penguins team that featured Sidney Crosby, Evgeni Malkin, Marian Hossa, Marc-Andre Fleury and Sergei Gonchar.