As do everyday people, hockey players come in all shapes and sizes. The variety of people and their uniqueness is what makes our world so colorful, and it is also what makes our ice rinks so colorful. Hockey is undoubtedly for everyone and the spectrum of athletes who play our game gives us reassurance that we are doing something right.
Growing up is not always easy. Our preteen and teenage hockey players need time to grow into their bodies. Physically speaking it can feel quite awkward. As we develop and mature, there is that stage where we are almost like a young fawn trying to gain its legs for the first time. We have to find ourselves and gain a comfort in our own skin. How exactly do these vehicles, our bodies, work, and how can we utilize them to their fullest potential to play the game we love.
THW had a chance to speak with Boston Pride defender and original NWHLer, Paige Harrington. At 6-feet tall, she is one of the tallest players in the league. She is also one heck of a hockey player, having won the Isobel Cup with the 2016-17 Buffalo Beauts and having represented the United States internationally in ball hockey world championships.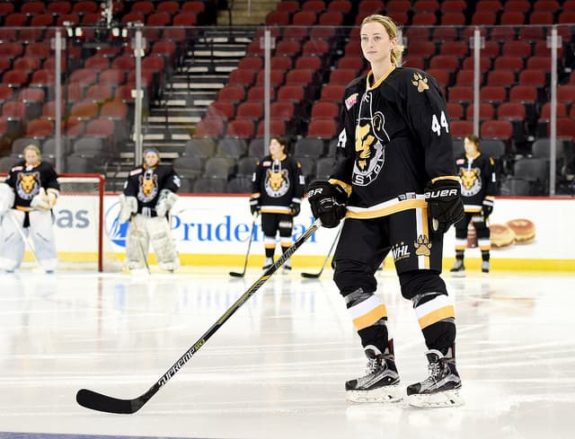 With Harrington we talked a bit about everything. Growing up, how being a taller player has many advantages but also some challenges too, and some tips for our younger hockey players who may be of greater height as well. Harrington offered some truly excellent insight.
Being a Taller, Lankier Youngster Herself
Standing as tall as she does on the ice, Harrington has a phenomenal wingspan. It is one of the more noticeable attributes of her game, and something that has contributed to her great success as a blueliner. During her senior season of college hockey at UMass Amherst, Harrington fired away 10 goals and 15 assists in 25 regular season games. She would also be named a 2014-15 First Team All-American that same season.
But as we said, growing into our bodies can be tricky during our youth and is something that takes a little time. A  native of Mansfield, Massachusetts, Harrington was no different when she was growing up, which wasn't all that long ago. Born in July of 1993, she is just 24 years old at the time of this interview.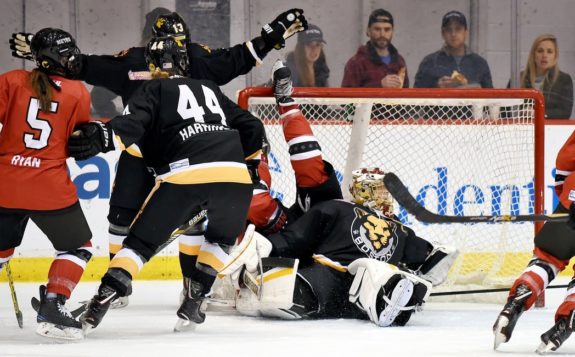 "Honestly, I didn't really grow into my body until I was a bit older in high school," Harrington told us. "I always had very long, gangly, limbs, so it was only a matter of time before I filled them out."
Listed statistically at close to 150 pounds, she has filled out solidly as an athlete. With Harrington's weight and height as they are, and with her robust style of play on the ice she can be a tremendously imposing defender. This is part of the reason why she has been such a highly sought after defender since the league's inception.
Taller Players Managing Their Strength Is Key
Like many taller athletes, Harrington pointed out that her limbs and body are longer and leaner than what other players might be. In order to remain solid and keep her body in the condition that it needs to be to compete, she has made particular focus be on strength when it comes to her training. It is a wise tip and a regiment that all taller hockey players should follow, as it will help their overall play and prevent injuries.
"I have always tried to work on my strength," Harrington shared, "and something I still need to work on. I am very tall, and pretty skinny, so its important that I keep up with working out to maintain the muscle. I find that being so tall, I need to really work and focus on quick movement with my feet."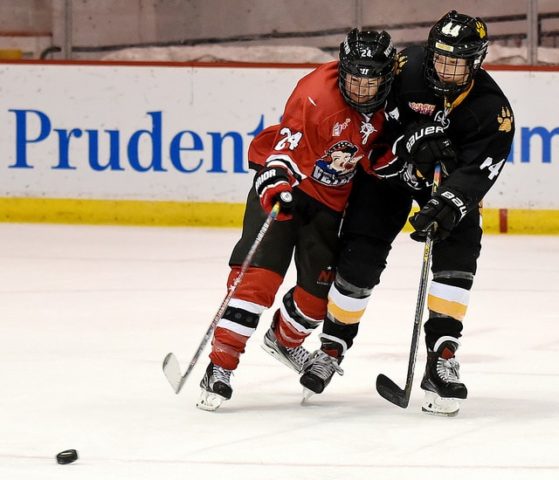 In addition to those quick movements, Harrington has remained incredibly durable throughout her pro career. She has 49 regular season NWHL games to her credit, as well as eight playoff games. She has never missed a playoff game for either of the two teams she has played for, and did not miss any games during her first two years in the league. This can be attributed both to the training she has done physically, as well Harrington having a competitive edge. Her honed strength has also given her a profound physical edge as well.
"As a defenseman, I try to play physical," Harrington told us. "That's how I really get involved in the games. Using my body to get in the way, and playing physical has always been one of my tactics on the ice."
Putting it simply, Harrington is not a player whom opposing skaters enjoy going up against, particularly not along the boards or in front of her goalie. Her 41 penalty minutes in 49 games may be further evidence of her physicality.
How to Battle Those Quicker, Smaller Players
There are a lot of speedsters in the NWHL. Buffalo Beauts forward Kristin Lewicki didn't get the nickname of "Wheels" just for nothing. Lewicki is listed at just 5-foot-2, as is her Buffalo teammate Sarah Shureb. The Isobel Cup champion Metropolitan Riveters have their spark plug forward Erika Lawler who is just 4-foot-11, while the Connecticut Whale's Amanda Boulier stands at 5-foot-1. Each of these players is lighting quick and deceptively fast. Players of this size and speed can pose a great challenge to opponents with Harrington's build.
Still, Harrington has both a mantra that she utilizes when defending against players of smaller stature, and a method to her approach.
I am a player in the @NWHL and #IstandwiththeUSWNT #BeBoldForChange pic.twitter.com/eSYvWoSReN

— Paige Harrington (@ona_ramPAIGE) March 25, 2017
"When I am out there on the ice", she told THW, "something that I always say to myself is 'move your feet!'. With shorter, faster players I really need to keep my feet moving, and I tend to take a much longer stride than them. When they are super shifty, I keep my focus on their body and I try to get in their way.
This is a critical tip that Harrington explained – "focus on their body". While she may not necessarily be able to out-skate each of these players, she can certainly impede them and oftentimes completely neutralize them. It is something she has done admirably well for all of her career.
The Game of Taller Players Can Be Deceptive Too
Being tall can definitely have its advantages too. Harrington doesn't just use her sound skating to keep opposing players at bay, but one of her greatest assets is that aforementioned wingspan of hers. To see her in motion and applying her reach on the ice evokes a sense of gracefulness enveloped in power. Harrington's play is definitely something to behold.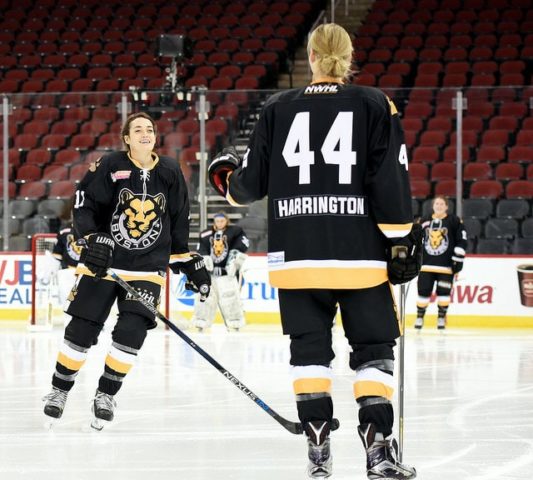 Her advice for younger players who are tall coincides exactly with how she applies her own height in instances of play. Harrington stresses to taller youngsters:
"Take up space!" She went on to say, "Being so tall, I have a very long reach which has saved me in many situations. Defensively, I am always trying to use my poke check, and get my stick in the passing lanes. I think players are sometimes deceived by how far my stick can actually reach."
So while smaller, speedier players are the ones typically recognized as having deception to their games, taller players like Harrington can be just as deceptive and just as savvy. Do not think for a moment that because an opponent may be quicker than you that you are automatically stymied from turning the tables on them with the unexpected. Because Harrington has such a long reach, it sometimes feels impossible for players to give a wide enough berth in order to evade her. In fact, you are darn lucky if you do.
You Need to Own Your Height
Hopefully Paige Harrington has put some of our taller youngsters more at ease when they take to the ice. Any awkwardness can be turned into a wonderful blessing through hard work, focus and determination. No one should feel uncomfortable about their height, tall or otherwise. Putting in the effort is truly what makes the difference. For taller players, your height can drastically accentuate your overall game, especially if you improve your strength and skating the way Harrington consciously has.
Still not convinced, you taller players out there? Well, Paige Harrington has a message just for you:
"I would never trade being tall", she said. "I would tell them to own their height, and be proud to stand out. Playing in a league with so many talented players and being 6-feet tall has given me a little edge and confidence on the ice. I think every player has something that they use to their advantage, and being tall is very helpful. Plus, it's not the most comforting feeling for someone who is shorter to go into the corner with someone almost double their height. So own your height!"
Huge thanks to @DunkinDonuts for all the love again this season! Be there first thing in the morning! 😀#NWHLRunsOnDunkin pic.twitter.com/K3Tw4IaWhK

— Brittany Ott (@b_ott29) November 16, 2017
When a professional hockey player who is also an Isobel Cup champion shares words like that, it would behoove all of us to listen. Harrington's words have both weight and merit behind them. Probably some height too. But know this – it is okay to be the taller, ganglier kid that plays hockey. You keep working hard at it and do your thing.
Harrington was once in your shoes, so she speaks from experience. In fact, she also has a message for her 12-year-old self:
"Play volleyball….just kidding!," she laughed. "I would tell myself to embrace being tall and sometimes awkward! I would tell myself to play tough, and never give up on a play, but to also always have fun and enjoy every second. It seriously flies by!"
Be yourself and own your height, no matter what it might be.
If you liked this article, please check out our other articles with advice for kids from NWHL players:
Beauts' Sarah Edney Talks Defense for Youngsters