When it was revealed that Detroit Red Wings All-Star netminder Jimmy Howard had fractured his right index finger during a game against the Vancouver Canucks on Feb. 2, Hockeytown was understandably concerned. Arguably the 'Wings MVP through 54 games, Howard has backstopped a whopping 91% percent of the team's wins this season, while accumulating top 10 numbers in the 4 major goaltending categories (GAA, Sv%, SO, W). He's been everything Detroit has needed him to be, and without him they've struggled mightily.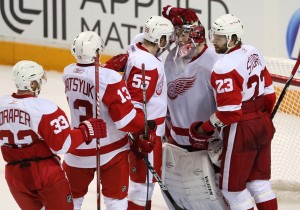 In the 8 games Howard sat prior to his injury, the Red Wings went 3-5, giving up 29 goals (3.63 GAA). In net for all 8 of those contests was veteran backup Ty Conklin, who has been nothing but shaky and unreliable this season. Despite this poor play the Red Wings looked to Conklin to step up his game in the absence of Howard, a necessity if they were to keep their spot perched atop the Western Conference. After 1 period minus Howard, that experiment was declared a failure.
Giving up 3 goals on 9 shots was clearly not the performance Detroit had hoped for from Conklin, and as a result it was the Red Wings' 3rd string netminder, Joey MacDonald, who would play periods 2 and 3. MacDonald proceeded to put forth a solid performance despite the ensuing loss, and earned himself the starting position for Detroit's game against Phoenix on Monday (Feb. 6). MacDonald again performed well even as the Red Wings managed to lose their 2nd in a row, and one would think he retains the starting position for Wednesday's game in Detroit.
Conklin was on a short leash, and while Detroit is often patient with its players to a fault, they expected more from Conklin this season, and they're not happy with what they've gotten. That short leash is what allowed Joey MacDonald to leap frog his way into the net so easily, but how short of a leash is Joey on, and do the Red Wings have confidence in him in the first place?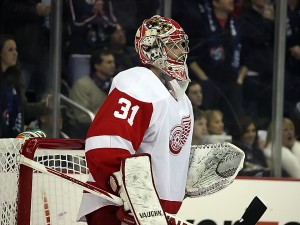 MacDonald isn't new to the NHL, and there's a reason he's spent the majority of his career in the minors, once again being relegated there by the 'Wings this season. His career 3.16 GAA and .902 Sv% don't exactly instill confidence in anyone. They're simply sub-par numbers for any NHL goalie, backup or not. It's important not let his numbers through 5 periods this year (1.73 GAA, .933 Sv%) skew the reality that MacDonald still has a lot of work to do in order to prove himself better than Conklin. MacDonald will have to definitively do that in the coming days. If he falters, Detroit wont have time to hesitate before bringing in another goaltender; The trade deadline is just 20 days away.
It will all come down to the return of Howard. When he steps back into the lineup, which goalie takes the backup spot. Will Conklin have lost so much ground that he finds himself 150 miles away playing in Grand Rapids? Will Detroit be confident enough in MacDonald to get the job done should Howard go down again? Or will the Wings add another piece and send both Conklin & MacDonald packing? (Evgeni Nabokov anyone?)
The Conklin ship has sailed, and U.S.S. MacDonald isn't fit to weather any storms. Perhaps bringing in another vessel is the right course of action for this playoff bound fleet.
Andrew is a passionate hockey fan at heart, and has been since a very young age. Residing in Michigan, he grew up with the team he currently covers at THW, the Detroit Red Wings.