If you open Twitter during a Detroit Red Wings game, you're bound to see quite a few complaints, gripes and sarcastic gifs about the unsatisfactory play on the ice. There's probably too much criticism, but frustrations are bound to boil over with yet another sub-par season.
The truth is that not much has gone right for the Red Wings this year. After missing the playoffs for, what seems like, the first time since the Lincoln Administration, the already-slim hopes of a return to the postseason are worsening by the day. Since Tomas Tatar was traded, the Red Wings have not won a game and are inching closer toward the worst record in the Eastern Conference.
However, it's not all doom and gloom. While a lot needs to be addressed during the offseason and beyond, there are a few things that have gone right for the Original-Six franchise. In this week's edition of The Grind Line, the Red Wings coverage team from The Hockey Writers discusses a few positives heading into the offseason.
Tony Wolak: The Defense is Actually Scoring
At one point during the season, Detroit's defensemen had combined to score fewer goals than Columbus' Zach Werenski. That's right – seven blueliners combined for fewer goals than one defenseman.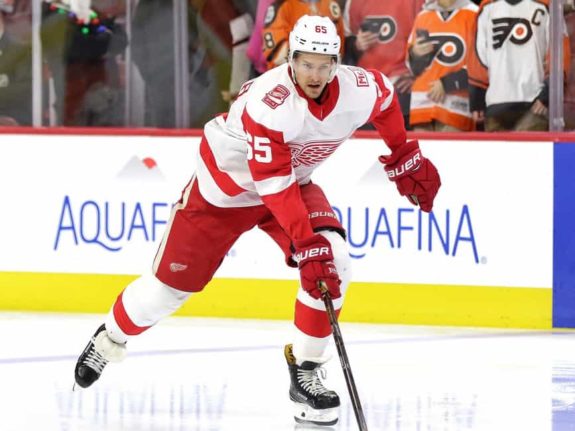 But as of late, the Red Wings have found a way to engage their defensemen in the offensive zone despite issues in their own end.
Player
OCT-JAN
Games
OCT-JAN
Goals
FEB-MAR
Games
FEB-MAR
Goals
Trevor Daley
43
3
19
4
Danny DeKeyser
31
1
19
4
Jonathan Ericsson
48
2
18
1
Mike Green
48
5
12
2
Nick Jensen
47
0
19
0
Niklas Kronwall
45
2
19
1
Xavier Ouellet
35
0
6
0
Total
48
13
19
12
Let's put that into perspective: When you add in Luke Witkowski's breakaway (?) goal, Detroit's defensemen scored the same amount of goals in the last 19 games than through the first 48 contests. That's not good.
While there's certainly room for improvement in the defensive zone, this increased scoring rate is a positive note to take into the offseason. Those 13 combined goals top that of Nashville's high-powered defense during the same timeframe. The same goes for Washington, Dallas, and Vegas's blueliners. In fact, only Arizona (16) and Pittsburgh (14) have received more goals from defensemen since the beginning of February as of this writing.
Make no mistake, Detroit's blue line needs to be revamped over the next couple of seasons before they contend again. But for players like Trevor Daley and Danny DeKeyser—defensemen with some trade value—this offensive boost is good news for the organization. Plus, with top prospects Joe Hicketts and Filip Hronek on the way, this scoring trend could continue.
Jacob Messing: Calling Up Evgeny Svechnikov
Finally, Evgeny Svechnikov gets his chance. Sure, it only occurred after the Frans Nielsen injury, but he's here now and that's what matters. The Red Wings' first-round pick (19th overall) in 2015, the Russian has been a goal scorer at every level and is a dynamic winger with a great shot and smooth hands.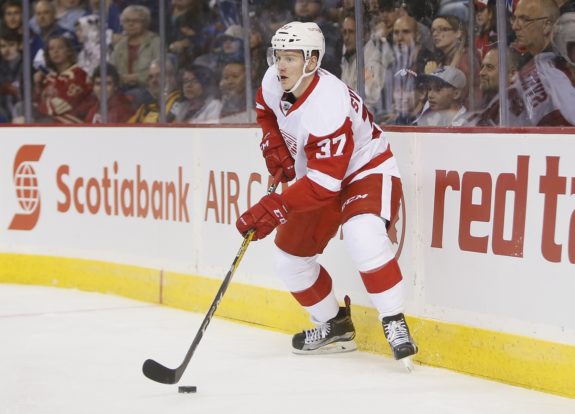 Svechnikov had a solid rookie season with the American Hockey League's (AHL) Grand Rapids Griffins last season, during which he scored 20 goals and 51 points in 74 games. He followed it up with another 5 goals and 12 points in 19 playoff games, eventually winning the Calder Cup.
A neck injury ended his training camp prematurely in September and he missed the Griffins' first four games of the AHL season. Upon his return, he was clearly a step behind and it took a couple months for him to get comfortable again.
But come the New Year, he started to break out, which in turn helped the Griffins break out. It finally turned into a call-up last week. In his first game, he skated 9:09 and went minus-2. The following game, Jeff Blashill played him a total of 5:25. It's not ideal and it kind of suggests he was here simply for being a body, not for his recent play. He could be playing more back in Grand Rapids for a team with playoff aspirations.
But again, he's here and that counts for something. He's getting a firsthand look at what it takes to be an NHL regular. He's in practice and the weight room with established players and learning the speed and tenacity the next level requires.
Griffin Schroeder: Piling Up Draft Picks
For as much as I criticize the Wings' current way of thinking, credit must be given when due.
With owner Chris Ilitch mum on Ken Holland's return as the Wings' general manager, this last stretch of the season could be his final go-round with the Detroit brain trust. While he would leave behind many regrettable contracts signed in the salary cap era, he's quietly set up the Wings rather shrewdly for their impending rebuild.
Related: Ken Holland's Red Wings Rebuild is Rolling
As a seller for the second consecutive season this past deadline, Holland made his most progressive deal since the salary cap was implemented, trading Tomas Tatar for a 2018 first-round pick, 2019 second-round pick, and 2021 third-round pick. A week or so earlier, he was able to nab two conditional picks for polarizing goaltender Petr Mrazek.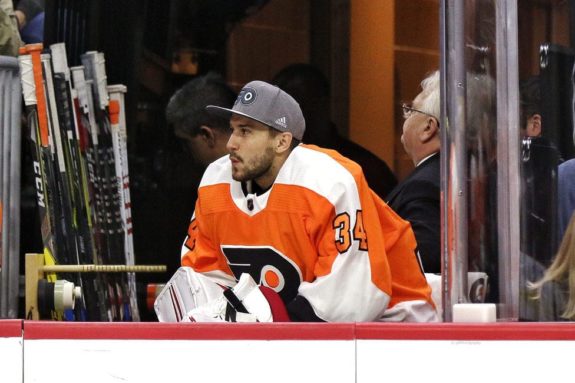 In all, the Wings now have eight picks in the first four rounds in this coming draft and will likely have seven in the first three if Mrazek wins one more game and the Philadelphia Flyers made the playoffs. Detroit's scouting staff has already enjoyed some past success with late-round steals, and this June they will be in a better position to snag some more.
The moves were a continuation of a gradual teardown that saw the team net a trio of third-round picks to go with a 2018 second-rounder at the 2017 trade deadline. The Tatar move might be the first of many to come this and next summer as the rebuild gets in full swing.
Yes, the team still has quite a few embarrassing deals on the books that won't expire for at least a few more seasons. They also won't be competitive enough to make the playoffs now and in the near future. It's not easy to be positive about the state of the Red Wings right now.
However, Holland has given Detroit an opportunity to accelerate their trudge back to relevancy with more cracks at the world's prospect pool. It's up to the team to take advantage.
Final Word
Yes, it's been a trying season. However, there are a couple ways to look at things. You can either view the 2017-18 campaign as another wasted year or another season closer to Detroit's next Stanley Cup. This year has been a slight improvement from the previous season and those steps forward should be acknowledged. Slowly but surely, the Red Wings are making progress.
What have the Detroit Red Wings done right in your opinion? Comment below with your thoughts.
---
What's The Grind Line? Apart from the once-famous line of Kris Draper, Kirk Maltby, and either Joe Kocur or Darren McCarty, The Grind Line is also The Hockey Writers' weekly column about the Detroit Red Wings. Jacob Messing, Griffin Schroeder, and Tony Wolak are the muckers who make up THW's forechecking unit and sound off on Red Wings topics.