We are about a month away from the trade deadline, so the main talking points for the next 30-ish days will be speculation about who is going to end up where.
For months, Toronto Maple Leafs defenseman Cody Franson has been linked to the Detroit Red Wings, as well as a number of other teams.
Report: Red Wings, Kings, Predators are among the teams interested in Cody Franson. http://t.co/QTCuKC3tHF pic.twitter.com/9XDvfhAGP2

— theScore (@theScore) February 4, 2015
Franson is the right-handed defenseman the Red Wings have been searching for, but is he the right fit for Detroit?
I asked The Hockey Writers Maple Leafs contributor James Tanner what he thought of Franson as a player.
What does a Maple Leafs Writer Think?
Q: What are Franson's strengths?
James Tanner: Franson is extremely valuable, because he's a puck moving defensemen with size, and he shoots right-handed, which is rare enough to be coveted. He's an intelligent player, and while you wish he would hit more due to his size, he really doesn't need to do that to be effective. Franson's reputation suggests a big guy who isn't physical, but I think he actually does hit quite a bit, he just isn't a Chara out there, and with the size, that's what people expect. Also, he has a rocket of a shot and is a good skater — probably faster than he appears to be due to his size.
Q: What are Franson's weaknesses?
JT: There really isn't anything I dislike about his game, he could be an ideal partner to a true, elite No. 1 D-man or an elite second pairing guy himself.
Q: Do you want the Maple Leafs to trade Franson?
JT: I think that the Leafs in a perfect world should not trade him, but he is a UFA, and they're kind of up against the cap. And, due to the obvious need to retool or rebuild, it makes some sense to get an asset. However, I can't stress this enough, they should be trying to re-sign him and move out other players.
Q: What do you think the Maple Leafs could get for Franson?
JT: Since he's a UFA, I can't see him bringing back more than a second rounder. However, teams have been known to overpay for a defenseman at the deadline. If he was signed, I would think it would cost a ton to get him.
What Should the Red Wings Do?
Tanner is very high on Franson, and the 27-year-old appears to be the perfect right-handed shooting defenseman the Red Wings need. He's got size at 6-foot-5 (the biggest Red Wings defenseman is Jonathan Ericsson at 6-4), speed, a powerful shot and the potential to be a No. 1 defensman.
The screenshot from War On Ice below shows Franson is second on the team in quality of competition faced and has a high Corsi For percentage relative to the rest of the team while playing a high number of minutes.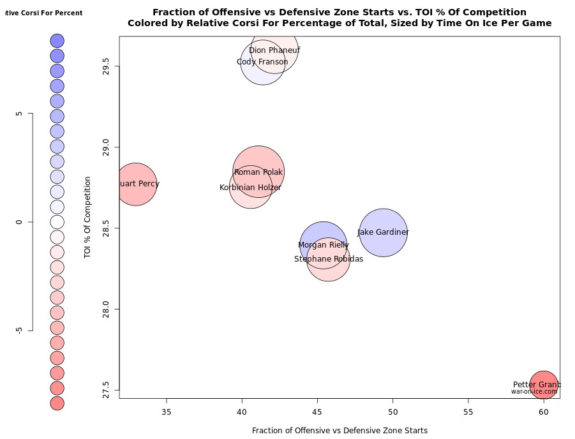 The problem, as I've stated numerous times before, is that the Red Wings are going to have to give up a lot to get Franson. Tanner suggests the Maple Leafs won't get more than a second rounder, but I think Toronto will want at least a roster player like Gustav Nyquist, Tomas Tatar or Tomas Jurco and a first-round pick.
For Franson, I'd be tempted to trade Jurco and a first-round pick. I think Jurco still has the capabilities of being a very good player, but he hasn't developed as much as Nyquist or Tatar have.
Toronto might even get greedy — Tanner suggests teams tend to overpay for a defenseman at the deadline — and ask for a prospect like Teemu Pulkkinen, Dylan Larkin or Anthony Mantha in addition to a draft pick and a roster player. All of the previously mentioned prospects are players I wouldn't trade if I were general manager Ken Holland, and I believe he feels the same.
In the end, the price has to be right for Franson, whether the Red Wings can get that price will decide whether they should pull the trigger or stand pat.
What do you think? Should the Red Wings make a move for Franson, should they pursue someone else or stand pat?
Be sure to check out James Tanner's work on The Hockey Writers.
Subscribe to our Red Wings stories to get email updates every time a new story is published.
Tom Mitsos is a Detroit Red Wings and Grand Rapids Griffins staff writer for The Hockey Writers. You can follow him on Twitter @tom_mitsos.