The Arizona Coyotes prepare to welcome a familiar foe to Glendale this weekend as the Detroit Red Wings make their lone trip to Gila River Arena on Saturday night. The two teams are heading in opposite directions this season as the Coyotes are near the bottom of the league standings, while the Red Wings are in good position to make their 24th consecutive postseason appearance. However, Arizona has had a tendency in recent years to put together some of their best games against Detroit. The last time the Red Wings came to Glendale, goaltender Mike Smith scored a goal to help the Coyotes complete the two-game season sweep. Here are some other memorable Coyotes moments from the last few seasons versus the Red Wings.
Motor City Miracle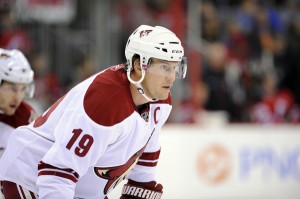 On January 26, 2010, the Coyotes faced the Red Wings at Joe Louis Arena in a pivotal Western Conference showdown. Entering the contest, only five points separated fifth-place Arizona and eighth-place Detroit in the playoff picture. The Red Wings held a 4-2 lead late in the game thanks to a pair of third-period goals from Detroit captain Nicklas Lidstrom. However, with the goaltender pulled, the Coyotes struck twice in the final 90 seconds of regulation to force overtime. Then, Coyotes captain Shane Doan provided the game-winner as he fired the puck past an outstretched Jimmy Howard to give Arizona a dramatic victory.
The Whiteout Returns
The 2009-10 season saw the Coyotes make the postseason for the first time since 2002. In the first ever Stanley Cup playoff game played in Glendale, the Coyotes faced the Red Wings in Game 1 of their Western Conference Quarterfinal matchup. Arizona, who had a dismal 14.6% power play during the regular season, scored all three of their goals with the man advantage, including a third-period blast from Derek Morris to give the Coyotes a 3-2 lead. The Coyotes would hold on to win by that one-goal margin, but Detroit would end up taking the series in seven games.
Sick as a Dog
With the Coyotes trying to stay alive in the strike-shortened 2013 season, they faced the Red Wings in Glendale on April 4. Arizona not only had to deal with having to take on a strong Detroit team, they also had to deal with a flu bug that ravaged the lineup prior to puck drop. Despite this, the Coyotes prevailed thanks to a three-goal second period and a late empty-net goal from Martin Hanzal. Unfortunately for the Coyotes, their quest for a fourth consecutive postseason appearance fell short and the team missed the playoffs for the first time under Dave Tippett.