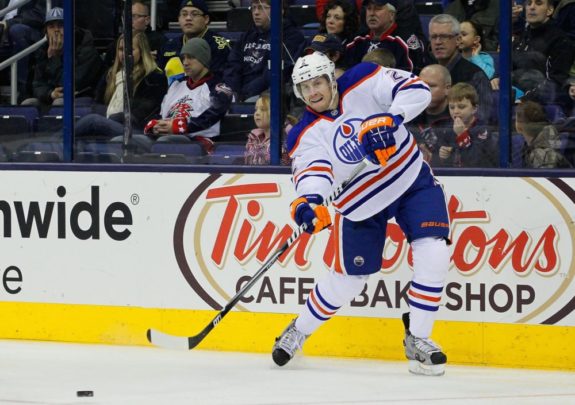 All-Star weekend is over, which means the Detroit Red Wings will be back in action this week looking to continue their winning ways. The beginning of 2015 has been good for the Red Wings; they have won seven of their first nine games and are currently on a five-game winning streak.
They are in second place in the Atlantic Division, one point behind Tampa Bay with a game in hand and two points ahead of Montreal, with Montreal having two games in hand.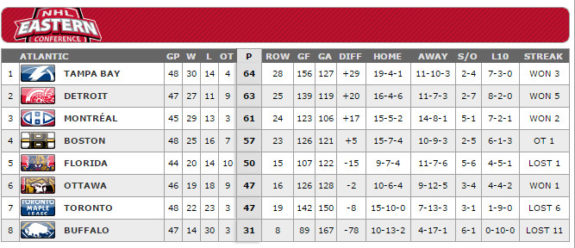 MLive.com's Ansar Khan does a weekly feature called "Ask Ansar," in which he answers fan-submitted questions about the Detroit Red Wings. I will answer the questions submitted to Khan.
You can view his answers here.
Q: Seems everyone still wants to have a top-four defenseman who shoots right but I can't see it happening because the asking prices are high on what appears to be a shallow market. Can't see the Wings paying a lot for a rental. I still think they trade (Jakub) Kindl, a roster player such as (Joakim) Andersson and a pick for a good forward. This makes room for (Xavier) Ouellet on the D. He's your D upgrade. I've been hearing the Wings checked in on Arizona's Antoine Vermette and Colorado's Ryan O'Reilly. Are either possible options for the Wings? If they opt to trade for a forward and make room for Ouellet, who else might they target? – Josh
A lot to process here.
First of all, as much as trading Kindl or Andersson would benefit the team, I don't think there are many teams in the league looking for a sixth or seventh defenseman in Kindl or a bottom-six forward in Andersson. If they were to get anything from those two, it wouldn't be much — definitely not a player who could put the Red Wings over the top.
I haven't heard anything as far as Arizona's Antoine Vermette or Colorado's Ryan O'Reilly. Vermette is an unrestricted free agent after this season, and O'Reilly has a hefty $6 million cap hit on his contract. I don't think the Red Wings are interested in either of these two.
As far as options, Jeff Petry, Tyler Myers and Keith Yandle are the names I see that keep popping up. But, we all know the Red Wings aren't going to trade if the price is too high, and the price most likely will be too high for any of these players.
Honestly, I don't think the Red Wings make a move. That's not to say general manager Ken Holland won't make phone calls and see what he can get, but I don't think he will be able to negotiate something other teams will want. Everyone wants Gustav Nyquist, Anthony Mantha, Dylan Larkin, Tomas Tatar, etc., and Holland isn't willing to give those guys up.
Q: Do you think (Teemu) Pulkkinen took advantage of (Johan) Franzen and (Tomas) Jurco's absences enough to be considered a regular even when those two return? Also, do you think (Ken) Holland and (Mike) Babcock consider (Tomas) Tatar untouchable? – Luka
As great as it has been to have Pulkkinen in Detroit, I think he returns to Grand Rapids when Franzen and Jurco return. Pulkkinen is young and still has a lot of developing to do, but the extra NHL experience will do wonders for him. I'm guessing he sees more time in Detroit next season, possibly even making the team out of training camp depending on what the Red Wings do in the offseason.
As far as Tatar goes, I would have to say he is an untouchable. He is leading the team in goals with 21 and is fourth on the team in points with 34. After four years in Grand Rapids, he's proving he belongs in the NHL, and I don't think the Red Wings want to part ways with him just as he is starting to learn how to play in the NHL.
Q: What would be your take on Pulkkinen so far? I've seen him make smart defensive plays and he does not seem out of place defensively, but as most have predicted it seems he is having a hard time getting his large shot off. Should he see some time possibly with (Zetterberg) on the second line? The way (Zetterberg) protects the puck and draws defenders, he may open up more space for Pulkkinen. Also, have not heard much about Andy Miele in Grand Rapids. Is he the real deal? – Jacob
Pulkkinen has impressed me during the six games he has played so far this season. He is having trouble getting his shot off — just 10 in six games — but figuring out how to find space in the NHL is something that'll come with experience. He has hit a number of posts and had some close opportunities, so it's not as if defenses are shutting him out completely.
He has spent most of his time on the fourth line getting fourth-line minutes, but I think that's more of that's the only place there is room for him more than where he deserves to be. If you put him on the second line, you would have to move Darren Helm or Tomas Tatar to the third line, both of whom are performing exceptionally well this season.
Pulkkinen is seeing time on the first power-play unit as well, so it's not as if Mike Babcock doesn't trust him.
Miele has been fantastic during the first half of the season in Grand Rapids. He is producing at nearly a point-per-game pace with 35 points in 36 games. It's in the AHL but still impressive nonetheless. There would have to be significant injuries for him to see time with the Red Wings.
Q: What is in the future for Landon Ferraro? He enjoyed a short NHL stint last year. Has he not developed as hoped? – Jack
Landon Ferraro has 23 points in 41 games with the Griffins, including 17 goals. He's a pretty good player, but the Griffins are stacked with great forwards (Anthony Mantha, Andreas Athanasiou, Pulkkinen), and Ferraro is so far down the depth chart. He hasn't developed as fast as players like Tatar, Nyquist and Sheahan, and that's why he still is in Grand Rapids.
He has a chance to play in the NHL but not with the Red Wings.
Q: When will Stephen Weiss get an opportunity to play center? Is he not playing there because he has missed almost two seasons and Babcock is easing him in or Babcock doesn't think he can do the job or another reason that you can enlighten us on? – Phil
I don't see Weiss going back to the center position. He was on fire when he first came back and was playing on the wing. He has cooled down a bit but does have two points in the past three games. No need to complicate things and put him back in the middle when he has been doing fine on the wing.
Plus, the Red Wings have enough centers in Helm, Sheahan and Luke Glendening who can fill in and perform better than Weiss.
Q: Watching (Petr) Mrazek handle the puck is heaven on ice. His puck-handling skill really limits the number of times they get bottled up defending, which translates into more time in the offensive end. That skill with his speed, mental brightness, upward learning curve is quite exciting to watch. I think this young man is the bomb. Do you see a scenario in which Mrazek stays up with the Wings the rest of the year and Monster (Jonas Gustavsson) ends up in Grand Rapids? – Mark
I don't see that scenario playing out. The Red Wings would have to waive Gustavsson, and there's a good chance he would get scooped up by another team. Gustavsson is a very capable backup and could even be a starter for a number of teams.
The Red Wings already lost Andrej Nestrasil to waivers, they won't want to make the same mistake twice.
Q: What is going to be the fate of Tom McCollum? He seemed like a prospect that didn't pan out, but the last couple years he has been very good. He can't stay in the minors forever and with Jimmy and Mrazek ahead of him I don't see him making it up to Detroit aside from occasional spot starts. What is the plan with him going forward? – Jacob
McCollum will be another Red Wings prospect that will have to make it to the NHL on another team. Mrazek is ahead of him on the depth chart and Jared Coreau has come to Grand Rapids and is giving McCollum a run for his money for the starting job.
McCollum was a first-round pick in 2008 who never panned out. It's unfortunate, but with Howard and Mrazek, the Red Wings are set in the goalie department for the foreseeable future.
Subscribe to our Red Wings stories to get email updates every time a new story is published.
Tom Mitsos is a Detroit Red Wings and Grand Rapids Griffins staff writer for The Hockey Writers. You can follow him on Twitter @tom_mitsos.