From the moment Steve Yzerman was officially announced as the new general manager of the Detroit Red Wings, fans were delighted. Sitting in front of the Detroit sport's media on April 19, 2019, he answered loaded question after loaded question, but he continuously returned to his philosophical viewpoint of patience. He admitted what Ken Holland wished to ignore for years, although there were rumors that Holland was under extreme pressure from the Illitch family to keep the 25-year playoff streak alive.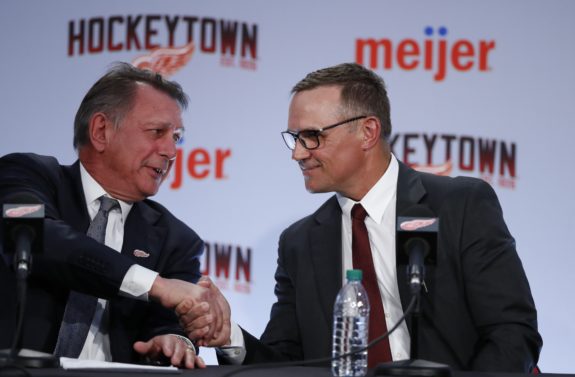 Holland never wanted to admit that Detroit needed to rebuild. But Yzerman sat up at the microphone and pulled no punches. He told the fans and the media the Red Wings organization requires a full-on rebuild while also stating the rebuild will not be quick or painless.
He (Yzerman) told Detroit's people to be patient because rebuilding a Stanley Cup contender takes years upon years. Not to mention the Red Wings were bogged down with many long-term contracts, mostly by aging veterans carrying a large average annual value (AAV). Some of the contracts even had no-trade clauses attached to them.
When media representatives asked how Yzerman and the Detroit organization planned to rebuild the franchise, his answer was simple, "We will build through the NHL Entry Draft." Ironically, Jimmy Devellano, who was given the same daunting task by the Illitch family in 1982, said the same thing.
Even more ironic is that for Devellano's first-ever selection as the Detroit Red Wings' general manager at the NHL Entry Draft in 1983, he selected a skinny kid from the Peterborough Petes of the Ontario Hockey League fourth overall. The boy from Cranbrook, British Columbia, could barely grow one whisker on his face and looked 14 years old. That boy was Yzerman.
Part of Life is Struggling
Moving forward to February of 2020, when the Red Wings had a league-worst record of 15-45-4, Yzerman did not change course. From the very start, Yzerman preached patience.
I know what Detroit's general manager expects from the fans, but when asked, "What do you (Yzerman) expect from the players?" Replying empathically, "Part of life is struggling. The guys who benefit from it are the guys who are mentally tough enough to get through it. I go back to my career. It was not a linear path. There were some bumps along the way, and you learn from them and get better." (From Detroit Red Wings GM Steve Yzerman preaches patience as he plots his next move, by Helene St. James Detroit Free Press 2/25/20).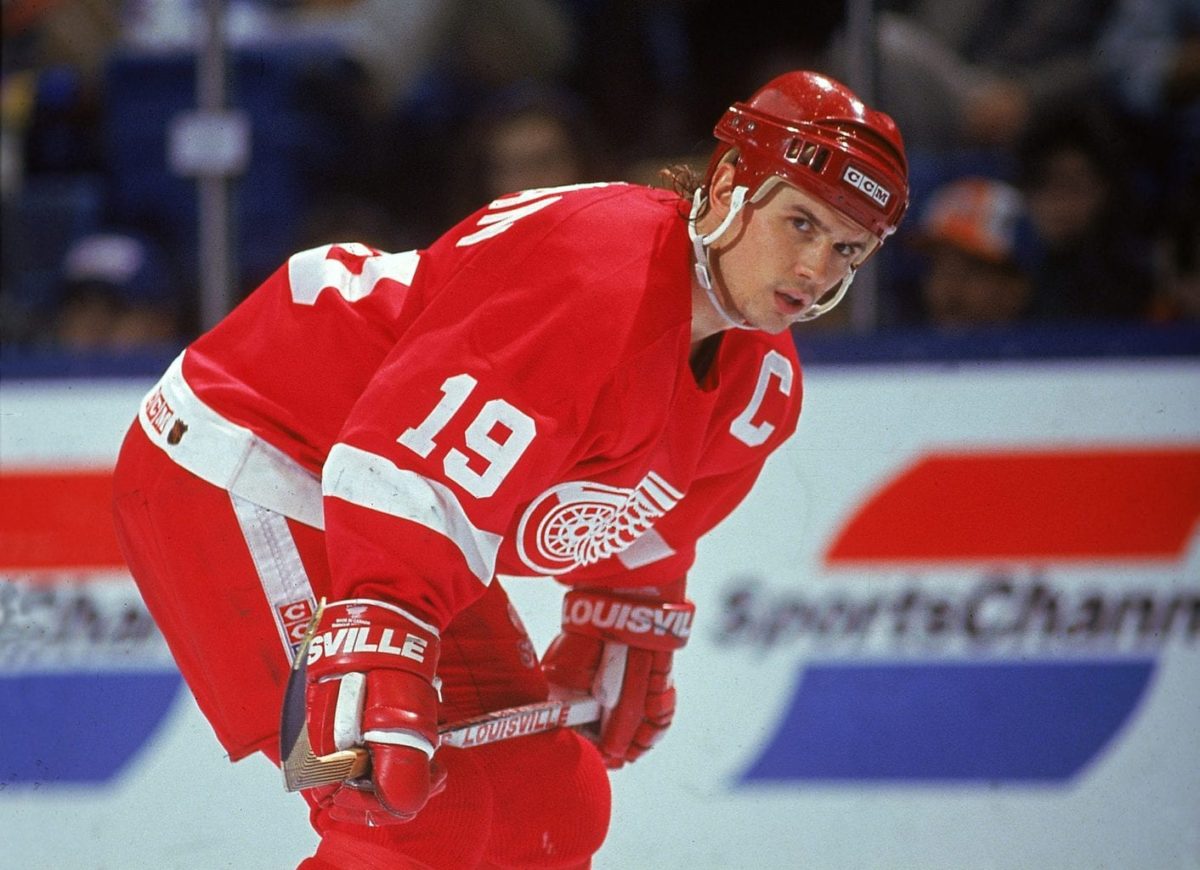 Yzerman never answering anything straightforwardly demands competition, struggle, and adversity. Fight for your job daily. Detroit players should be competing for jobs every single day. Competition during practice breeds championship teams.
A Busy Summer
Yzerman observed the team for the better part of a year before overhauling the roster. The Red Wings did not produce qualifying offers for restricted free agents Brendan Perlini, Madison Bowey, and Christoffer Ehn. Defenseman Trevor Daly retired after the 2019-20 season conclusion. Jonathan Ericsson placed on waivers, the Red Wings bought out the remainder of Justin Abdelkader's contract, and Yzerman chose not to re-sign goaltender Jimmy Howard.
These were tough decisions, I am sure, but the organization's decisions were necessary to move forward. The person in charge must always do what is best for the future at the end of the day.
Yzerman has never been afraid to cut ties with players he feels will not improve the team. The transactions mentioned above not only freed up salary-cap space but also allowed Yzerman to sign younger, more serviceable unrestricted free agents.
On Sept. 26, 2020, a trade was made. The New York Rangers needed cap relief, the Red Wings desperately needed defensemen, and additional draft picks in 2021 are always appreciated. The Rangers gave Detroit Marc Staal ($5.7 million AAV), which expires at the 2020-21 season conclusion, and a 2021 seconnd-round draft pick for future considerations.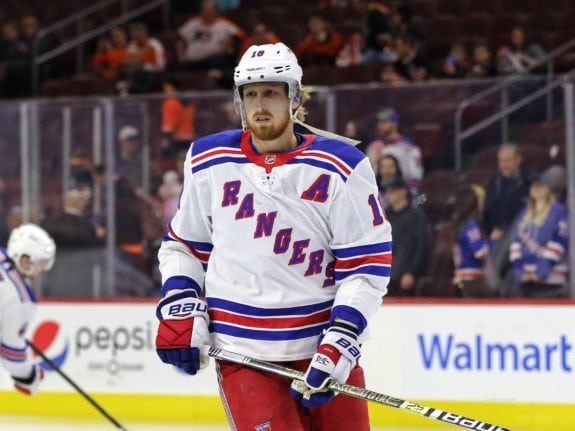 All of the free agents brought in over the summer were brought in on low-term "show me" deals to make the most out of the salary cap. Bobby Ryan signed for one year at $1 million AAV, Vlad Namestnikov for two years at $2 million AAV, Troy Stecher for two years at $1.7 million AAV, Jon Merrill for one year at $925,000 AAV, and Thomas Greiss for two years at $3.6 million AAV.
2020-21 is a new year, and new hope has arrived. With an even shorter season (56 games) and division realignment due to the coronavirus, fans could be watching games that look like playoff hockey all season. A shortened season also means less time for one-year deal players such as Ryan, Staal, and Merrill to prove their worth.
Hockeytown Buzz
There is a buzz around Hockeytown that is very reminiscent of the feeling that began through the mid-80s and early 90s. Fans and even members of the media cannot hide their excitement. When asked in a media zoom call on Dec. 20, what were Yzerman's expectations for the 2020-21 season? He answered with a smile, "I expect them (the entire team) to be energetic and enthusiastic," Yzerman said.
"It will be interesting to see who plays with whom and how we do. Right off the bat, we're going to play many games (10 games in 18 days in January). I'm excited to see the team. I can't really predict what we're going to be. I believe we'll be improved. How much, I don't know. I'm just anxious to get going."
Now that was straight from the horse's mouth. Yzerman expects his players to be in tip-top shape, energetic, and enthusiastic about playing hockey again. On New Year's Day, at approximately 10 a.m. the Red Wings took to the ice at their practice facility for the first time in nearly 10 months due to the coronavirus pause beginning March 12.
Lead the Way, Larkin
Yzerman had some challenging words for his young core late last spring. "We'll learn who really wants to be a hockey player," he said. "Guys that want to train are going to figure it out, guys that want to get better and improve are going to figure it out, and we're going to provide the resources to do that. The ones who truly don't are going to find a way (not to), and they've got as good a reason as they're ever going to have of not being able to train right now. So, a lot of the onus is on the kids' motivation."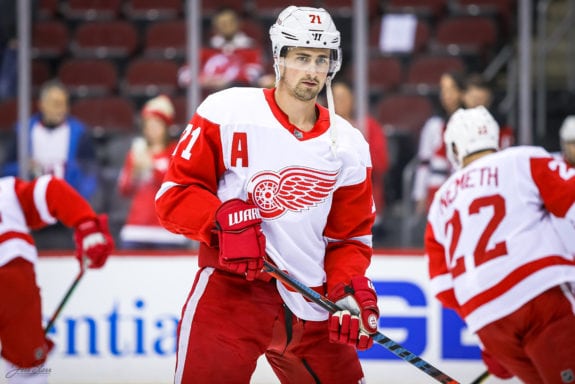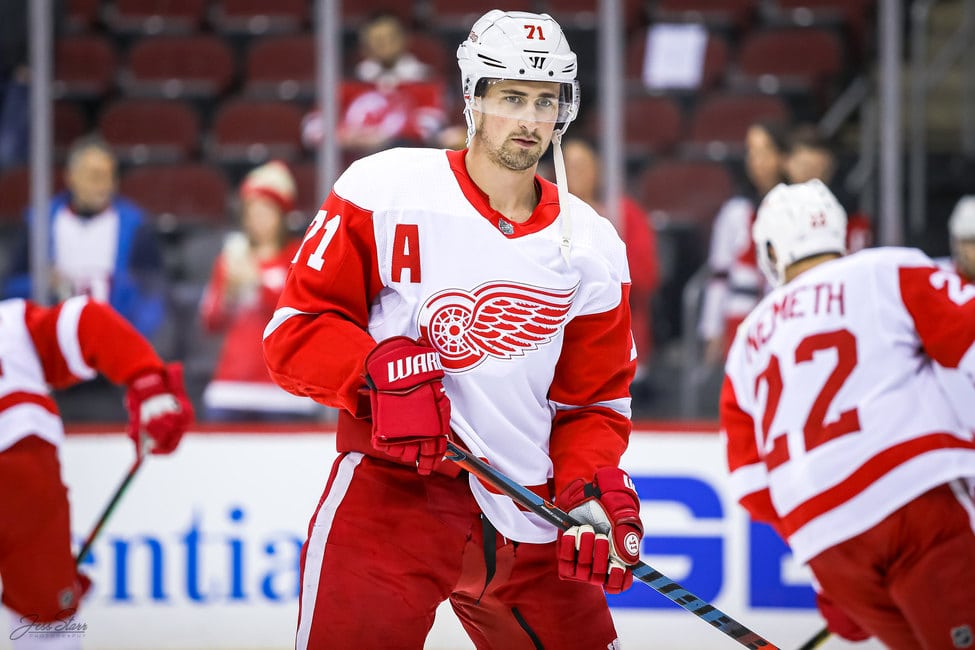 Again, this leads me to ask myself, "What does Yzerman expect from the young core of Larkin, Mantha, Bertuzzi, Hronek, and Zadina?" He expects no excuses, results, leadership, and competitiveness. He expects these players to perform at a level higher than they expected or thought they could achieve.
Yzerman will also need head coach Jeff Blashill to get the players to perform at a level that will force him (Yzerman) to keep them in Detroit, just as his mentor Scotty Bowman did. If you think the Red Wings brass cannot trade the core, remember, even Yzerman was on the trade block.
I believe the hockey world knows; Yzerman plays his cards close to his chest when asked a question; he never gives a direct answer—speaking in proverbial truths that even puzzle the NHL's most trusted insiders. I also believe he plays the mind games of Scotty Bowman embedded into him after studying under the winningest coach in NHL history for such a long period. He is telling them to produce in an encrypted way or be on the trade block.
Yzerman and his scouting department have already started drafting players that look to be of NHL caliber soon. Lucas Raymond, Moritz Seider, Jonatan Berggren, and Joe Veleno are the highest touted prospects. But we cannot complete a rebuild with only first, and second-round draft picks. A sixth-round 6-foot-7, 240-pound enigma Elmer Soderblom displayed impressive puck handling and passing skills during Sweden's performance at the 2021 World Junior Championship.
The revolution has begun, and if the current core we have is not ready to take the reins, some players are chomping at the bit to take their jobs. Defensive diamonds in the rough such as Albert Johansson, Eemil Viro would love to make the jump. Yzerman never has and never will have an issue showing a player to the door for a younger prospect or a draft pick. After all, that's the philosophy, patience.
What to Do With Blashill?
Finally, what does the Yzerman expect of Blashill? He wants to see positive development in young prospects, and he wants to see the Red Wings be competitive. Sure, they might only win 12 more games this year, and I believe that is being generous, but Detroit cannot lose by four, five, and six goals a night.
Blashill has officially had his contract extended for two more years on April 2, 2019, making 2020-21 his final season. The head coach has a record of 153-194-52, leading me to believe he is also in the hot seat. The number of head coaches fired during the 2019-20 season was staggering, though, to the surprise of many, Blashill was not. While one side of the fan base wants Blashill fired, the other side argues, "No coach could win with the 2019-20 roster," which may be true to a degree. Last year's play was indescribably foul.
But Yzerman made plenty of moves to drop dead weight, add secondary scoring, and shore up the blue line with young capable defenders while also adding a netminder that should be much more formidable in the crease. Again, playing his hand close to his chest in a deafeningly silent fashion, he says to Blashill, "show me."
Constant Gentle Pressure
Yzerman is a very patient man and knows full well there is a process to a rebuild, but believe me, he wants the rebuild to be over as quick as possible. The Tampa Bay Lightning drafted Steven Stamkos and Victor Hedman in 2008 and 2009; Yzerman came on board on May 25, 2010. The Lightning already had their franchise center and defensemen by the time he took over the rebuild, and it still took them 10 years to finally hoist the Stanley Cup this past September.
While I do not think it is wrong to expect noticeable improvement within the Detroit organization, I believe it is wrong to be upset when they don't qualify for the 2021 playoffs. I believe in Yzerman when he preaches patience. We need to be patient, but we also need the Red Wings to be competitive. He is a patient man that applies constant gentle pressure, and if push comes to shove, he will make a necessary change.
The Illitch family brought Yzerman back into the Red Wings Organization on April 19, 2019, and the Lightning hoisted the Stanley Cup on Sept. 28, 2020. For Yzerman to come that close and get nothing, I think he will do whatever it takes.
---
---