The Russians went into last night's game knowing that they would likely need a perfect effort to beat the Canadians and make it to the gold medal game. Despite being big underdogs, the loss was still disappointing and plenty was left on the table.
Russia failed to tally a goal in the game, even though there are mixed opinions about the goal that was called back for offside in the second period. They couldn't get anything going, and the Canadians cruised to a 5-0 victory, leaving Russia needing a win today to medal at the World Juniors.
There's still one more game to go, and Russia will need to regroup and put this behind them if they want to beat the Finns and win a bronze medal. Here are the takeaways from the semi-final game.
Dominated in All Aspects
For as good as this Russian team has been at times through the World Juniors, you wouldn't have known them from the teams already eliminated from this tournament. They looked poor and like they didn't belong on the same sheet of ice as the Canadians. It's even more disappointing when you know that there was more to give for the Russians.
It's not on the shoulders of any single player, but rather a combination of an off night and an outstanding performance from Team Canada. On paper, the Canadians are far and away the best team in the tournament, and it's not even close. They have players on the fourth line that could be first-liners on some of the other top teams.
Russia was out-played in every aspect. They got beat to loose pucks, they got outshot, they got out-chanced, and they gave up the better scoring chances all night long. They didn't play with the desperation you would have expected in this game. Something was missing.
No matter the reason, the Russians couldn't hang. This Canadian team is just too stacked right now. That being said, they had higher hopes. Unfortunately for Russia, all they can do now is move forward and play their best game against the Finns. A far cry from their golden dreams.
Askarov Outplayed by Levi
When Yaroslav Askarov was drafted 11th overall by the Nashville Predators, there was talk about him being the next Carey Price. He has yet to be great in the World Juniors, even going back to last year's tournament, and last night, he was completely outplayed by Devon Levi.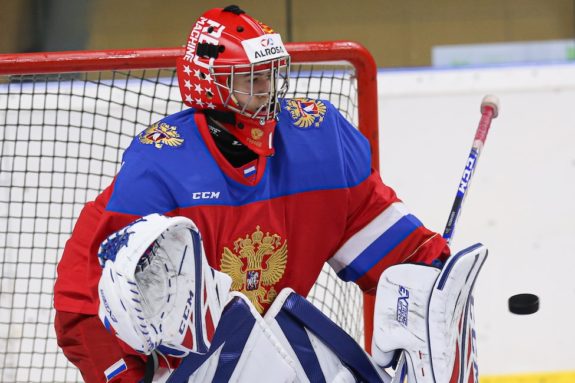 What was supposed to be one of Russia's biggest strengths in this tournament has turned out to be a weak spot, particularly in the big moments of games. Askarov has failed to be the rock in the net that Russia needed with a rather young defensive core.
To keep it short and sweet, Askarov needs to be better. Not only to beat the Finns but also to be successful at the next level. He has all of the talent you could ask for, but a strange tendency to allow a weak or untimely goal could be his undoing if he can't correct it before heading to Nashville.
On the day, however, Levi stood on his head and never gave the Russians a chance in the game. He is calm, cool, and collected at all times. His rebound control is already at an elite level, and for a player that played with the Carleton Place Canadians of the CCHL last year, he exceeded expectations in every way possible.
Need to Regroup
There will be no time for the Russians to stew on this game. They will be back on the ice this afternoon to play the Finns for the bronze. It's not the gold you may have wanted, but it's something.
Finland came up just short on a spirited comeback effort in last night's game against the United States. They managed to tie up the game late, but Arthur Kaliyev scored on a rocket from the slot. The theme of the game was resilience.
Nothing about a game against Finland is going to be easy. They play hard and they won't quit. Like Russia, they want to head home with a medal. Whatever team is able to regroup and play their best hockey today is going to come away with a win.
It will take an all hands on deck effort once again. Something the Russians have shown to be capable of in the past. It won't be easy by any means, but they can win this game. The flight home will be much better with some hardware.
All the 2021 World Junior Championship Team Information:
Austria — Team Preview — Roster
Canada — Team Preview — Roster
Czech Republic — Team Preview — Roster
Finland — Team Preview — Roster
Germany — Team Preview — Roster
Russia — Team Preview — Roster
Slovakia — Team Preview — Roster
Sweden — Team Preview — Roster
Switzerland — Team Preview — Roster
USA — Team Preview — Roster
Selection Camp Invites by NHL Team
Draft Eligible Players to Watch
One Player to Watch for Each World Junior Team
7 Predictions for the 2021 World Junior Championship
---
---