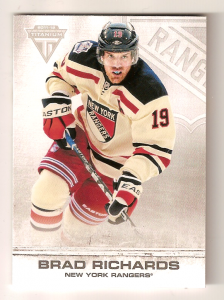 Back in 2000-01, Pacific Trading Cards issued the first set to include a memorabilia card in every pack of a product – Private Stock, followed up soon after by Titanium.
Of the two brands, Titanium ended up being the more popular with collectors over time, and is still to this day heavily pursued by hobbyists.
Thus, it's no wonder that Panini, who owns the rights to the Pacific brands, would choose Titanium as it's renaissance brand; and let's get this clear off the bat – they did it in style.
The fun can be found throughout the set in various elements:
The base cards mimic the 2003-04 design with a silver/grey background with a portion of the team logo. This really makes the front player photo (or should I say art-rendered reproduction) really pop.
The rookies, much like in the 2001-02 series, are crash numbered to the depicted player's jersey number. Yes, just like in 01-02 with Ty Conklin, this means that there's a true 1/1 rookie card.
The design for the baseline jersey cards follows a familiar horizontal design with a fairly decent-sized swatch.
The big difference across these features, however, is a lack of foil-based cards or accenting, which was commonplace in the original series. For collectors like myself who don't like the faux metal look, that's just fine, but there are certainly hobbyists whose preference would bend the other way.
Of course, there are a good variety of parallels and assorted jersey goodies to talk about. Cards in the series can be found with as many as six jersey swatches, at levels that start at one-colour swatches, move up to "prime" two-colour pieces and then elevating to patches. There are also some cards that carry autographs and jersey pieces, along with some other
Overall, I have to say that opening Titanium was as much fun as I've had opening any pack of cards in many years. It took me back to the days of laying down "serious cash" as a university student (anywhere from $15-$20) for a pack of the original, and I'd happily recommend anyone itching for a nostalgia kick to do the same.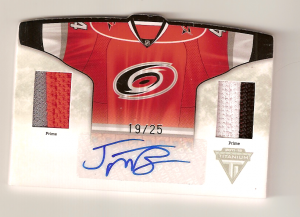 The Hockey Breakers Report
Packs per box: 5
Cards per pack: 4
Expected Inserts: 5
# of Inserts in my box: 5
Top Card: Home Jersey/Prime/Autograph Jamie McBain #/25 – While McBain may not become an NHL superstar, the design of this card is beautiful and features two two-colour swatches, adding up to represent all colours found in a Hurricanes jersey
Other Inserts: Game-Worn Gear Loui Eriksson, Game-Worn Gear Trevor Daley, Four-Star Memorabilia Maple Leafs (Reimer/Phaneuf/Grabovski/Kessel), Private Signings Dany Heatley