TSN's Ryan Rishaug was taking heat on Thursday from fans of the Edmonton Oilers. Many were not pleased that the hockey reporter, who almost exclusively covers the Oilers, would tweet out a video of Connor McDavid rubbing and nursing what might be a potential left leg injury. The responses were swift and many got quite cruel as fans called him names for potentially revealing something that would have been better left kept under wraps.

The video has over 2.5 million engagements on Twitter and over 700 comments from fans, many of whom blasted the reporter. While it's foolish to assume the Kings weren't already aware of a potential knee issue (should McDavid have one), whether Rishaug felt the need to explain or he was asked to by a TSN co-host, the journalist took to the airwaves on Friday and explained his actions.
Just Doing His Job For TSN
Rishaug understood the passion of Oilers' fans and the concerns that he might be revealing secrets that could put the Oilers at a disadvantage. Any ammunition for the Los Angeles Kings to attack or target McDavid's leg as the Oilers try to close out their first-round series in an elimination Game 6 on Saturday would be troublesome. But, Rishaug noted he was simply doing his job.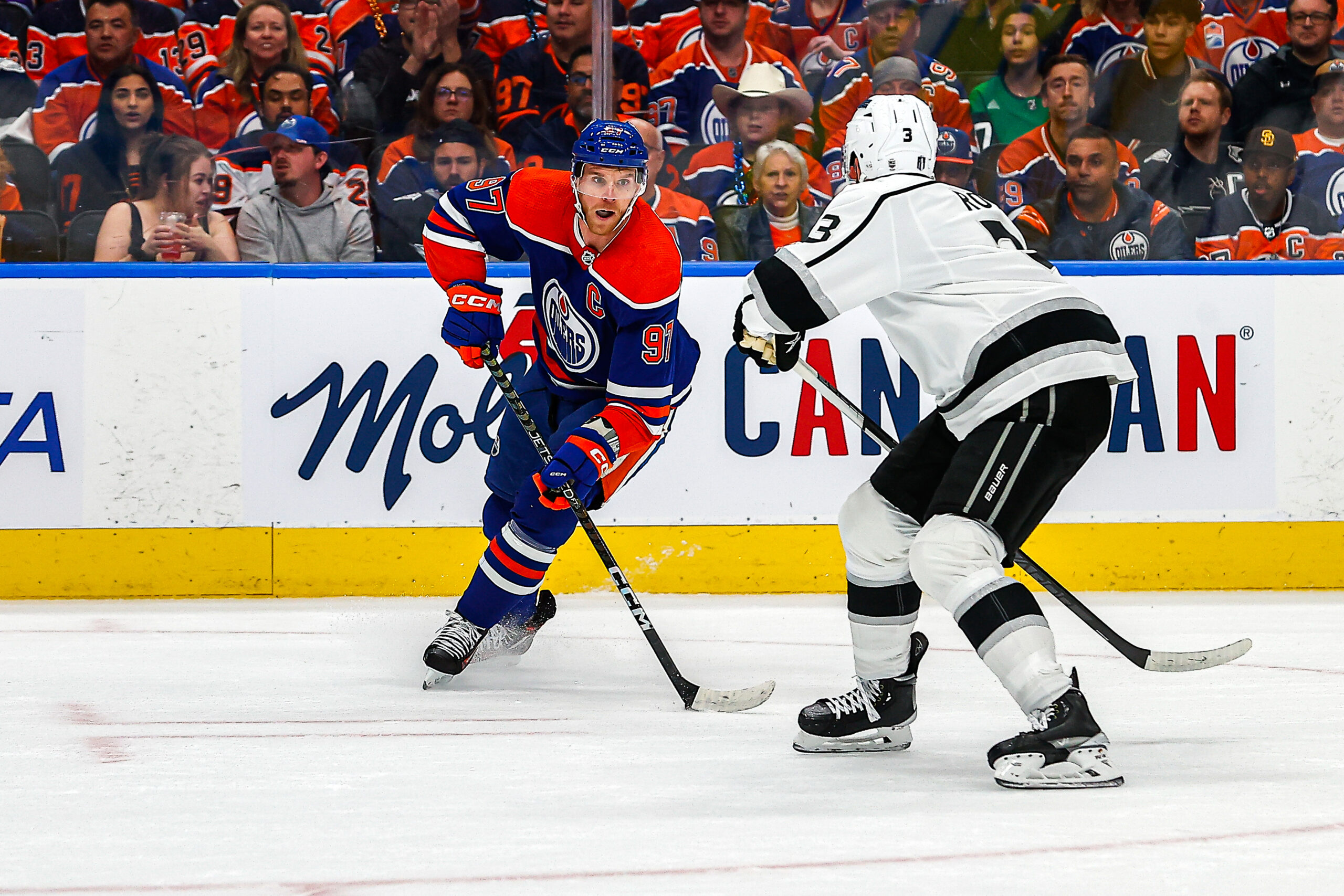 Speaking to the people who genuinely wanted to know why he tweeted out the video, he said, "I need to clarify a few things; I don't work for the Oilers, I work for TSN." He added, "My job as a reporter is to go to the rink a report the facts as I see them. It's not my job to decide, is this good or bad for Connor McDavid, is this good or bad for the Edmonton Oilers and their chances of winning this series and filter information through that filter." He added, "That thought process makes it so that I get fired." Fans need to remember that Rishaug is not an Oilers fan, per say. His job is to cover the team and report on the good and the bad.
McDavid Is Too Important To Not Reveal Potentially Breaking News
Rishaug also noted that McDavid is far too important of a player in the NHL or the series to simply ignore what could be an important story. "That's not what journalism is," he noted. He said if it was Anze Kopitar who appeared to be nursing something, he would have done the exact same thing.
Related: NHL Rumors: Maple Leafs, Jets, Avalanche, Oilers, Senators
An injured or less-than-100% McDavid is big news. Not only might it explain why he's only got two goals in the series, it could change the outcome of the series and fans want to know the most up-to-date details about his condition. Rishaug said he didn't make a bigger deal of it than it was, he simply noted that it appeared he might be struggling with something like many NHL players do during a playoff series. He also said the fact that McDavid was taking a full practice and stayed out on the ice for extra time when the practice was over suggests this is not all that serious of an issue.
The Rest Will Do McDavid Good
The fact the Oilers have three days off between Game 5 and Game 6 is probably a good thing. It will give McDavid and anyone else who is dealing with injury issues (like Evander Kane) a little extra time to take it easy and get treatment for their issues. At the same time, it might be imperative the Oilers try to close out this series on Saturday and not be forced into a Game 7.
---
Latest News & Highlight
---
Not only does going seven games provide the Kings a chance to boot the Oilers from the playoffs, but it's just one more game that the Kings can target McDavid and his sore leg. Any games where he can avoid contact and keep that knee rested is a good thing. This is just one series and guys like Drew Doughty won't be the only players taking aim at the best player in the league while trying to slow him down in any way possible.
Is McDavid hurt? Maybe. Is he so hurt that he can't play a be a difference-maker for the Oilers? Time will tell, but he's got eight points in five games. He's pretty good, even if he's only working with one good leg.