With the 2016 NHL Free Agency period set to begin in about two weeks, on July 1st, we take a look back at how the contracts turned out from one year ago.
Each year, general managers dish out absurd contracts to players who have not shown the consistency to be deserving of such a cap hit.
2015 was no different. It was a relatively weak free agent class, but those who were coming off of a solid 2014-15 season would be paid well. While the contracts handed out didn't seem to have a fatal effect on any one team, they certainly presented burdens for a few.
5: Antoine Vermette – 2 Years, $7.5 Million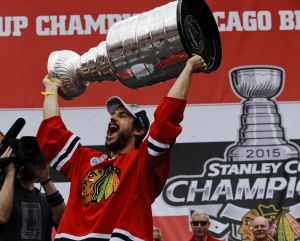 Vermette was traded to the Chicago Blackhawks at the 2014 NHL Trade Deadline, where he went on to win his first career Stanley Cup despite scoring just four goals and 10 points over a total of 39 games. Although he had little, to no effect on the Blackhawks winning their Stanley Cup, the Coyotes were determined to bring him back. He signed a two-year deal with a $3.75 million cap hit, making him the second highest paid forward on the team behind Shane Doan.
While he managed to have a decent year offensively, scoring 17 goals and 38 points, it was still much lower than what Arizona might have been hoping for, especially with the surge of Anthony Duclair and Max Domi. Possession wise, Vermette was terrible. He ranked 13th among the team's forwards in Score-Adjusted Corsi For Percentage, with just 45.47% of the shot attempts. With the same adjustment, his Goal For Percentage was again 13th, sitting at just 43.87%. In all, it is obvious that Vermette didn't have a very positive impact on his team's ability to win games.
The Coyotes will be glad they only have Vermette under contract for one more season after seeing his production top out at under 0.5 points per game as a 33-year-old. So while the cap hit may have been a little excessive for a player who seems to hurt his team more than he does help, the term was good at just two years, saving the Coyotes from having a sore spot in their salary cap for multiple years.
4: Brad Richards – 1 Year, $3 Million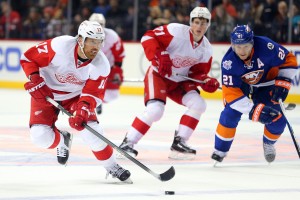 Brad Richards was coming off of a Stanley Cup winning season with the Chicago Blackhawks heading into 2015 free agency. Despite his age catching up with him, Richards remained an integral part of the Hawks' run to the Cup. He wound up with 12 goals and 37 points over 76 regular season games, then add 14 more points in the playoffs. As a 35-year-old, teams were aware that he wasn't the same player he was during him prime years, but thought he could still be a valuable piece, especially for leadership.
The Detroit Red Wings would reward Richards with a $3 million contract, making him the sixth highest paid forward on the team. Richards would have a decent 2015-16 campaign, but his age was visibly holding him back. He ended up with 10 goals and 28 points over 68 games, playing 14:47 minutes a night, usually as a third-liner. He was actually very solid possession wise, ranking fifth among forwards with a score-adjusted 53.93% Corsi For rate. While he certainly wasn't terrible in any way, the Wings definitely had hoped that Richards would be able to find some sort of offensive resurgence.
This contract wasn't necessarily terrible, given that it was just one-year, but the $3 million certainly could have been used to shore up some of Detroit's other short fallings that led them to being eliminated in just five games.
3: Mike Green – 3 Years, $18 Million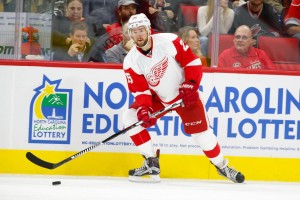 Now we get into the truly worrisome contracts. Mike Green was once the Erik Karlsson of the NHL, once scoring 31 goals and topping 70 points twice in his career. After a few injuries led to shortened seasons, Green finally seemed to find his game again in 2014-15. He rose back up to 45 points, and as a 29-year-old free agent, became a very valuable piece. The Red Wings offered him a three-year contract with a $6 million cap hit each year, and he accepted.
Green did have a solid first year with Detroit, posting 35 points and playing top-four minutes, as well as manning the first power-play unit alongside Niklas Kronwall. He has great possession numbers as well, 54.8% of shots attempts for his team. However, Green sometimes seemed to be lacking some defensive instincts and became a reason for scoring chances against his team.
The problem with this contract is the $6 million cap hit. That ranks Green 13th among all NHL defencemen's cap hits. In fact, Green is currently making more than the likes of Duncan Keith, Oliver Ekman-Larsson, and T.J. Brodie. Although he is still a 30-year-old, Green is without a doubt past his prime years and isn't the best in the defensive zone. If he isn't producing elite offensive numbers, his value declines dramatically, and may do so over the next two years with Detroit.
2: Karri Ramo – 1 Year, $3.8 Million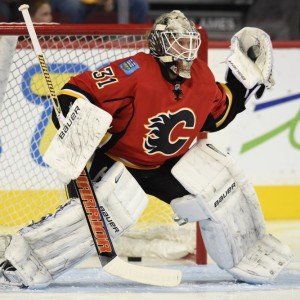 After a few decent seasons with the Calgary Flames, the team thought that Ramo had the potential to take over as their starting goaltender. As such, they signed him to a 'trial run' type contract with a $3.8 million cap hit. Posting a .911 and .912 SV% over the previous two years, the 28-year-old believed it was his time to take over the crease and drive Calgary to a longer playoff run.
However, the Flames quickly realized that Ramo was not an NHL starter. He struggled out of the gate, and Calgary was forced to rotate three goaltenders and hope one would eventually get hot. But, none of them ever did, with Ramo's .909 SV% leading the way. As a result, the Flames had tied up nearly $9 million in three subpar goaltenders. As expected, their season soon started to fall apart, with a playoff berth seeming almost impossible.
While Ramo's $3.8 million cap hit was obviously far too steep of a price to pay for what are average backup numbers, it did not limit the Flames from spending money elsewhere, as they came in $10 million under the salary cap ceiling. In any case, paying Ramo $3.8 million, who had never stood out and played phenomenal hockey in the NHL, was certainly far more than what he ever deserved. Luckily, it was just a one-year contract.
1: Andrej Sekera – 6 Years, $33 Million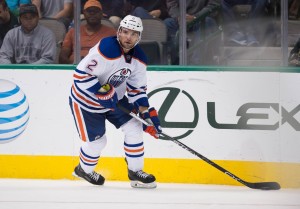 The Edmonton Oilers were able to net one of the big fish on the first day of NHL free agency in 2015 in Andrej Sekera. There was lots of interest in him, but the Oilers won the bidding with a six-year contract and a $5.5 million cap hit. Sekera was coming off of a 44-point season in 2013-14 and was traded for a top prospect and a first-round pick at the 2015 Trade Deadline. With that, he became a hot commodity in the NHL, and was rewarded with a huge contract.
In Sekera's first year with the Oilers, he was second only to Oscar Klefbom in time on ice per game, playing 21:50 per game. He paced Oilers defencemen in points with 30, but was a lousy eighth in score-adjusted Corsi For with a 47.95% rate. Sekera was often seen as a defensive liability on a disastrous Edmonton team, turning over the puck and making poor decisions on breakouts. It's safe to say the 30-year-old was not a model defenceman.
Everything about this contract is frightening. At a $5.5 million cap hit, Sekera ranks among the top 23 defencemen in the league. Is Sekera a top-pairing defenceman? Not even close in my opinion, and likely not in Oilers fan's opinions either. To make matters worse, Edmonton has to stick with him for another five seasons, by which time he will be a 35-year-old. If they're lucky, the Oilers will be able to get rid of Sekera's contract via the Las Vegas Expansion Draft.