Aidan McDonough made his NHL debut in the Vancouver Canucks 4-2 win against the Chicago Blackhawks on March 26. He played 10:03 and registered one shot on goals and two hits. The club selected McDonough in the seventh round of the 2019 Draft with the 195th pick. His debut made him the fourth forward from the Canucks 2019 Draft class to play in an NHL game. The organization held nine draft picks that year, and here is how they've developed since. 
First Round: Vasily Podkolzin
The Canucks selected Russian forward Vasily Podkolzin with the 10th overall pick. The forward stayed in the Kontinental Hockey League (KHL) as he was under contract with St. Petersburg SKA. He played two more seasons with the club, totalling seven goals and 19 points in 65 games. He also appeared in the 2020 and 2021 World Junior Championships (WJC), posting three goals and nine points in 14 games.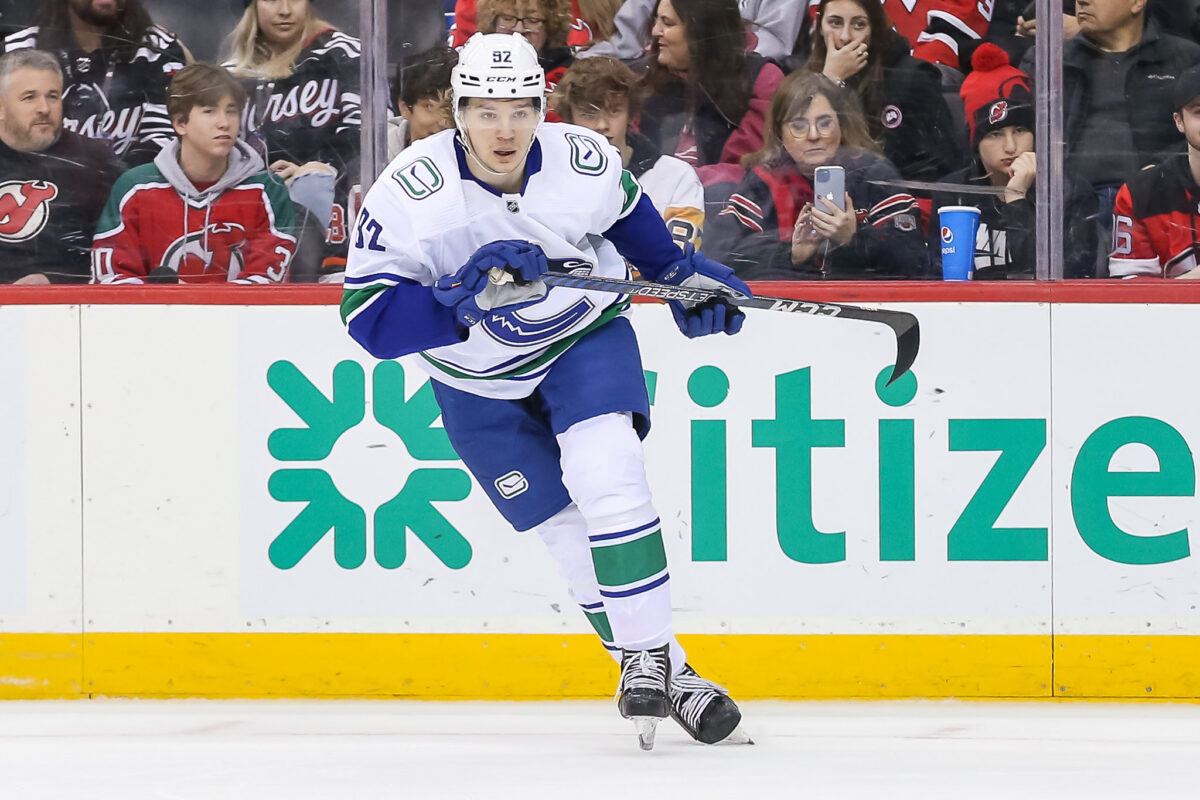 Podkozlin made his debut with the Canucks in the 2021-22 season. He played 79 games, scoring 14 goals and posting 26 points. Despite playing almost every game in his rookie season, Podkolzin struggled at the start of his sophomore season. In the first six games of the 2022-23 campaign, he posted three assists in 16 games and was a healthy scratch six times. As a result, the Canucks sent him to Abbotsford to play in the American Hockey League (AHL). Through 28 games, he's scored seven goals and posted 18 points. During his time in the AHL, he worked on his game with Henrik and Daniel Sedin (from 'Canucks bullish on Vasily Podkolzin 2.0 as better version of promising winger,' The Province, March 1, 2022).
"It's so great to work with a guy like that on all the little things that are so important," Podkolzin said. "I'm a young player and it's important for me to have those minutes with them (Sedins)."
Podkolzin added the Sedins helped with the mental aspect of the game, telling him to play on his instincts. He said he felt confident and is playing harder on the puck. Canucks' head coach Rick Tocchet said when the forward moves his feet, he's like a bull. Podkolzin stands at 6-foot-1 and 190 pounds, and Tocchet sees him as a power forward, which he has the tools to be.
---
Latest News & Highlights
---
Although Podkolzin hasn't exactly stuffed the stat sheet since returning to the NHL earlier in February (four goals in 23 games), he continues to work hard under his new head coach. The Russian discussed how he should finish this season and his thought on 2023-24.
Related: Canucks 2022-23 Trade Wins & Losses
"I'm a young guy, and I know my role right now," he said. "I need to play strong. I need to get the trust from coaches … and I think they will give me more minutes. I understand my role here. I can score goals also but, like, I can't score 30 right now. But I can do some good things for the team and then just build for rest of the season for next year as well. Because next year is going to be the most important on my career."
Looking back at the Canucks drafting Podkolzin, the organization could have selected a player who was closer to being NHL-ready. The Minnesota Wild drafted Matt Boldy with the 12th overall pick, and the Montreal Canadiens drafted Cole Caufield with the 15th overall pick. Both players rank in the top 10 in scoring from the 2019 Draft while playing close to the same amount of games as the Russian. However, Podkolzin will be a work in progress as he continues to learn the NHL game and could become a valuable member of the organization.
Second Round: Nils Hoglander
In the second round, the Canucks selected Nils Hoglander with the 40th overall pick. After his draft year, he played for Rogle BK in the Swedish Hockey League (SHL). In the 2019-20 season, he scored nine goals and posted 16 points in 41 games. The following season, he scored five goals and posted 14 points in 23 games before joining the Canucks to start the 2020-21 season. The Swedish forward was the first player in the draft class to make his NHL debut.
Hoglander impressed at training camp, and the club named him to the opening-day roster. Throughout the season, he was one of the few bright spots on the team as he showed his skill and energy, posting 13 goals and 27 points in 56 games. Similar to Podkolzin, Hoglander experienced a sophomore slump as well. Former head coach Bruce Boudreau grew frustrated with the forward's two-way game.
"He's got some scoring potential, but he needs to learn how to play the game," Boudreau said. "He's still a young kid, quite frankly, and I don't know, someday he might score 40 goals, but if you're going to hover around the 20-goal mark, you better learn to play both ends of the ice.
"As a guy that played overseas, he's still learning that game. There's a lot of things that he could do better, but his natural talent is definitely there."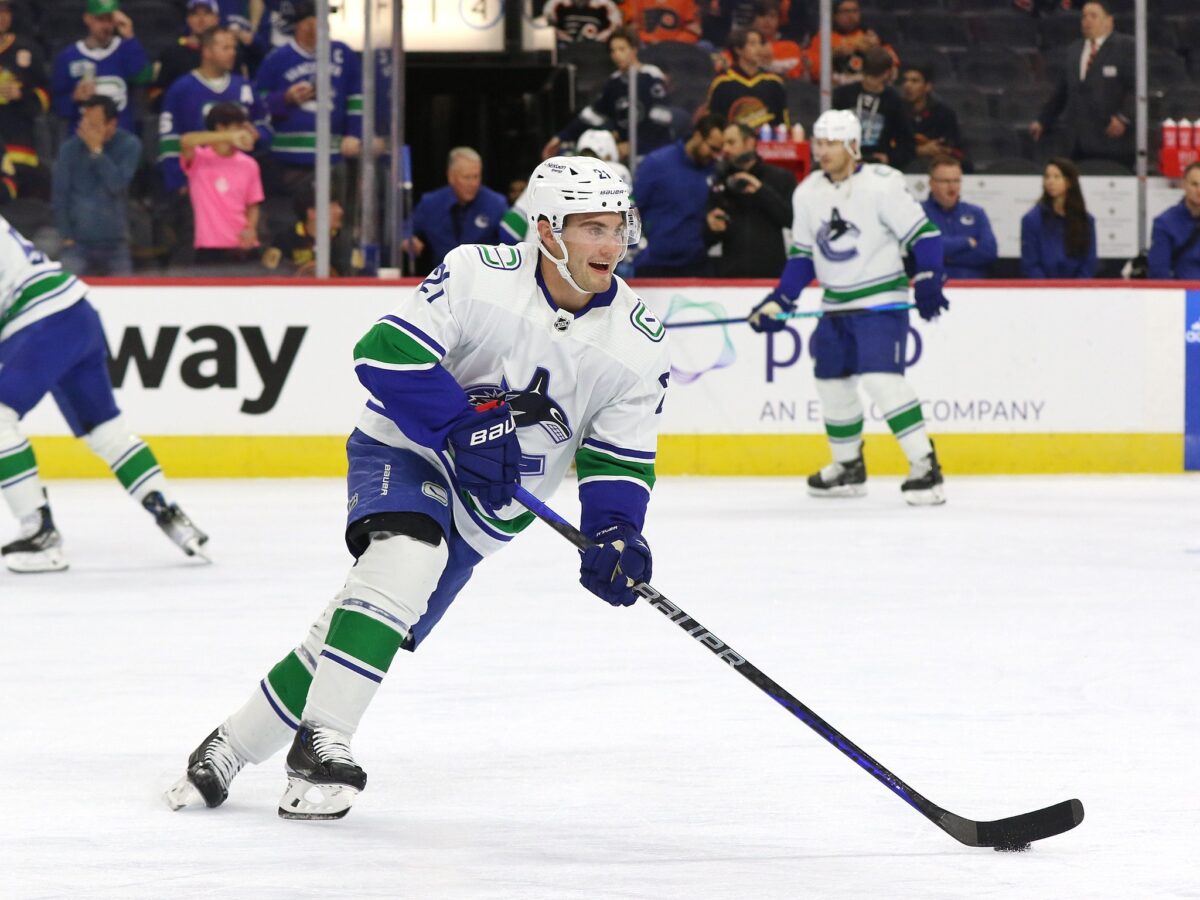 As a result, he finished with 10 goals and 18 points in 60 games. This season, his struggles continued as he was inconsistent all year. Hoglander was a healthy scratch multiple times, played on different lines and didn't look like the same player from his rookie season. Therefore, the Canucks sent him to the AHL late in December to play along with Podkolzin and other prospects. He's posted 14 goals and 29 points in 40 games with the team this season.
Hoglander is a good second-round pick for the Canucks despite the struggles over the last two seasons. He ranks 10th in the draft class in the points department with 54. Hoglander has the upside of becoming a top-six scoring forward for the team. However, he is a restricted free agent (RFA) this offseason and has been involved in trade rumors for some time. Either he returns to the organization or is shipped off for an NHL-ready defenceman.
Fourth Round: Ethan Keppen
The Canucks included their third-round pick in the package they sent to the Tampa Bay Lightning for J.T. Miller. Therefore, their next pick came in the fourth round. They selected Ethan Keppen with the 122nd overall pick. 
Related: Canucks' Andrei Kuzmenko Is More Than Just A Goal Scorer
Keppen played with the Flint Firebirds of the Ontario Hockey League (OHL) in 2019-20, scoring 16 goals and posting 29 points. The following season, he played seven games with the Utica Comets in the AHL on an amateur tryout contract, posting one assist. The Canucks decided not to sign him in the 2021 offseason, which made him eligible for the 2021 Draft (from 'Canucks: Ethan Keppen set free, big plans for Viktor Persson and Karel Plášek,' The Province, May 31, 2021). Instead, he signed a pro contract with the Abbotsford Canucks. He played 11 games in Abbotsford in the 2021-22 season but returned to the OHL to play with the Firebirds for the remainder of the season. He posted 23 goals and 40 points in 42 games. Keppen signed with the Florida Panthers AHL affiliate, the Charlotte Checkers in the 2022-23 offseason. He has four goals and six points through 35 games with the club.
Before the Canucks drafted him, Keppen carried a struggling Firebirds team. He had impressive hands, and good decision-making while playing with a high energy level. However, his skating needed work. After suffering from multiple injuries, he struggled to develop, and the Canucks decided to not sign him.
Fifth Round: Carson Focht
In the fifth round, the Canucks selected Carson Focht with the 133rd pick. The centre played his final Western Hockey League season after his draft year with the Calgary Hitmen. As an assistant captain, he scored 32 goals and posted 56 points in 61 games.
The Canucks signed him to a three-year deal in January 2021. He joined the Comets in the 2020-21 season, scoring four goals and posting 12 points in 28 games. In the 2021-22 season, he split his time between the AHL in Abbotsford, scoring three goals and 10 points in 41 games and playing three games in ECHL with the Kalamazoo Wings. This season, he played three games in Abbotsford, scoring two goals. He also played 33 games with the Wings, scoring six goals and posting 21 points, but is now with the Florida Everblades, posting two assists in six games. He will be a restricted free agent after this season, and his time in the Canucks organization could be up.
Sixth Round: Arturs Silovs
The Canucks held three sixth-round picks in 2019. The club likely drafted their future in net with their first sixth-round pick. With the 156th pick in the 2019 Draft, the organization selected goaltender Arturs Silovs.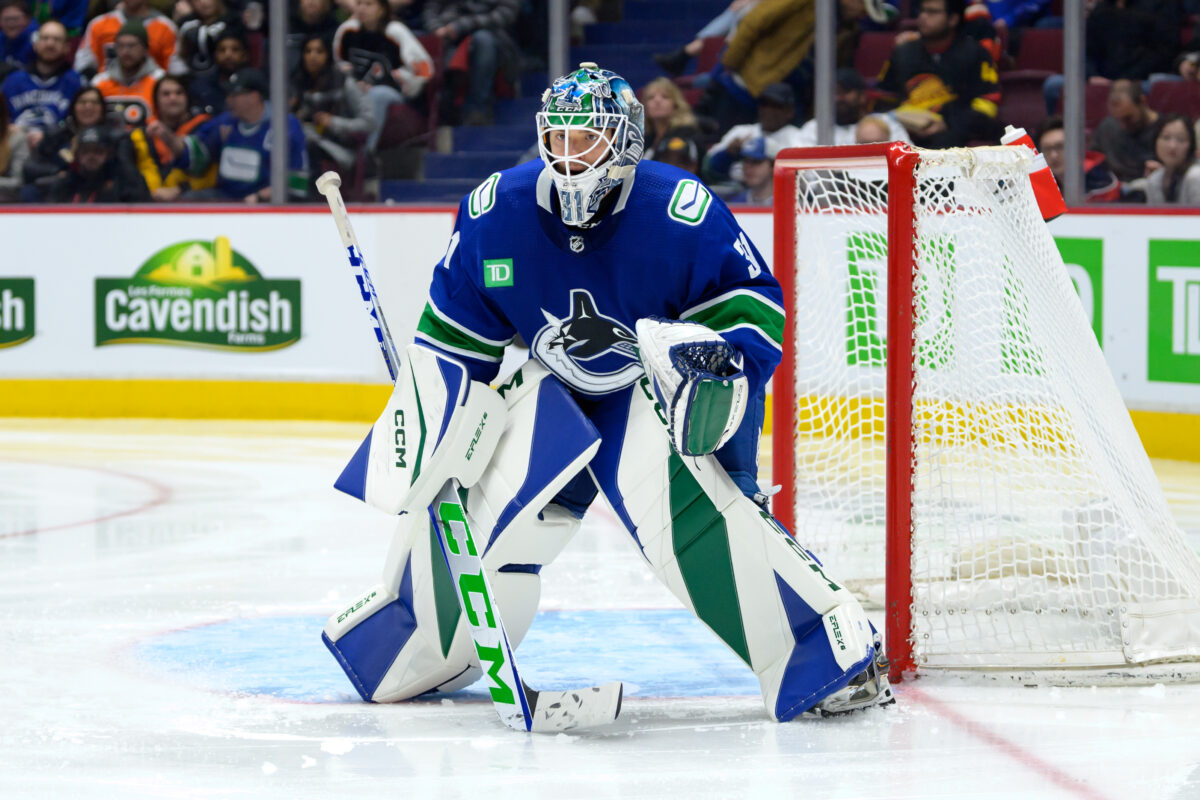 The Latvian netminder played with the Barrie Colts in the OHL in the 2019-20 season. He played 36 games, posted a 16-13-4 record, 3.87 goals against average, a .891 save percentage, and one shutout. The following season, he didn't play much in the COVID-19-shortened season. Silovs played two games in Latvia with HS Riga and four games with HK Mogo. He played one game in the AHL with the Manitoba Moose, recording a 2.07 GAA and a .920 SV% in a loss.
Silovs split the 2021-22 season between the AHL and ECHL. He played 10 games in Abbotsford, posting a 3.10 GAA, .888 SV%, one shutout and a 3-6-0 record. In the ECHL, he played 10 games with the Trois-Rivieres Lions, posting a 2.37 GAA, .920 SV%, one shutout and a 6-3-1 record. Silovs served in net for Latvia at the 2022 World Championships. He played four games and performed better than Columbus Blue Jackets netminder Elvis Merzlikins. He posted a 1.22 GAA, .952 SV% and a record of 2-2-0 in the four games he played, while Merzlikins posted a 4.26 GAA, .862 SV% and a 2-3-0 record.
Related: Canucks Make Smart Bet By Trading for Kravtsov
Silovs played more games in the AHL after his impressive performance at the 2022 World Championships, especially with Michael DiPietro asking for a trade. With DiPietro out of the picture, Silovs has played 40 games in Abbotsford. He has a 2.49 GAA, a .907 SV%, three shutouts and a 23-11-5 record. While Thatcher Demko recovered from his lower-body injury, he played five NHL games this season. He recorded a 2.75 GAA and a .908 SV% while winning three games. At 22 years old, Silovs is showing promise as the organization's future in net. The Canucks' senior director of player development and general manager of the Abbotsford Canucks, Ryan Johnson, discussed his development (from 'Canucks prospect stock watch 2023: Who's up, who's down in Vancouver's farm system?,' The Athletic, March 29, 2023).
"Goaltenders are typically slower, more patient (to develop)," Johnson said. "I always talk about you got to get to that 120-game mark in the American League before you know what you have but he's obviously expedited that thought a little bit with what he's been able to do in a short amount of time here."
Silovs has played 51 AHL games and will likely start in Abbotsford through next year. He should see a few more NHL games and could end up as the team's backup goaltender at some point next season.
Sixth Round: Karel Plasek
Karel Plasek was the second sixth-round pick for the Canucks in 2019. With the 175th overall pick, the club added the left winger. He played 34 games in Czechia with HC Kometa Brno, scoring three goals and posting six points. He also played four games with Czechia at the 2020 WJC, registering one assist. In 2020-21, he scored six goals and 10 points in 44 games with Brno.
He signed a three-year, entry-level contract with the Canucks in 2021. In 2021-22, he played eight games in Abbotsford, missing most of the season due to a knee injury. In 2022-23, he didn't make the roster and was loaned to HC Olomouc and posted six goals and 15 points in 31 games. As for his future as an NHL prospect, the chances of him making the main roster aren't high. Although, he could become a member of the minor league squad at some point.
Sixth Round: Jack Malone
With the 180th overall pick, the Canucks selected forward Jack Malone. He played in the NCAA in 2019-20 with Cornell University, posting two goals and eight points in 27 games. In 2020-21, since his NCAA season was cancelled due to COVID, he returned to the United States Hockey League (USHL) with Youngstown Phantoms. In his return to the USHL, he scored 11 goals and posted 41 points in 44 games.
Malone returned to Cornell in 2021-22, playing 32 games while scoring eight goals and posting 20 points. In 2022-23, he played in his third NCAA season, scoring eight goals and posting 17 points in 34 games. He is a secondary offensive option at Cornell this season. Malone hasn't developed his game offensively since his draft year, and there is no guarantee he will stick around with the organization further.
Seventh Round: Aidan McDonough
The Canucks made two picks in the seventh round, and McDonough was the first one. The club selected him at 195th overall. Following his draft year, he played four years in the NCAA with Northeastern University.
In his first year, he scored 11 goals and posted 27 points in 31 games. The following season, he scored 10 goals and posted 20 points in 21 games. He was named an assistant captain in his third year at Northeastern University as he scored 25 goals and posted 39 points in 38 games. In his final season in NCAA, McDonough was named captain and scored 20 goals and posted 38 points in 34 games. After the season, he signed a two-year entry-level deal with the team. General manager Patrik Allvin discussed his signing and what is next for the young forward.
"Aidan has continued to improve his game each year since being drafted," he said. "He has steadily grown into a leadership role with Northeastern throughout his time there and our development team is looking forward to working with him as he starts his pro hockey career."
Despite playing against the Blackhawks, McDonough hasn't drawn into the lineup since. However, Tocchet stated he believes it is good to give the young forward a taste of what the NHL is like, as it gives him a better idea of how to prepare during the summer for training camp and the regular season. McDonough may not get too many more games in the NHL this season, but he should be ready to go for next season, whether he plays in the NHL or AHL.
Seventh Round: Arvid Costmar
The final pick of the 2019 NHL Draft for the Canucks came at 215th overall. The organization selected Swedish centreman Arvid Costmar. Most Canucks fans will remember Costmar from the 2021 WJC, where he scored two goals for Team Sweden in five games.
Related: 3 Canucks Prospects That Need Strong 2022-23 Seasons
Since the draft, the forward played with Jinkoping HC J20 in the J20 SuperElit in 2019-20. He recorded 26 goals and 50 points in 29 games. Despite impressing at the junior level, Costmar has struggled to produce in the SHL. In 134 games with the Linkoping HC in the SHL, he has scored seven goals and posted 18 points.
Although he has struggled to produce, the side of him that is intriguing is his defensive play and peskiness. At the 2021 WJC, he was named one of Sweden's top three players due to his compete level. If the Canucks sign him to an entry-level deal this offseason, he should get a chance to develop in the AHL next season.
2019 Draft Important to Canucks Future
The Canucks made nine picks in the 2019 Draft. Four of those nine picks have made an appearance in the NHL. The draft class will play an important role in how the Canucks future shapes up. Podkolzin and Hoglander will be a vital part of how the Canucks top-6 looks if they both reach their potential. Meanwhile, the organization had two great picks in the final two rounds of the draft. Silovs could be the organization's next starting goaltender after Demko, while McDonough is getting a taste of NHL action and could be a middle-nine offensive producer.
The organization also has a few other players that aren't as close to getting an opportunity in the NHL or AHL. Players like Focht, Plasek and Costmar are still with the organization but could be gone soon. Meanwhile, fourth-round pick Keppen is already a member of the Panthers AHL affiliate.